The 2020 high school basketball season is underway.
The season will look a little different this year because of changes associated with COVID-19 safety precautions. For the District 1B and Class B statewide, another big change this season will be the absence of longtime successful girls basketball coach Dustin Gordon.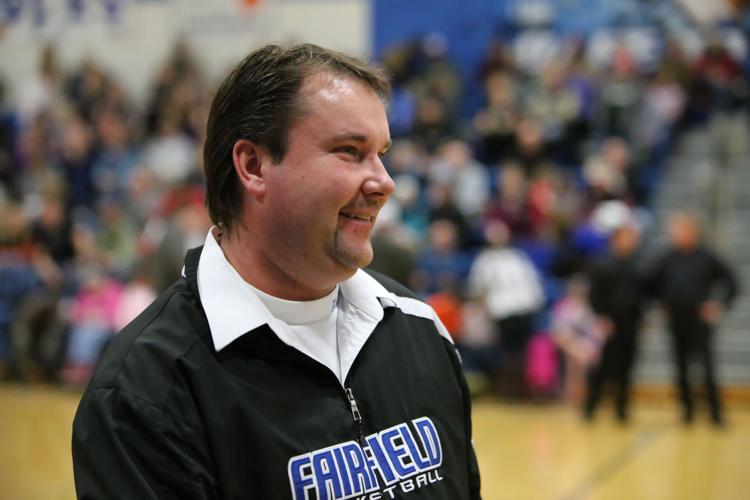 Gordon, who was hired as the new superintendent of Fairfield Public Schools in February of 2020, resigned following last year's season after 25 years of coaching.
Over the years, he has been a head coach for girls and boys basketball, football and tennis as well as assistant and junior high coach. "Basketball specifically, has been 25 years, 20 of those as a head coach of girls, boys or both (when the seasons were split)," Gordon said. "I started my career while still a college student in Sheridan, moved to Chester and from there to Fairfield where I have coached for the past 14," he added.
Gordon has an impressive record. He coached the Fairfield Eagles to seven state championship titles, three state runner ups and one third place. Looking at his records, Gordon believes he has coached in 17 straight district championship games starting in Chester, played for 12 of the last 17 divisional championships and played for nine of the last 13 state championships.
In total, Gordon's record is 295-64 as a head girls basketball coach in Fairfield. Between his Chester and Fairfield years, his record is 362-80. Gordon's teams advanced to 13 state tournaments and won 11 trophies.
The Eagles under Gordon won four consecutive state titles from 2011-2014 and hold the state all-classifications record for the most consecutive wins — 120 from 2010-2015.
Gordon, a graduate from Seeley Lake, said, "Sports played a major role in my life, especially since my father coached high school for 30 years, including girls' basketball, boys' basketball, track and later golf."
"I went to Western with the intention of playing college basketball there, but like many athletes coming out of high school, soon realized that playing college basketball was a little more difficult and a lot less fun than I had imagined," he said. "Shortly into my college career, I chose to pursue officiating, both basketball and football, as a part-time job. It was the relationships with officials, coaches and schools in the Dillon area that created my first coaching opportunities and connections."
Those relationships are what Gordon says he is going to miss most about coaching. "Most of my closest friends are because of coaching," Gordon said. "Some are parents, some are former players and a lot are fellow coaches."
"I love to compete, and I love working with kids who love to compete," said Gordon. "I already miss the relationship and bond that is created between players and coach when mutual trust and respect are necessary for success. I am really going to miss that the most."
Gordon also loved tournaments, everything about them. "I often asked my assistants just before the opening tip of a big game what other people did for excitement in life and if they only knew how awesome of a job we have as coaches," he said.
"I also loved summer basketball," he said. "I always did what I could to make it not only constructive, but fun and rewarding."
On the flip side, Gordon said his least favorite aspect of coaching "would have to be losing, which is very different from getting beat and it's no secret I am not a huge fan of bus rides."
Coaching wasn't just about wins and losses for Gordon. He said life goals and skills are directly linked to basketball success. "Every team sets goals, but we always required the players put theirs on paper and they always included what we were going to do personally to meet those goals," he said. "We spent a lot of time simply talking and developing a chemistry that goes well beyond the X's and O's of the game. Coaching is all about building chemistry and confidence with a collection of individual talents to win as a team."
Gordon said it is a very difficult question to answer when asked if there has been memorable teams, games and players. Reflecting back, Gordon spoke of:
•The 2008 and 2009 teams, which established the Fairfield girls program to what it is today;
•The 2009 challenge game against Glasgow;
•The teams from 2011-2014, who won 104 straight games;
•The state title in 2014 being the greatest state championship game ever, including the performance by Fairfield's Jill Barta.
•The team from 2017, which was special because no one gave them a chance and those girls "just refused to lose" and they stole that championship from a very talented Malta team.
In a statement made shortly after he retired from coaching, Gordon said, "It's been a difficult statement to say out loud that I am not going to be coaching basketball. There's going to be parts that I enjoy, the passing of the torch and giving the keys to the car to somebody else and sitting back and watching, but there's going to be a part that's going to be hard."
"The obvious answer to why I retired from coaching now is because of my opportunity to advance my career in education and become a superintendent," he said. "I was stretched very thin the past few years with my principal job, but I do not think I am capable of putting in the time necessary to do both well."
"I have to also admit that I felt it was a good time for a head coaching transition," Gordon went on to say. "There is a lot of talent in the girls program and they are going to do very well. A new coach will inject excitement, enthusiasm and will create a fresh new atmosphere that the girls will respond well to."
Gordon said the girls deserve a coach who will be able to dedicate the time necessary to continue success at the highest level. "This includes daily preparation, off-season commitments and film study. We had two or three excellent candidates and they were already part of the program, really making this a good time for a change. I am genuinely excited for the program, for coach Travis Schenk and coach Marshall Lagge and I am excited to take this next step in my own career in school administration," Gordon said.
Gordon said he is looking forward to the new opportunities in his career, even if he picked a challenging year to be a new superintendent. He is also looking forward to spending time with his family. They have always been supportive of him as he coached and helped from serving as team manager to cooking for summer camp. His wife, Joni, has kept detailed win-loss records and collected cherished memorabilia over the years.