Fairfield Elementary School has been designated an Exemplary High Performing National Blue Ribbon School for 2019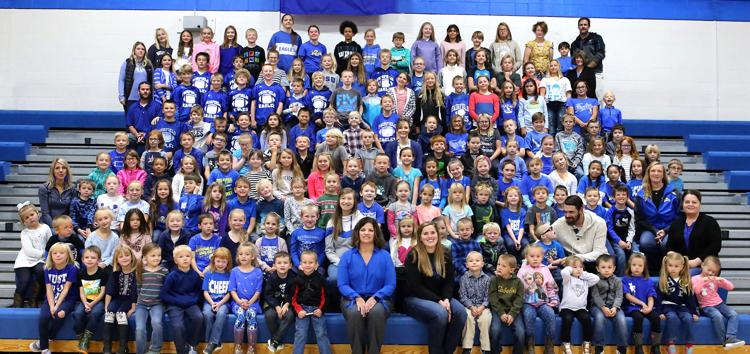 Betsy DeVos, U.S. Secretary of Education, on Sept. 26 released the list of 362 schools receiving recognition based on a school's overall academic performance or progress in closing achievement gaps among student subgroups.
"We recognize and honor your important work in preparing students for successful careers and meaningful lives," DeVos said in a video message to the honorees that was played during a school assembly in Fairfield on Sept. 27. "As a National Blue Ribbon School, your school demonstrates what is possible when committed educators hold all students and staff to high standards and create vibrant, innovative cultures of teaching and learning."
The 155 elementary students and staff, along with junior high and high school students attended an assembly in the school gymnasium. In addition to the video message from DeVos, Elementary Principal Courtney Bake and Superintendent Les Meyer spoke. Bake explained the award and tossed out Smarties candy to the students, while Meyer congratulated Bake, her staff and students.
"The coveted National Blue Ribbon Schools award is a feather in the cap of our staff and students for their hard work and dedication," Meyer said. "The elementary teachers and support staff on the front line are the inspiration and deserve all the credit in the world. They are being recognized and commended on their dedication to excellence, but we also recognize that the Fairfield community, including parents, businesses, maintenance, lunch staff, bus drivers, office personnel, paras, volunteers, and all the various support people, contribute to the success of our school."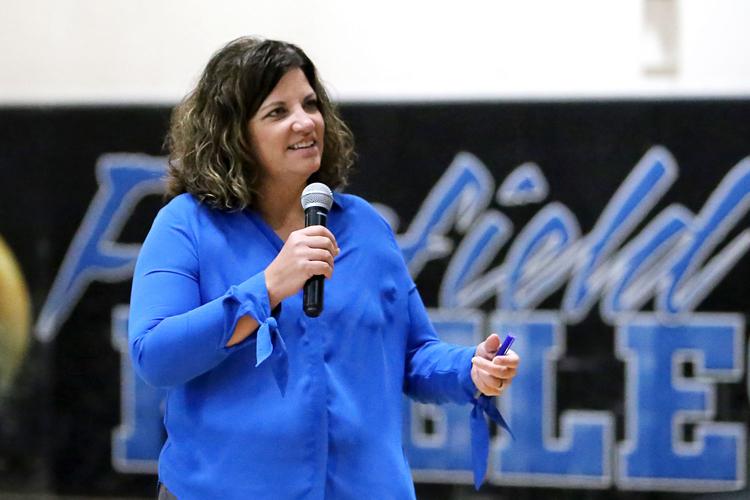 Fairfield Elementary School, along with Fort Benton Elementary and Hawthorne Elementary School in Missoula, also receiving the award in 2019, join an elite group. The National Blue Ribbon Schools Program started in 1982 and during those 37 years only 35 elementary, junior high or high schools in Montana have received the distinction.
Bake was notified in January that the school was nominated by Elsie Arntzen, Montana superintendent of public instruction, for this prestigious national award in the category of "Exemplary High Performing Schools." After a rigorous application process completed by Bake and a series of cuts, the final schools were announced.
The award is based on results from yearly test scores along with other key components from the school climate and culture, engagement with families and communities, professional development, school leadership and curriculum.
Bake said the results from the 2017-18 Smarter Balanced Assessment Consortium (SBAC) test were used as data for the award supported by achieving the same or better results during the 2018-19 testing period. Testing is given each spring in the third through eighth grades and also to 11th grade classes. Montana chose the SBAC as the state test for English and math in grades three through eight and just recently changed to the ACT as the English and math assessment for high school.
It has been a source of pride that the elementary school has continually made or improved their yearly test scores dating back to the "No Child Left Behind" testing, Bake said.
"All the credit goes to the teachers, staff and students," Bake said. "As administrators we are happy to facilitate the needs of the staff and put into place the programs and curriculum that facilitates these needs."
There isn't one key element Bake could point out as why the school district continues to rank high in testing, but she noted one of the successes has been centered around Fairfield being an RTI (Response to Intervention/Instruction) district. The program has been used for the past 13 years and is the way FES does business, Bake said.
"It is a multi-tiered system of support that provides guidance for delivering comprehensive, quality instruction for all students," Bake said. "Our framework is designed to provide evidence-based instruction and targeted intervention that lead to student success."
She emphasizes the teaching of core curriculum and professional development as areas contributing to the district's approach to student growth.
Both Bake and Meyer said the school district is fortunate to have a dedicated, mostly veteran group of educators in the elementary school. "They work well together and take advantage of collective talents to help the students succeed," Bake said. Any changes in that staff have come through retirement and the newly hired teachers have blended well, bringing new and fresh ideas to complement success of the veteran staff.
Wanda Brosten, a fourth-grade teacher who has taught for 15 years in the elementary school, said it is an honor for the staff and students to be recognized. Brosten said she is fortunate to teach with an excellent staff who works hard to achieve the best from the students. "We have good support from our administrators, which makes our job easier," she said.
Logan Clark, a Fairfield High School graduate in her third year as a sixth-grade teacher, echoed those comments. She praised her fellow staff members and the administration and sees them as a team working together to provide the best opportunities for all the students.
"It is a small enough school district that all the staff knows each of the students from kindergarten through seniors," Clark said. "We are a close-knit staff, school and community that want to see everyone be successful."
The U.S. Department of Education will celebrate with 312 public and 50 non-public school honorees at an awards ceremony in Washington, D.C. Representatives from the elementary teaching staff will attend.