Three hundred and sixty-nine grueling days after an ambulance took Ron Daley from his home seven miles northeast of Choteau to the hospital in Choteau and then on to Benefis in Great Falls, Daley, now 58, is home in time for Thanksgiving.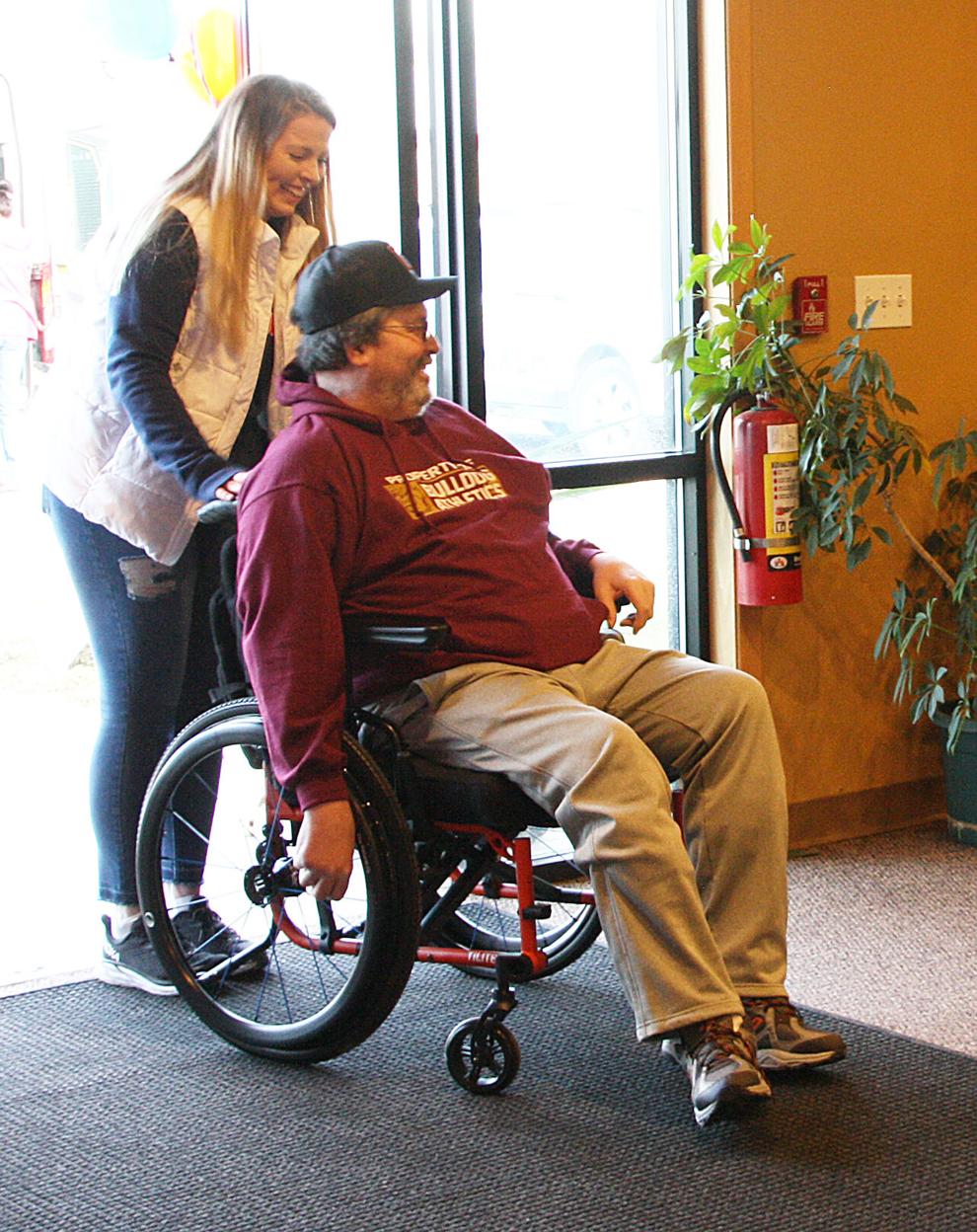 He returned to Choteau on Nov. 17 from the Veterans Administration long-term care facility in Miles City in a handicapped accessible van that dropped him off at the Living the Word Church (formerly NewLife), where his family and Pastor Dale Janzen had arranged a small welcoming party.
On Nov. 18, sitting on his couch wrapped up in a cozy blanket with his wife, Shelby, by his side, Daley — a survivor of the ravages of COVID-19 — said he is thankful for everything — for life, for his family, for the Choteau community, for all the doctors, nurses and nursing assistants who cared for him, for the VA chaplains, for the people across the world who prayed for him, for Steve Howard and the Choteau ambulance crew, for the physical therapists who are helping him recover, for the Veterans Administration for its care and continuing assistance, for his fellow congregants at church, for his coworkers at 3 Rivers Communications, and the list goes on.
"I'm thankful to God for keeping me here," he said.
As a cancer survivor and a Type II diabetic, Daley was no stranger to health challenges, but nothing could have prepared him for the ordeal of COVID-19.
"I want people to realize that COVID is bad, it's a killer," he said. "I want people to be careful, not to take chances. … Not a day goes by that I don't miss the guys who aren't here."
After he finally recovered, Ron said, his doctors told him to get vaccinated and he did, receiving doses of the Moderna vaccine. He had a big immune reaction to the first shot — spiking a high fever and being miserable for 48 hours, but had nothing more than a slightly sore spot at the injection site from his second shot.
The Centers for Disease Control and Prevention recommend that people who have had COVID-19 still get vaccinated because without that extra protection, they are more likely to catch a second case of the viral illness than people who have never had it.
Daley said he received the Moderna shots because the VA has a lot of confidence in that vaccine.
Daley's ordeal started in early November, 2020 — before there were vaccinations available — coming down with a lingering cough and cold-like symptoms. He never ran a fever but didn't suffer from the crushing fatigue that COVID often brings.
He stayed home from work, and then on Nov. 12, 2020, told Shelby he was feeling a lot better. By that time, his son Kruz had also developed symptoms, and Kruz and Shelby were awaiting test results for COVID-19. On Nov. 13, 2020, Kruz was diagnosed with COVID.
That morning Ron woke up feeling more fatigued, so he rested most of the day. When Shelby left that afternoon to pick up the kids at school, he was doing alright. That evening, when he awoke from a nap at about 7:30, he couldn't breathe. "He said he felt like he had an elephant on his chest," she said.
She called the ambulance and, Ron says, Steve Howard was one of the crew members who responded and helped save his life. At BTMC his oxygen saturation was all the way down to 63% and chest X-rays showed he had COVID-19 pneumonia. An advanced life support ground ambulance from Great Falls with Mercy Flight staff on board took him from Choteau to Great Falls and his 369-day ordeal started.
COVID-19 exploited weaknesses in his body, sapping him of muscle strength, wreaking havoc on his lungs and kidneys, and complicating management of his diabetes.
He was intubated on about Nov. 19, 2020, and spent almost a month paralyzed and in a medically induced coma on the ventilator.
At one point, his doctor called Shelby and told her to gather his family because he was not likely to make it through the day.
Ron said he's foggy on a lot of what happened during the time he was intubated and fighting for his life, but Shelby has told him that thousands of people from Choteau to the Bahamas were praying for him.
He said his faith as a Christian played a huge role in his recovery, but there were still days when he "fell off the boat."
"I remember a time when I was there, and I just gave up. I really did. I gave up because I just couldn't take it anymore," he said. "The people who were praying for me, when I fell, they raised me up."
On Jan. 25, 2021, with Ron finally off dialysis, his kidneys working on their own, and off the ventilator, Ron was transferred from Benefis to the VA's acute care hospital at Fort Harrison outside of Helena.
He had lost 60 to 65 pounds of muscle and diabetic neuropathy, exacerbated by COVID, affected his hands and feet. He was unable to walk, lost the use of his right arm from the elbow down, and needed around-the-clock care.
On April 26, he had improved enough to be sent to the VA facility at Miles City for further recuperation and rehabilitation.
With Miles City hundreds of miles away from Shelby and his children, Ron relied on technology to keep in touch. They video-chatted every day and friends also logged online to keep in touch with him, to help raise his spirits and to encourage him to keep battling.
He had hoped to be home in time to see his son Tony graduate from Choteau High School in May of 2021. He missed that deadline but the VA worked with Choteau Public Schools so that he could watch the graduation ceremony online.
That outreach was key in his recovery, he said. "I wasn't forgotten. I was one of the lucky ones," he said, adding that he saw other patients at the Miles City facility who had no one visit them.
Now that he's home, Ron says he's going to continue to work on recovering, doing physical therapy with Heather Hodgskiss at Pivot PT in Choteau, and receiving assistance at home through Easter Seals and the VA. He'll see Krista Watterud, an occupational therapist, through BTMC. The VA is also paying to renovate one of the family home's bathrooms to be handicapped accessible and has already put a portable wheelchair ramp outside the house.
Ron is still using a wheelchair and the most he had been able to walk at Miles City was 320 steps. His ankles no longer bend and neuropathy has deadened the feeling in his feet.
Doctors don't know whether he will ever regain the use of his right arm, but he is committed to regaining his mobility and being able to walk again.
"I have a short-term goal of walking with a cane," he said. "My long-term goal is to walk around the track with Shelby."
Coming home is a big hurdle that Ron has looked forward to for months, but it's also a little bittersweet.
"It's made me realize how much my life has changed," he said. He had to medically retire from his job with 3 Rivers and no longer has work to look forward to. "That's hard," he said.
Not being able to drive and go down to Choteau's baseball diamonds or even out for errands is tough, he said, but he is already setting small goals that he can work toward achieving.
Just two days after he returned home, he already took on a big goal — flying with Shelby, daughter Delani and Kruz, to Seattle, Washington, to spend Thanksgiving with son Dakota (who attends college in Idaho) and daughter Lexi and her husband, Josh, and their baby, Oliver. They are spending nine days there, staying in a vacation rental home, and enjoying the holidays together.
Their son Tony, who goes to college in North Dakota, will be home in Choteau, spending the holiday with his grandmother.
Ron said his illness has been hard on their children, but they all stepped up and helped Shelby. Lexi took phone calls from his doctors, Dakota moved home from college and went to online learning so he could help his mom with the family finances, Delani worked at the Log Cabin and spent time staying with Ron at the hospital in Great Falls. Tony and Kruz did whatever was needed.
"Shelby took the weight of the world on her shoulders," he said.
Now, he said, he is focusing on the future — on watching Kruz play on the Choteau High School boys basketball team, watching Tony play spring baseball at college, going to church with Shelby and celebrating all the holidays, birthdays and special occasions with his family.
"You know, I'm looking forward to everything," he said.
Shelby said she's looking forward to Christmas when they will all be together as a family for the first time in more than a year.