Karen Forseth of rural Fairfield is bringing her educational background, career skills and farming and ranching experience to her new job at the Teton County Extension Office.
Forseth started Nov. 9 as a Montana State University/Teton County Extension agent covering agriculture/natural resources, horticulture and 4H/youth duties.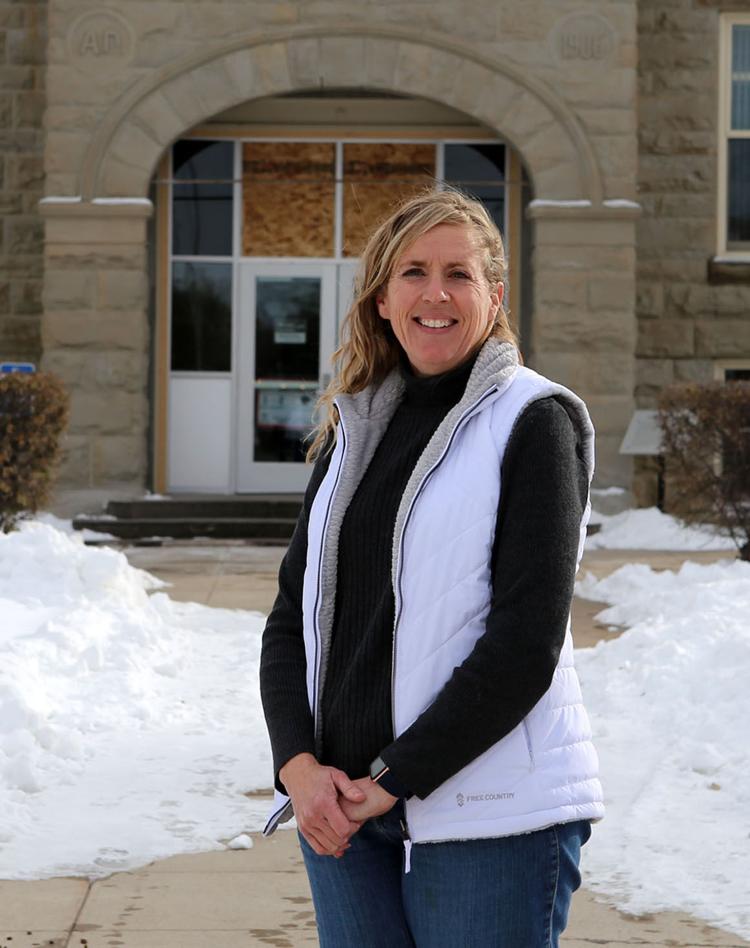 "I will cover a variety of areas in the position, with much of it being agricultural based," Forseth said during a telephone interview last week. She will provide educational information and classes and assist with concerns of area residents for forage analysis, horticulture, weeds, pesticide, livestock and 4-H. She will offer hay certification, nitrate testing and pesticide application training. She looks forward to not only helping the larger producers but the town residents as well, possibly sharing garden tips during a class or teaching how to irrigate a garden.
A Colorado native, Forseth graduated from high school from in Northglenn, a suburb of Denver. She attended Montana State University in Bozeman, graduating with an agricultural education degree with a minor in economics. She first taught ag education and was an FFA adviser at Grass Range Public School. When the opportunity for the same position opened a year later at Augusta High School, Forseth jumped at the chance to moved closer to her future husband, Clayton Forseth.
She worked for three years in Augusta, followed by a year as an administrative assistant at the Teton County Extension Office in Choteau. Upon the arrival of their family, Forseth elected to stay at home and be more active in the family farming and ranching operation and the raising of the couple's two sons, Justin, a senior, and Nolan, a sophomore, at Fairfield High School.
Forseth's husband, Clay, is the third generation on the Forseth farm and ranch located on the Golden Ridge Bench, which is centrally located between Fairfield, Augusta and Choteau. They have a diversified operation from raising and selling commercial cattle to growing barley to hay crop. They also have horses, raise a few chickens and have a large garden and plenty of flowers.
Over the years, Karen has been active in all aspects of 4-H and has been especially involved in the animal portion, volunteering on the livestock committee. She has also served on the school board for both the Golden Ridge and Fairfield school districts.
Through her sons' involvement in FFA, she has assisted with activities through the Fairfield chapter. She and her family are members of St. John's Catholic Church in Fairfield and take an active part in the parish.
Forseth said the timing of the job was just right with her sons soon heading off to college. She applied for the position before the start of the pandemic and was going through the interview and hiring process when MSU enacted a hiring freeze. In just the past couple months, Forseth said her boss with MSU was able to work through the needed variance to fill the position.
Forseth is looking forward to working with the Extension staff and believes she and fellow agent Jane Wolery will complement each other. "I will be covering the ag-based needs of the community from farm and ranches to the more urban products and small acreage farmers," Forseth said. "That is not to say I will not be assisting and helping with other areas covered by the office, the same as Jane has been doing."
"My diverse background dealing with all things agricultural sets the foundation for the job," Forseth said. "Agriculture isn't just how we make our living, but my hobbies are also an extension of agriculture, from riding horses and raising a big garden to having lots of flowers. I appreciate the agricultural industry."
"I also know firsthand how important Extension is in our county," she added. "We have used services and advice from the Extension Office during the 20-plus years we have had our operation. The people I will be helping are our neighbors and friends. The network of people I will be using to help with services are people I have called upon in the past for assistance, to exchanged information or provided a helping hand."
Forseth said she will be following in the footsteps of some good Teton County Extension agents in the past. She is excited to get some of the programs back up and running. "It has been 18 months or more since the position has been filled," she said.
"I have appreciated the services of the Extension Office and want to continue that tradition," she said. Forseth emphasized she doesn't know it all, but will find out. "This industry isn't easy. There are plenty of roadblocks and the markets can be temperamental," she added. Forseth sees the role of the Extension Office to help find answers where they can or provide services that make it easier.
She also looks forward to working with the 4-H program throughout the year and during the annual fair. She has been on the opposite side as a parent and volunteer in the past. Judging from the past, she said covering the fair is a joint effort by those in the Extension Office. She sees herself handling more of the animal portion of the fair, but is certain she will be there for the other aspects, too.
Forseth is hoping to provide agricultural columns to the local media.
She said a positive for her has been being able to start the job hitting the ground running. "Being very familiar with the area and having worked closely with the extension office for many years is certainly a bonus and will make the new job run much smoother," she said.
Forseth's office is in the lower level of the Teton County Courthouse. She will work out of the office five days a week, but suggests those wishing to visit her contact the office at 466-2138 to set up an appointment. "There will be times when I'm out in the field," said Forseth. "That will change daily and depend upon the time of year and the needs of the county."