The Teton County Health Department and Benefis Teton Medical Center continued vaccinating people in the Phase 1a of the state's COVID-19 vaccination rollout last week, offering shots to long-term care staff and residents of nursing homes and assisted living facilities; healthcare providers who work directly with patients; and first responders.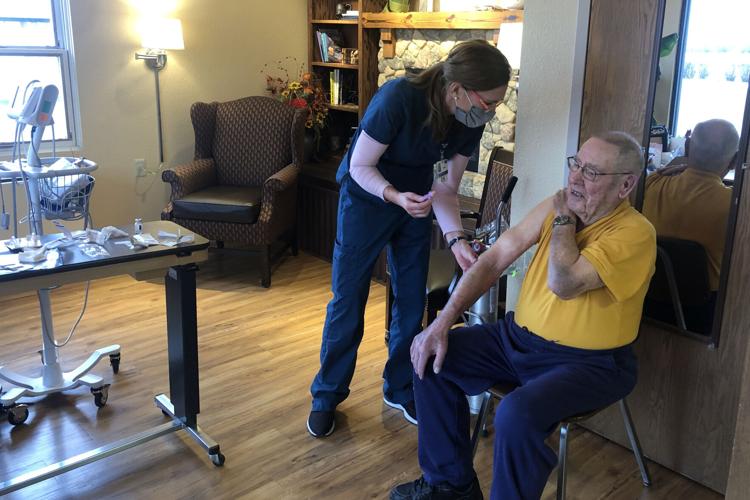 Teton County Health Department Director Melissa Moyer on Monday said that BTMC administered 50 doses last week and has 10 more to give this week to staff and long-term care residents, and the TCHD has more than 80 people scheduled to receive the vaccination on Jan. 8.
"I'm really thrilled" at the response, Moyer said. "We tried to reach out a few weeks ago to give people time to think about it. We are finding people are very informed. When they call us to make an appointment, they are really confident this is something they want to do."
Phase 1a appointments are being scheduled for people belonging to these three broad categories: long-term care staff and residents; healthcare providers who work directly with patients; and first responders. More specifically, Moyer said, healthcare providers who work directly with patients include: hospital and clinic staff, emergency medical technicians and paramedics, primary care providers, dental and vision service providers, physical therapists and chiropractors, mental-health providers and home health workers.
Other first responders, in addition to ambulance crews, include law enforcement officers and volunteer firefighters.
"If you are in one of the above categories and have not yet been contacted, please call the Teton County Health Department at 466-2562 to schedule a vaccination appointment or to get more information," she said.
The Health Department will administer these vaccines in Choteau on Jan. 8 from 1 to 4 p.m. at the Choteau Pavilion. People getting the vaccine, administered in a shot to the upper arm muscle, will need to stay for 15 minutes after receiving the shot to be monitored for allergic reactions. People who have already experienced severe allergic reactions to other substances will be required to stay for 30 minutes.
Moyer said so many people in Phase 1a have signed up for vaccinations that she has requested more doses of the vaccine from the state and has scheduled another Phase 1a vaccination clinic on Jan. 15 from 9 a.m. to 1 p.m. at the Roxy Theatre in Choteau.
The first phase of the vaccination rollout is targeting critical workforce members and the elderly at highest risk and is expected to last through January and February. Once Phase 1a has been completed, the county will move to Phase 1b (mid-January) and will provide vaccinations to people ages 75 and older and frontline essential workers, including: corrections officers, food and agricultural workers, U.S. Postal Service workers, manufacturing workers, grocery store workers, public transit workers, those who work in the education sector (teachers and support staff), as well as daycare workers.
In Phase 1c, vaccinations will be offered in February and March to all people 65 to 74 years old, to people 16 to 64 years old with high-risk medical conditions, and other essential workers. Essential workers in this phase include: transportation and logistics, food service, shelter, housing, construction, finance, internal technology and communication, energy, legal, media, public safety, water and wastewater and essential government personnel.
The plan for Phase 2, estimated to start in March or April, is to provide vaccinations for people living in congregate settings and individuals with moderate-risk health conditions. Phase 3, estimated to start in May or June, will provide vaccinations for the general population ages 16 and older.
The Health Department and the hospital are administering the Moderna COVID-19 vaccination that requires two shots 28 days apart.
On the Health Department's website, Moyer's staff says, "The Moderna COVID 19 vaccine is an unapproved vaccine that may prevent COVID-19. There is no FDA-approved vaccine to prevent COVID-19. The FDA has authorized the emergency use of the Moderna COVID 19 vaccine to prevent COVID-19 in individuals 18 years of age and older under an Emergency Use Authorization."
Moyer encourages anyone who is pregnant or breastfeeding, has had a previous severe allergic reaction to vaccinations or a history of anaphylactic shock or who has other health conditions to talk to their healthcare provider about whether getting the vaccination is recommended.
For more detail on vaccination plans in Teton County, people can go online to www.tetoncomt.org/covid19/vaccination. This website also contains more detailed information about the Moderna COVID-19 vaccine, coming vaccination clinic dates, and what to expect at an appointment. The TCHD will keep this information up-to-date for those interested in seeking vaccination during the appropriate phase. People can also call the Health Department with questions regarding COVID-19 vaccination.
Last week, from Dec. 28 to Jan. 3, the county reported 10 more cases of COVID-19 and had 11 active cases on Monday, Jan. 4. The demographics on the 10 new cases included one woman in her 30s, four women in their 60s, two women in their 80s and three men in their 60s.
Moyer also said that the Montana Department of Public Health and Human Services notified her last week that five Teton County residents have now died from COVID-19 or COVID-19 complications. Those who have been identified by their families already include John Brandvold, 83, of Bynum and Gary Passmore, 59, of Choteau. The TCHD had already released information that a woman in her 80s died from COVID-19, and now, Moyer said, she is adding two more to that list: another woman in her 80s and a man in his 90s.
In both of the latter cases, she said, the individuals were hospitalized for COVID-19 and released but died several weeks later in December from complications related to COVID-19, along with other factors.