When 20-year-old Phoebe Michel asked permission from the City of Choteau and the Teton County commissioners to hold a Black Lives Matter protest on the lawn of the county courthouse, she didn't expect the Choteau Acantha to cover it.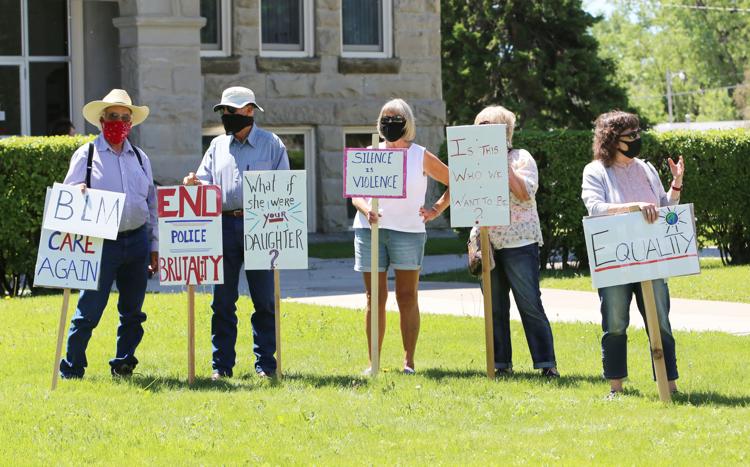 As of June 21, the night before the protest, she said she knew of just 13 people, including her family, who confirmed with her that they would attend. At 1p.m. on June 22, there was a crowd of about 31 people on the lawn, almost all from Teton County.
Michel has traveled a lot with her parents and brother. She grew up in Ecuador and in Massachusetts, but for as long as she can remember, she's lived at least part of every year of her life in Choteau, where her parents have a house. She enjoys writing poetry and working as a yoga instructor when she has the chance.
Michel was first inspired to organize the protest in Choteau when she saw the video of Minneapolis, Minnesota, resident George Floyd being killed while in police custody.
"I knew things like this have happened before, but for some reason this one rattled me. I was very disturbed by it," she said.
She felt it was her responsibility to do something in response, but didn't quite know what to do until she encountered a Black Lives Matter protest in Missoula while she was running errands with her family.
"I briefly attended this protest by happenstance, but I liked the message of peace they were promoting. I have never supported the riots and violence. That was never part of the message," Michel said.
For Michel, the message of Black Lives Matter is about making changes to promote justice.
"Injustice is pretty apparent in our country," she said. "I thought I needed to do something about it in whatever way I could because I believe every voice, no matter how small, has an impact. We all have the responsibility to help those in need of help right now."
Individuals participating in the demonstration had various reasons as to why they were there. Rural Choteau resident Suzy Ewinger said she has Black family members in other states whom she cares for deeply. "Learning about the struggles they have to go through is heartbreaking," she said, with tears in her eyes. "Even in a little place like Choteau that doesn't have a lot of diversity, it should matter. The hardest story I've heard so far is from my friend's daughter, who married a Black police officer. Every day, she fears losing him not only because of his job, but because he's walking around Black. It's a double whammy. We don't need to live in fear."
Another Choteau resident, Nancy Milewski, shared a quote attributed to 18th century philosopher Edmund Burke, saying, "The only thing necessary for the triumph of evil is for good people to do nothing."
Choteau High School graduates Darrien Garcia, Sayer Patton and William "Isaac" Howard — along with Rachel Howard (Isaac's mother) said they were there to show that everyone is equal and every person deserves respect.
"The Black community is on fire right now, and we're just trying to put the fire out," said Isaac. "It's about respect."
Isaac, as a young Black man, says he knows there are very few people in the community who look like him, but it was nice for him to see others supporting Black lives. He spoke of his personal experience living in Montana.
"I've experienced some racism and name calling. Some people will just blatantly ignore you. Store clerks often follow me around. Once when I was a kid, I had a police officer come to my house and accuse me of TP'ing the mini park, and he made me clean it up," he said. "Then, there are tons of people who don't judge. I can definitely say I've experienced much more love than hate in Choteau."
The demonstration did not draw any formal counter-protesters, but Choteau resident Julie Brantley did share her thoughts against the Black Lives Matter movement, and passed out business cards and copies of a letter to the editor she wrote for this week's edition of Choteau Acantha to the crowd gathered at the courthouse.
"This incident has offended a lot of people and has really caused a row on Facebook. We don't have police brutality here. What are we going to rally for next, saving baby whales? It's ridiculous. Communicating one-on-one is the way to do it," she said. "I am glad this has been peaceful, though. I don't like the word 'protest.' I would call it a rally. I just pray this doesn't divide our sweet little community."
Michel emphasized that she did not want the message of her protest to be taken as an attack on the Teton County Sheriff's Office or police officers in general.
"After I talked to the City of Choteau and a county commissioner to hold the protest, I talked with the Sheriff's Office to make sure we're on the same page. I wanted them to know I didn't mean this as an insult or a threat to them. They responded very well," said Michel.
When asked if she believed police departments should be defunded, she said she didn't.
"I don't believe in taking away jobs or income, or defunding departments. It's a very tough job to be a police officer, and I think they're very important in this country. We need police and people who have authority to take care of us, but I do think money goes to wrong things sometimes, like militarization. I'd like that money to be used for things like more training, to help police officers cope with their job," she said.
Michel said she also hopes her protest isn't seen as an attack on the Choteau community as a whole. A link to the Choteau Acantha pre-story on the protest drew more than 80 comments on Facebook, with many opposed to a BLM protest and several critical of her.
"I read the comments on Facebook earlier, and I see a lot of resistance and anger to it. I know it's a disruption and that can be upsetting to people," she said. "This isn't an attack or an accusation of Choteau. I hope we can all recognize these problems in our country and want to make changes. Patriotism is being proud of where you live, and we should always want better for our country. … Even if you don't feel directly involved, we do have a responsibility to help one another out and bring justice."
Michel said she was open to the possibility of a second protest in the future, but would wait to see how the one on Monday went.
As the protest was ongoing with no law enforcement presence, several Choteau residents bought morning coffee and lunch for the Teton County Sheriff's Office, according to the Teton Sheriff Facebook page, while others posted that they were keeping the law officers in their prayers.