Teton County is known for quality malting barley and hearty beef cattle, and also is home to equine producers who primarily raise and sell registered American Quarter Horses — the predominant breed of horse in Montana and one known for its athleticism, stamina, durability and instinctual ability to work cattle.
According to the 2017 Census of Agriculture, the most recent statistics available, the horse industry in Teton County includes 37 producers who sold 149 head of horses, mules and donkeys valued at $879,000, ranking it fourth out of Montana's 56 counties for sales.
Two of the larger producers are DeBruycker Quarter Horses and RQF Performance Quarter Horses, both located in the rural Choteau area. Elsewhere in the county there are other Quarter Horse producers along with ranches that raise American Paint Horses, Arabians, Appaloosa and a few other breeds. The Census of Agriculture said that in 2017 there were 263 farms and ranches that had horses in the county.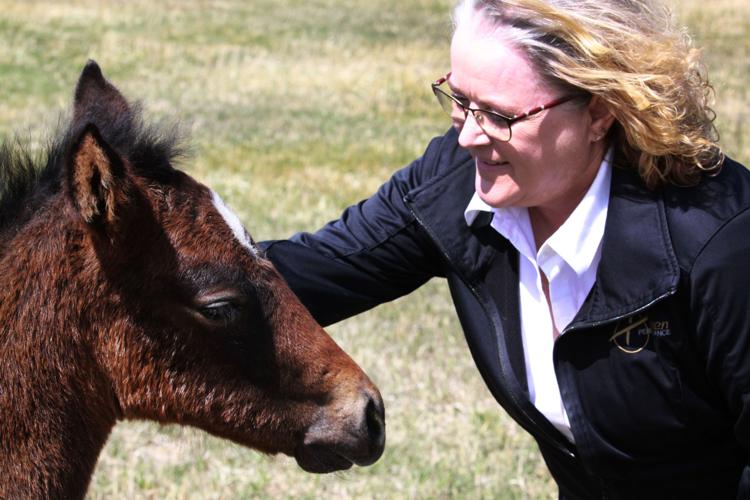 In Teton County, horse production is a labor of love that compliments and diversifies cattle ranching activities.
RQF Performance Quarter Horses, located on a ranch just south of Choteau, foals 15 to 20 mares a spring. DeBruycker Quarter Horses, about 10 miles north of Choteau, foals 18 to 25 mares a year. RQF sells weanlings and yearlings while DeBruycker sells weanlings, yearlings, unstarted 2-year-olds, and started, broke and finished horses. Both ranches sell their horses primarily through private treaty sales with individual customers.
The Nels and Lorraine DeBruycker family started its American Quarter Horse operation in 1979 with one stud of Hancock breeding and a couple of mares. Through the years, Nels and his family have developed a solid sideline to their cow-calf operation and one that has brought their second son, Adam, back to the ranch to continue running the horse operation.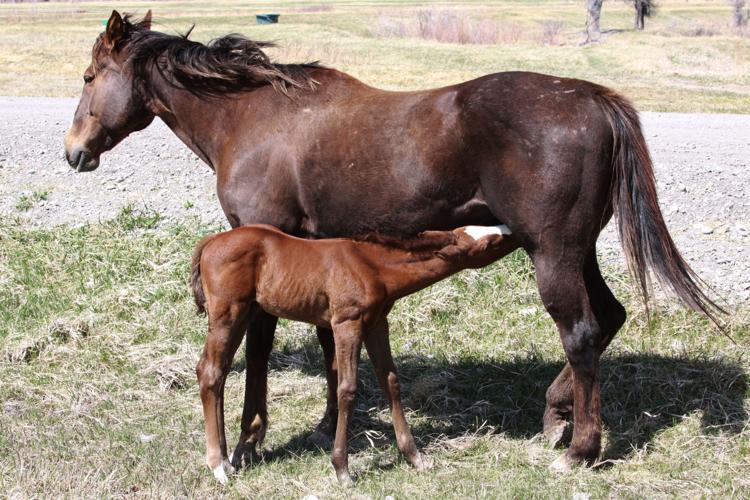 Adam, who graduated from Carroll College in 2016 with a teaching degree, says he has always loved horses. "I think I was born with a natural love for horses," he said in an interview last week, "Dad's instilled that even more so in me. He was born with the same thing. Together we just feed off each other. Every day we are excited to go and work with them."
Adam said his father always liked horses and raised them for use on the ranch first and gradually worked into the horse trainer and seller fields. They now have four studs that they use in rotation and their mares will pasture foal from May 10 to June 1.
From 1989 to 2005 the ranch held a production sale every other year, but since 2005 sells horses by private treaty sale to individual customers.
"We have quite a few repeat customers," Adam said. "We always love to see repeat customers and we're also excited to have new customers." He said about 50% of each year's buyers are repeat customers and 50% are new. They've sold their horses to buyers all over the United States and in Canada.
DeBruycker Quarter Horses sell about 25% of the horses to other breeders, 50% to ranches and rodeo ropers and the other 25% for personal pleasure use, Adam said. Nels and Adam train the horses and everyone in the family rides them for ranch work, all of which is done with horses.
Adam says their horses are known for being smart, trainable, athletic and ready to do any job on the ranch or be competitive in the roping pen. "They have to have a good disposition in today's world," he said, and their horses have to have good physical conformation.
Mona and Kirk Moore, who own RQF Performance Quarter Horses, started breeding horses in 1993, focusing at that time on ranch and cow-bred horses, mostly for their own use on their ranch.
"My husband would say it's bad genetics why I love horses," Mona said. "My mother says I learned to spell the word 'horse' before I learned to spell 'mom, dad or Mona.'"
Mona went to college at Colorado State University and competed on the college horse judging team. She always said that although she was earning a business degree, she planned to put her equine skills to work someday.
"It's is not a hobby. It's a passion and it's a business and it's a love that I grew up with," she said. "To me, it's so rewarding when that new foal gets up and nurses. Just to see the miracle in it all."
The Moores' business operations are diverse. They lease the Higgins ranch south of Choteau to run their horses and cattle on, operate Front Range Supply in Choteau and Mona works at Farm Bureau Insurance in Great Falls a couple of days a week.
They started with a leased stallion and about a half dozen foundation and cow-bred registered mares. Later they purchased a stallion out of Smart Little Lena whose dam was by Doc Quixote and leased a second stallion by Colonel Freckles. Their goal was to breed horses with "cowiness," speed and athleticism, opening the door to selling their horses to rodeo competitors for barrel racing and roping.
Mona says she makes no bones about her belief that the development of RQF Performance Quarter Horses was God-driven. When she went searching for a new stallion in 2009, she found a beauty in Texas with proven genetics from Frenchman's Quarter Horses in North Carolina — a horse she knew she couldn't afford to purchase. But the owner gave her the opportunity to lease-purchase him.
She remembers that it was close to Easter that year, and she and her husband and children were going to Miles City for the holiday to be with her parents. She was looking at how much it was going to cost to get the new stallion from Texas to Montana, and pieces suddenly fell together: a transporter out of Billings was coming from a Texas ranch near her stallion to Miles City and snapped up the job. The new horse was in Choteau in just six days. "It's kind of a sappy story, but that's okay," she said.
She said she and Kirk work on the ranch with help from their grown children, Michael, Amanda and Trevor, on weekends and holidays. "I feel extremely blessed because of how the family helps out with this and they have heartfelt contributions," she said. "I couldn't do it without the family helping with it."
Mona said her priorities are to provide quality horses that will make happy, repeat customers. "Instead of trading 50 colts, I'd rather raise 15 that were higher quality," she said. The vast majority of their horses leave the state or the country, she said, while just 2% stay in Montana. "Our customers are team ropers, barrel racers, ranchers," she said. They have sold horses to buyers in Nebraska, Minnesota, Mississippi, the Carolinas, Arkansas, Pennsylvania, Maryland and more.
Mona said she keeps a close eye on the physical attributes of her horses, not just what their papers say. "We would like them, first of all and foremost, to be conformationally sound with good bone and foot and good muscle mass," she said. "Secondly, I would like them to be sound-minded and trainable. And pretty always sells."
A year ago, they added a new mare "Montana's Diamond," a sister to Arson, a top rodeo barrels horse, to their herd. Montana Diamond, whose barn name is "Willow," had her first foal this year and Mona has high hopes for her progeny. "We feel like this is an opportunity to step up to the next level," she said.
Mona says the horse market in Montana is pretty stable now, though it's hard to tell what impact the COVID-19 pandemic will have on people's ability to purchase and maintain horses.
"I would say our goal is to continue to focus on marketing in the areas that we are," she said, adding that they are not as interested in producing the 4-year-old futurity horse as they are in the long-term performance horse.
In addition to selling the weanlings and yearlings, Mona said, they also sell semen from their older stallion.
As small producers, Mona said, they can't compete with the big Quarter Horse breeders across the nation, but they are competitive within their smaller market because of their quality.
"The reward is that we can control what kind of mares we breed to and we have more control over where the product is going to," She said. "We can have more personal contact, and build connections with people across the country that become friends, not just clients."
Just how many horses are in Teton County or Montana, for that matter, is hard to get a handle on. The 2017 Census of Agriculture says there were 1,816 horses and ponies in the county at that time. The Montana Department of Revenue says that in 2019 there were 1,300 horses, donkeys and mules in the county while the DOR's 2020 figures, just reported on March 1, puts the current number at 1,092. Most ag industry watchers say, however, that the DOR numbers are usually low as not everyone reports or even knows that they need to report their horses, donkeys and mules to the state.
Statewide, the 2017 Census of Agriculture puts the number of horses and ponies at the 78,765, but Diana Bailey, the Montana Farm Bureau equine program coordinator, says the figure is probably closer to 140,000. The Montana Office of Tourism and Business Development in 2018 said there were about 130,000 registered horses in the state and thousands more that are not registered.
The 2017 Census of Agriculture says statewide 1,643 ranchers sold 7,668 horses and ponies for $18,399,000 or an average price of $2,399 per head. In reality, price horses fetch depends on age, physical conformity and condition, breed, level of training, papers and some intangibles. The Billings Livestock Commission is one of the biggest names in the auction field for horse sales, along with the NILE horse sale and the Miles City Bucking Horse sale.
In February, the BLC's "February Special Catalog Sale" sold 534 horses with the top sale horse, a registered Quarter Horse buckskin stallion, sold for $54,000. The top gelding at the sale sold for $45,000 while the top 100 horses averaged a sale price of $13,510. The sale included 175 loose horses, offered as is, where is, how is, and the top two horses in that group sold for more than $4,000 while the top 100 averaged $1,560 per head.
Jann Parker, the BLC horse sale manager, says the Montana horse market suffered a contraction in 2007 and 2008, when domestic horse packing plants were shuttered and the nation suffered a recession. Since then, she said, the horse market has been gradually recovering. "It took a while for us to find the new normal, but we did," she said.
She said Montana horses are known throughout the nation as quality animals. "I think we should be really proud of the horse industry in Montana," she said.
Laura Bratz, an administrative associate with Montana State University Animal and Range Sciences in Bozeman, agrees that the horse industry in the state is picking up again. "Just working in the horse industry here, I would like to say it's growing," she said. "There is money to be made if you're going to work at it."
Past president of the Montana Quarter Horse Association and current president of the American Quarter Horse Association Stan Weaver of Weaver Quarter Horses at Big Sandy said, "There aren't as many horses as there were 10 to 15 years ago, but that's good. The horses that we have, there is a demand for. I'm optimistic about the horse market. If you have a good horse, it will always sell."