How can something be new and ancient at the same time? The Montana Dinosaur Center in Bynum is making major changes to its operation, while still keeping paleontological history at the forefront of its mission.
The first noticeable change is the name — the museum and research facility, formerly dubbed the Two Medicine Dinosaur Center, is now The Montana Dinosaur Center. Board members voted to change the name for a variety of reasons.
"The Montana Dinosaur Center is better for marketing," explained Sandra Dogiakos, a member of the museum's executive committee. "Two Medicine doesn't give a geographic sense to where we are to anyone other than paleontologists. The new name spells out what we do more succinctly for the general public."
"I truly believe that the Montana Dinosaur Center is a better name for us," said President Stacia Coverdell. "I want to acknowledge our history with Two Medicine, because that name served us well and has a lot of great history behind it, and that's where we primarily dig. But the idea has always been to expand past Bynum. We don't just dig in the Two Medicine formation. We dig in the Hell Creek formation and the Judith River formation. Our reach extends across Montana and even into other states."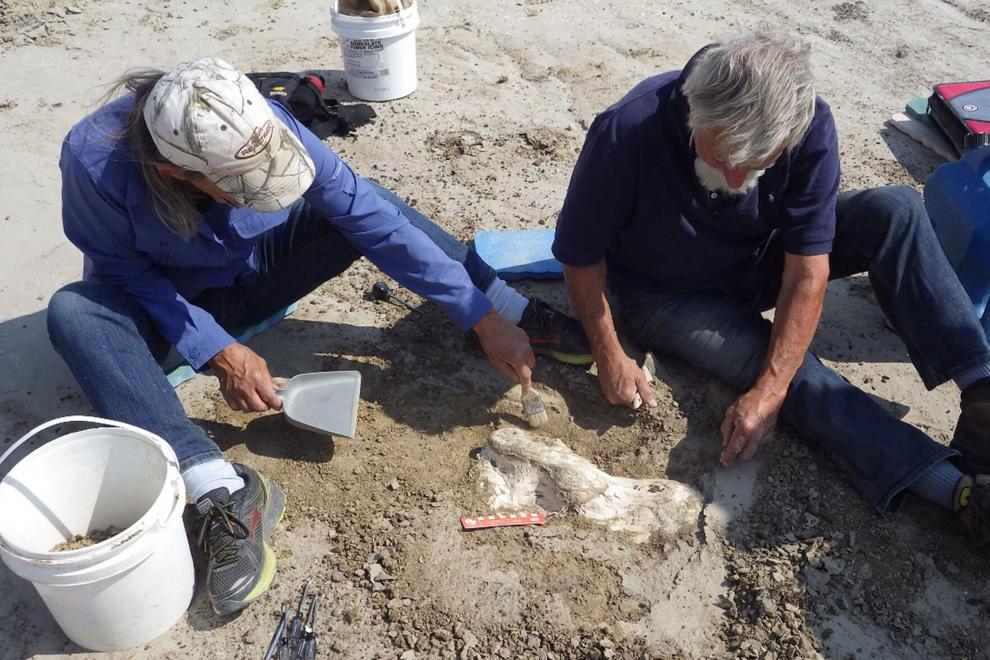 Another major change is that for the first known time in the dinosaur center's history, the executive committee is made up entirely of women. There are 11 people (including men) on the museum board, plus Director Cory Coverdell, but the officers on the executive committee are all women: President Stacia Coverdell, Vice President Erin Haacker, Cindy Lockner as treasurer and Dogiakos as marketing specialist.
Women taking a prominent role in paleontology is something of a rarity in academia, but it may be becoming a more common trend. At the first North American Paleontological Convention in 1969, there were 79 presentations (almost all single-authored) and only two of which were presented by women. In 2014, the convention featured 315 presentations (mostly multi-authored) and 130 of the presenters were women — jumping the approximate female representation rate from 2.5% to 41%.
"It's a different feeling on the board, for sure. We're all working on reinvigorating the center," Dogiakos said.
Stacia had worked for the museum for several years when she was elected to the executive committee in December of 2019.
"One thing that I wanted to do on the board was get us to think big picture. Before, the board was basically the staff, and we worked a lot on the day-to-day stuff, which is really the director's job. Now, we've been letting Cory do his job, and we've been focusing on building a strategic plan with long-term goals," she explained.
A few months after being elected president, she was dealing with a challenge that wasn't in the strategic plan: COVID-19.
"The hardest thing was trying to conduct business while being socially distanced," she said. "I think everyone had a lot of trouble with Zoom meetings in the beginning. We were going through bylaws and doing everything through and email and Zoom, and it caused some frustration within the board, but it didn't affect the board's behavior."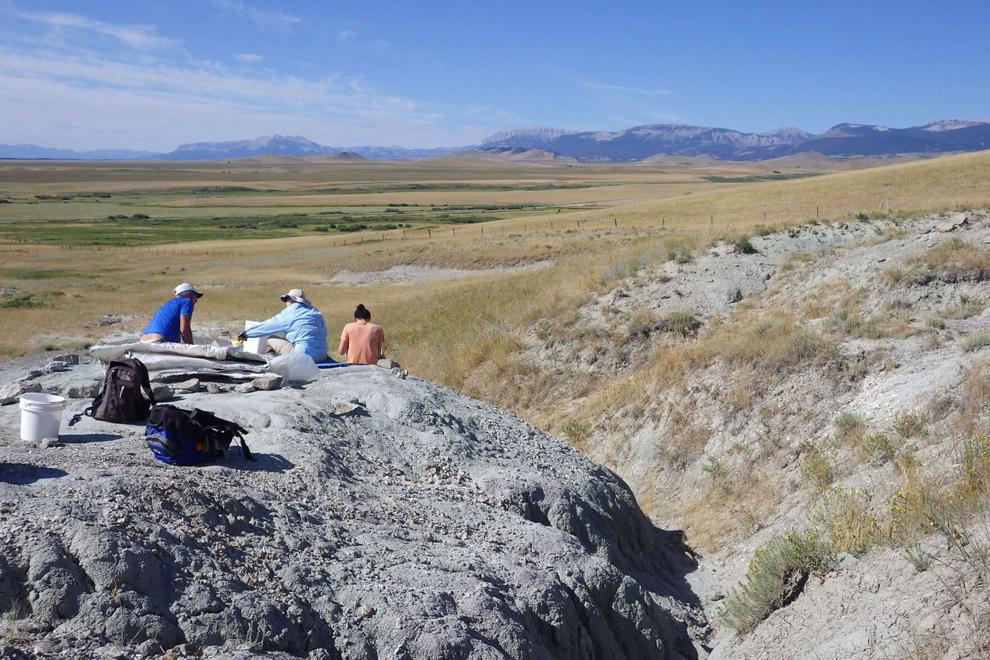 The biggest change to come from the new health protocols, she said, was that the board gave Cory "freedom to get creative" in finding solutions for the museum's operation. They revamped the website with COVID relief funds, set up a system for online bookings, sold merchandise online rather than hosting their traditional in-person Christmas party, and spent the down-time at the museum working on the facility.
Dogiakos said she got involved with The Montana Dinosaur Center not because she had any particularly strong interest in dinosaurs, but because she recognized how important the museum was for the surrounding communities.
"I really wanted the museum to succeed because it brings young people, new people and excitement to the area. I want to live here and I want more people to enjoy living here in the future," she said. "The only way we keep our communities thriving is through investing our time, so I put my money where my mouth was."
Dogiakos said she is excited at all the work the executive committee members are doing in their early work together, and the new enthusiasm they're bringing to the mission. "It's going to take a lot of sweat equity moving forward, but that's part of our philosophy," she said. "All four of us are relatively young and we're very motivated to be active and involved in all this."
Haacker first got involved with the dinosaur center as an intern when she was an undergrad studying biology and geology at the University of Montana. "I was one of those kids who always wanted to be a paleontologist," she recalled. "I had a cheesy book as a kid, called 'Days of the Dinosaurs' or something, that was about going on digs. That was my first exposure to what having a job could be like, and I thought what a cool job it would be to hunt for dinosaur bones. A lot of people seek out the museum for that very reason — because they had that passion as a kid. It's a great entry into science."
Over time, Haacker's passions shifted from paleontology to other scientific fields. She now works as an assistant professor at the University of Nebraska-Lincoln teaching hydrogeology and modeling, but the little dinosaur museum out in Bynum still holds an important place in her mind.
She has seen several changes to the facilities over her years with the museum. "When I worked there in 2006, I had to go to my bosses' house to use the shower. Now, they've added more facilities for the employees in addition to investing more into the public-facing spaces," she explained.
"The physical stuff is really what has changed the most because half the people I worked with way back then are still involved with it. In fact, I was the one who trained Cory, and now he's way more involved than I am," she laughed.
Today, Haacker says her primary goal for the museum is to see it reach more people, especially people from Montana.
"It's still kind of a hidden gem among the people who live in Montana. We would have people come visit from all over the world. Even living in Nebraska, I'll occasionally run into people who have been to the museum. I hope more Montanans realize how special of a place is in their community, and I hope it grows," she said.
Now the committee's focus is further developing their strategic plan. "The whole process is a six- to eight-month timeline," Stacia said. They just recently finished a formal SWOT (Strengths, Weaknesses, Opportunities, Threats) analysis and are now working on gathering data and identifying strategies to help them achieve their goals over the next five, 10 and 20 years.
"From this strategic planning cycle, what I would really love to see is a plan that everyone knows and can help with. Maybe we will have a little more focus so we can accomplish our goals more easily," Stacia said.
Stacia is getting a degree in nonprofit administration and hopes to use that knowledge to help The Montana Dinosaur Center and other nonprofits resolve issues and work on their own strategic plans.
One of the museum's goals for a long time has been to become a Bureau of Land Management repository, which would allow them to dig on state lands. There are a lot of facility requirements that go into that, however: they've had to install a sprinkler fire suppression system and a climate control system. Now they're working on reorganizing displays, updating the specimen storage materials and writing up several formal documents, such as a pest management plan.
"We're trying to push forward the best we know how," Dogiakos added. "We want to change things and not do things just because this is the way we've always done them, but we also want to focus on having a strategic plan moving forward."
"We're getting it done," said Stacia. "We've got some amazing grants, and a lot of drive. It has been really cool to see it all come together. If we can continue this laser focus in our strategic plan, it will be amazing to see what we can accomplish."
The Montana Dinosaur Center is accepting bookings for the 2021 season. Those interested in learning more or booking a dig trip can go online to tmdinosaur.org.