Long-time Choteau resident Mike Schwitters, 81, has reached his goal of identifying 800 species of birds in the North America, but he is not ready to stop volunteering with Montana Fish, Wildlife and Parks during the spring and fall snow geese migrations.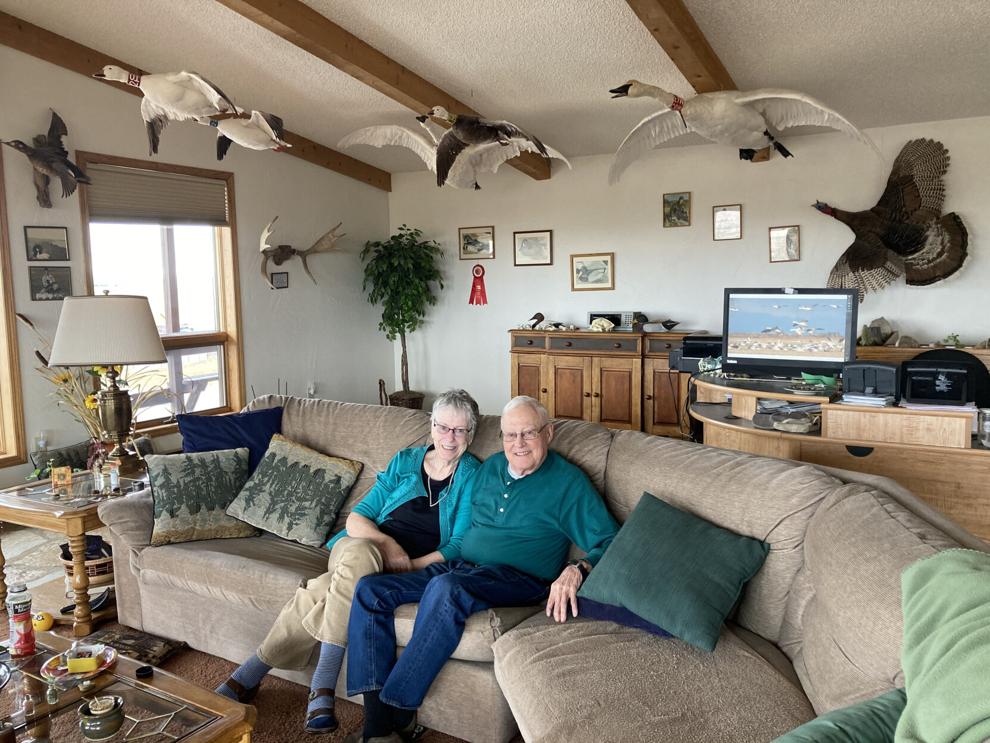 With thousands of birds flocking to Freezout Lake Wildlife Management Area this week and last week, Schwitters is again on the job, going out to the WMA at sunrise daily to count birds (and cars) and report his data back to FWP which can then upload it to a handy app that tells bird watchers about bird counts at the complex, where swans, geese and other waterfowl routinely feed and rest on their migratory journeys.
"It's a remarkable thing to see," Schwitters said during an interview last week at his graceful home, perched on the side of Airport Hill in Choteau. "The incredible numbers and noise and as close as they fly to one another is dramatic."
Schwitters has been observing migrations here since he and his wife, Connie, and their three children moved here in about 1985. He never tires of the sight of the huge flocks of white birds landing, feeding and taking off again.
"Even now, after I've studied them for 20 years or so, it's very exciting and rewarding," he said. "Overall, the migration stays the same, but every year is different."
The migration can bring more than 100,000 snow geese to Freezout WMA along with 5,000 to 7,000 swans, Ross's geese, Canada geese and many other shore birds.
Schwitters traces his interest in the migratory birds back to his childhood in his home state of Iowa. His first observations of geese occurred when he went hunting with his father each fall.
He attended college in Storm Lake, Iowa, earning degrees in biology, physics and mathematics. He enlisted in the U.S. Air Force in 1962 and worked as a meteorologist. Along the way he also earned a master's degree in astronomy from the University of Texas at Austin and spent a fifth year studying meteorology.
He was stationed in various places across the U.S. while in the military and did a tour in South Korea, where he served as the base weatherman.
He retired from the Air Force in 1982, and he and Connie (a Livingston native) bought a motorhome and spent eight months traveling around the country. Their travels brought him to Choteau, and they knew that was where they wanted to settle. Mike took a job as the manager at Skyline Lodge (a position he held for 10 years), and Connie taught school in Heart Butte.
Their kids, Christopher, Patricia and Brian all attended Choteau Public Schools.
As soon as they were settled in Choteau, Mike began volunteering with MFWP and became a paid seasonal employee in about 1995. He recorded bird numbers and interfaced with hunters and bird watchers at Freezout Lake WMA.
While he still enjoys goose hunting, the hunting he does for FWP involves binoculars rather than a shotgun. For a decade, Schwitters was part of a research effort to pinpoint the how and where and when of the snow geese migrations. In Montana, Nebraska, California and Canada, he participated in efforts to place neck collars on geese and then search flocks of thousands of birds for those bands, reporting his findings to Montana FWP, the U.S. Fish and Wildlife Service and Canadian wildlife biologists.
In that decade, Schwitters read 22,000 collars, sometimes spotting the same goose multiple times. He smiled as he pointed to a mounted snow goose hanging from the ceiling in his living room. That goose, number red 2T0, he reported 16 different times.
Through Mike's and many others' efforts, biologists now know that the snow geese spend the winter in the Central Valley of California, where they feed on rice kernels left in fields after harvest. In the spring, as their hormones kick in, they begin a 2,000-mile journey to their nesting grounds in the Canadian Arctic and Wrangel Island, Russia. The huge flocks of birds make two stops on their journey to rest and refuel: one at Freezout Lakes WMA and the other in western Saskatchewan, Canada. In both stops, they have access to shallow lakes and grain fields where they can feast on barley kernels left after harvest.
In the fall, they will repeat the journey on their way south.
Freezout WMA is an ideal resting spot because it offers shallow lakes and ready access to grain, thanks to the barley farmer of the Fairfield Bench. The birds stop here for about four days and draw birdwatchers from across the state and the region.
One day last week, Schwitters counted 72 cars (mostly from Helena and Missoula) at the WMA, as people camped out, set up camp chairs and watched birds through binoculars and camera lenses. He said he thinks the mobile phone app FWP is using to update birding conditions is encouraging more people to check out the migration. On March 27, he counted 181 cars — a new one-day record for visitors during the spring migration.
In addition to becoming a resident expert on the habits of snow geese, Schwitters has also been recording every bird species he sees and has traveled throughout North America and Africa looking for birds to record in his journal. With 800 species to his name, he is ranked about 45th highest for North American birdwatchers. Connie is not far behind him with 729 sightings in her book.
Mike also translates his love of waterfowl into art, carving intricate wooden duck decoys that decorate the family room in their home, whose walls are also covered with original artwork, much of it dedicated to waterfowl.