As temperatures rise and spring showers come in, households in Teton County are trading out their snow blowers for lawn mowers. Area lawn care specialists are ramping up their businesses, taking new clients and expecting rapid plant growth in the coming weeks.
Gary Simonson has been doing lawn care in the Choteau area off and on since 1989.
"I don't do as much as I used to, but I still do some," he said. "I used to offer everything, including a handyman service. I still clean a few gutters, and do jobs that people can't get to every now and then. As far as lawns go, I do raking, irrigating and mowing."
With the heavy winter northcentral Montana experienced this year, Simonson said vegetation seemed to green up a little later than usual, but things are growing more now. "Now that we got some rain and sunshine, I think things will be picking up quickly," he said.
Simonson mainly serves the Choteau area, but does occasional work in Fairfield and in the mountains. Clients can reach him at 466-5688.
Blair Patton, owner of The Lawn Guys business in Choteau, is in his fifth year of operation. He employs two to three people, depending on the time of year.
"Spring cleaning and lawn care keeps us pretty busy. It calms down the summer, and picks up again in the fall with leaf collection," he said.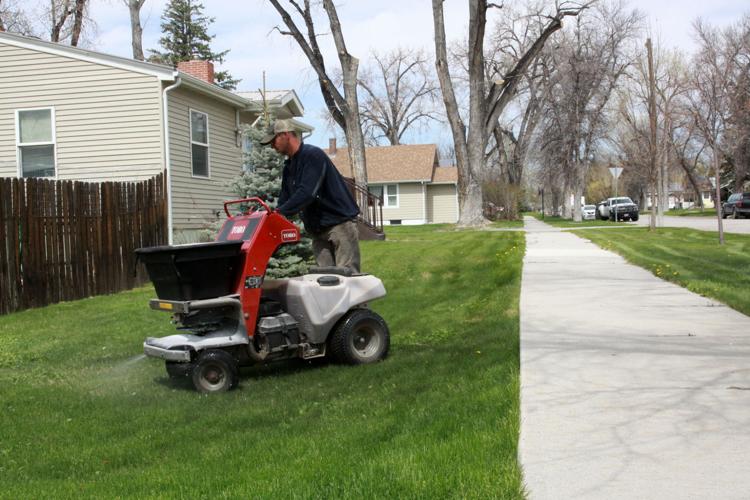 The Lawn Guys' services include fertilizing, weed spraying, mowing, aerating and power raking. "Right now is a good time for spraying and fertilizing," Patton explained. "We typically look at how quickly it warms up. Given the quick rise in temperature now and the moisture levels we've seen, I expect all the plants to grow very rapidly here soon."
The business generally serves Choteau, Augusta and Fairfield areas, including rural sites a few miles outside of town.
The Lawn Guys have various modes of advertisements. "We pass out business cards, put a couple ads in the Acantha and do a once-a-year flyer that a lot of people like to keep," Patton said. Clients can make an appointment for services by calling 590-7693.
Patton also recently co-signed a loan for his son-in-law, Jace Harvie, to purchase A Plus Lawn Care from Gary Davis of Choteau. The business changed hands on May 4, and Harvie said he will keep the business name.
Harvie said the transition of the business was a very smooth process. "The sale came with a book of business and all the equipment I would need," he said.
Harvie comes from a background in ranching. He decided to go into lawn care because the hours allow him more time to spend with his family. "And I just like being outside, and being efficient. I like progress," he added.
A Plus Lawn Care services sprinkler systems — including installations, start-ups and blow-outs. The business does not offer mowing, power raking and other lawn care services not associated with sprinklers. Harvie covers a wide radius around Choteau, including Dutton, Conrad, Valier, Dutton, Power, Fairfield and Simms. Clients can best reach Harvie at his cell phone, 406-229-0824.
Marshall Lagge, owner of Lagge's Lawns, LLC., focuses on the Fairfield area for his business. He does most of the work himself, but does get a lot of quality help from his 5-year-old son, who enjoys spending time outside with his dad.
"I've done lawn care since the eighth grade," Lagge laughed. "I've been in Fairfield for seven years, and have spent six of those years doing lawn care, along with teaching at the high school."
Lagge's Lawns offers mowing, trimming, sprinkler service and repairs, sprinkler winterization, dethatching and tree pruning. Lagge also hangs Christmas lights in the winter — a very popular service that quickly books up his schedule.
"This spring should be good and mild," he said. "The water table may be down a little bit, but it's not necessarily the amount of moisture we get so much as when we get it. This recent storm we had (on May 6) will surely have things growing pretty fast."
Lagge's Lawns can be reached at 868-1946.