Kim Peterson, the new pastor at Trinity Lutheran Church in Choteau, says she has fallen in love with her new community and is enjoying the chance to learn the quiet rhythms of a rural Montana congregation.
"It really is a joy to me to live life with the people I am here to serve and that I serve with," Peterson said during an interview on a snowy fall day.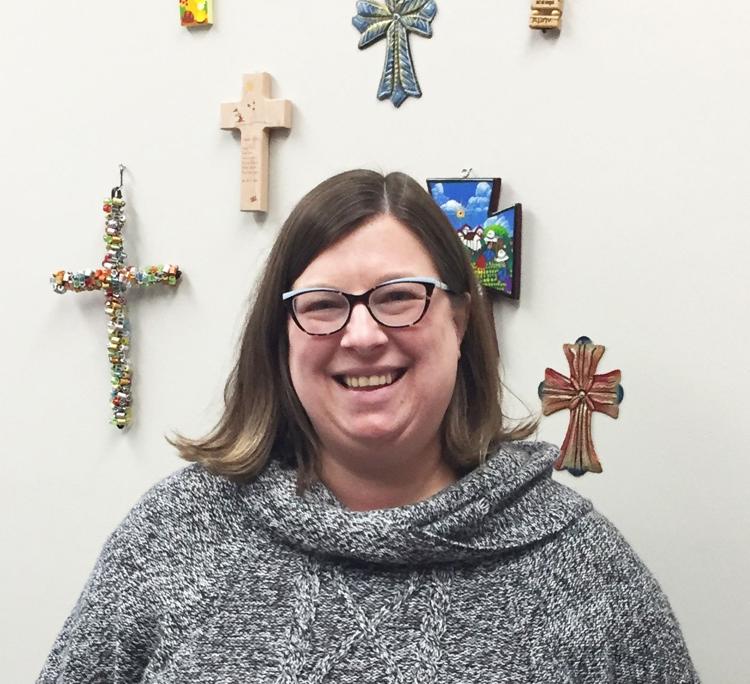 She said she is enjoying making her new home in Choteau, where the congregation has been very welcoming as has the community at large. Peterson said she has enjoyed getting to know the schools here and loves that she lives in a town where she sees friends and neighbors at the grocery store and the post office.
"I'm grateful to the people of Trinity and Choteau for the warm welcome and I'm glad to be a part of the community here," she said.
A former middle school foreign language teacher who worked much of her life in Georgia, Peterson left teaching in 2015 and started on the path that would bring her to the Choteau church on Aug. 1, replacing Pastor Betty Lou Deuchler, who had left the congregation in December 2018.
Peterson was raised in Gig Harbor, Washington, and earned her bachelor of arts degree in classical studies at Concordia College in Moorhead, Minnesota, and her master's degree in teaching classical language (Greek and Latin) from Vanderbilt University in Nashville, Tennessee.
Her love of these languages and of teaching led her to a position as a middle school Latin teacher with a private school system in Atlanta, Georgia. After teaching for about 10 years, she took an administrative position, organizing international trips for students and teachers and then helping link the experiences of those trips to the curriculum to help students learn that they are citizens of a global community.
"I adored teaching," Peterson said during an interview this fall. She said she loved teaching middle school students because of their enthusiasm, their energy and their fearless speaking of the truth. Teaching was never boring and was a constant learning process for her and for the students, she said.
"I loved it and was very passionate about it," she said, adding that the hardest part of her decision to become a pastor was leaving the classroom. Though, she said, she has now learned that pastors are also teachers.
Teachers, she said, provide children a safe space to be themselves and learn and grow. That's consistent in pastoring as well.
Peterson grew up in a Missouri Synod Lutheran household but switched to the an Evangelical Lutheran Church in America congregation in high school.
As a Lutheran, Peterson said she believes that all people have a vocation, which means they are called by God to do different things in their lives. A vocation, she said, is where your passions and the needs of the world come together.
"I do believe I was called to be a teacher for a time, but then I began to experience a strong internal compulsion that God was calling me to be a pastor," she said.
Like many people in the Bible, she said, she resisted the call for a while, and then a wise pastor told her she didn't have to make a huge decision all at once. She just had to decide whether to explore the possibility. So, she said, she took one step at a time and her understanding of what God was calling her to do increased. By the time she entered seminary, she knew she was doing the right thing and was excited for the next phase in her life.
She started seminary in 2015 at Trinity Lutheran Seminary, an ECLA school in Columbus, Ohio, and graduated last May with a Master of Divinity degree, having completed a four-year program that includes three years of class work overlain with two years of internship. She did her internships with churches in Dallas, Texas, and Loveland, Ohio.
At the same time that she was completing the requirements of seminary school, she was also going through the ECLA Candidacy process, which can last five to six years. During this process, pastoral candidates are continually working with a committee that signs off on the candidates as they reach certain goals.
She has successfully completed her Candidacy and was ordained in July after she had received her call from the TLC congregation. She had interviewed here in March and received her call in June.
For her first call, Peterson said, her bishop assigned her Montana and then the TLC congregation chose her. "Ideally you want to land in a place where your gifts and the needs of the church line up," she said.
Her father was born in Havre, but didn't grow up in Montana. Her whole experience with the state was driving through it on the way from Washington state to visit relatives in Minnesota once a year. "In many ways, I am a total newbie" to Montana, she said.
She interviewed in Choteau on the weekend of a late spring snowstorm, and TLC was one of the few churches in Choteau that didn't cancel its Sunday worship because she was there.
"The land here is stunningly beautiful, but the people are as well," she said. "There is a very fierce independent spirit and pride of place here that I admire."
As the pastor at TLC, Peterson ministers to about 55 congregation members, holding regular worship services on Sundays at 10 a.m. She and United Methodist Church Pastor Zach Bechtold are jointly offering youth group programs on Wednesdays, and Peterson also does home visits and teaches adult Bible classes. She also does chapel time twice a week with children attending the TLC Preschool.
"As pastor of this community, it's simply my job to keep pointing to Jesus," she said. "My goal is to administer word and Sacraments and equip and nourish the congregation and the people of the community, not as an end itself, but to power them to go out and show God's love to a hurting world."
The universal beliefs of the ELCA include that there is nothing they can do to earn God's grace or mercy, but through faith and the power of the Holy Spirit, they are called to be children of God. Unconditional grace through faith is at the core of the Lutheran identity, she said, as is the belief that Lutherans are called to do good works not for salvation but out of their love for God because the way that they know God's love is through the ways other people love them.
Peterson says she wants to give her congregation, especially the children and young adults, a safe place where they can explore their faith.
"The work we do with our children and our young adults, and being able to give them space to ask really difficult questions about faith without fear of judgment or chastisement, is a really important thing to me," she said.
Peterson said the TLC congregation is involved in the Choteau community and works to support charitable causes here. The congregation is doing a 25-day reverse advent calendar, where each day instead of taking something out of an advent calendar, they are putting in a different food item that will be donated to the Teton County Food Pantry, for example.
Also this month, the church is presenting bread and soup advent recitals with freewill donations benefiting the Choteau Ministerial Association.
"We are a community based congregation, which means that we are committed to cooperation and support of other groups that are doing things well, like the Food Pantry," she said.
"Our job is to focus on the work that God wants us to do here," she said. She works with her congregation to help them "understand that their faith is something that can sustain and drive them to show God's love for others" through their relationships.
The truth is you don't need to get a fancy degree to understand God, she said, and one of the great gifts she has received as a pastor is getting to see the really amazing things people do to help each other. "That is a source of deep joy," she said.