A simple cheek swab in 2016 led Cody Marney of Choteau to be a bone marrow donor in June of 2021 for a 9-year-old girl with leukemia.
"I registered after watching a movie centered around childhood leukemia," Marney, a 2005 Choteau High School graduate and a stylist at The Edge Salon since 2012, said. "The end of the movie had one of those, for more information visit the Gift of Life website," he added. The initial registry process was a simple cheek swab through the mail.
Fast forward five years to April 22 when Marney was contacted by Gift of Life stating he was a potential match. They sent him a new round of cheek swabs just to double check. "My initial contact person, Sarah, informed me that after the cheek swabs were received, they would go to the lab for testing and from there they would determine if I was a close enough match to move forward."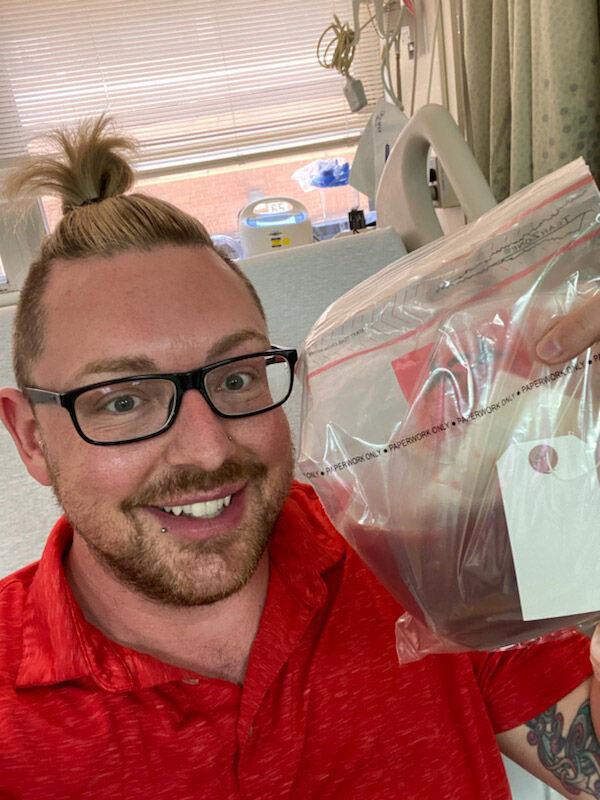 Sarah told him the process would take approximately 16 weeks and if he were a match, a donation day would be scheduled. "I was told in April to plan for September or October for donation day," Marney said.
Headquartered in Boca Raton, Florida, Gift of Life is an international public bone marrow and blood stem cell registry. Gift of Life is a world leader in facilitating transplants for children and adults suffering from many life-threatening diseases, including leukemia and lymphoma.
According to the Gift of Life website, blood cancer is diagnosed in a child or adult every three minutes in the United States, affecting 176,200 people in 2019. Each year approximately 20,000 people in the United States need a marrow transplant. One in every 200 Americans will have a transplant within their lifetime using marrow, stem cells or umbilical cord blood. When registering, there is a 10% chance of being called back as a possible match.
Knowing the statistics of matches, Marney returned the swabs understanding the results could potentially come back different than the first time.
But that wasn't the case. "Sarah called letting me know that I was a 98-100% match and we would be moving quickly," Marney said. He was transferred to "Ana" who became his official contact person with Gift of Life. "I had about an hour phone call with her talking about the process and what would be expected of me. We ended the phone call with the donation day scheduled for June 15 in Florida," Marney said.
"I knew that I couldn't say no, but it created a scheduling nightmare," he said.
Marney was scheduled to take a group of CHS students to Washington, D.C., for Close Up. "There were multiple options and contingencies in place, but the one that worked was to get into the donation center at Georgetown University Hospital." It just so happened they had an opening on June 15. With the plan in place, Marney extended his stay in the nation's capital for several days.
Before travel, there were multiple conference calls with Gift of Life, teams of doctors, donation staff and his liaison, Ana. He also underwent an extensive physical examination and bloodwork.
Stepping forward to the week in D.C. on June 6, Marney began daily check-ins with Ana and the donation staff. On June 11, he started the first round of Neupogen injections to force his body make more white blood cells. Gift of Life set up the injections with a nurse coming directly to the hotel room.
"It was incredibly trying to work around the student schedule and my responsibilities as an adviser," he said. "She came to the hotel bright and early and did all of my vitals, daily health questionnaire and the injections."
Marney explained each round of injections involved four vials. The injections were administered Friday, Saturday, Sunday and Monday. "The injections made me tired and I had pretty severe muscle and bone aches," he added. "The final round of injections occurred at the hospital the morning of donation day."
The donation itself took about six and half hours, starting at 7 a.m. "All said and done, my nurses, Michelle and Daisy, filtered 15 liters of my blood to get enough stem cells for the recipient," Marney said.
A couple weeks past donation, Marney said the bone and muscle aches are pretty much gone and the exhaustion level is rapidly reduced. In terms of recovery time, there wasn't much down time, just the lingering effects of the injections.
Marney noted the only major COVID restrictions that remained was masking at all times and no extra people allowed in the hospital with him. Marney's husband, Tom Frownfelder, however, was able to be in Washington, D.C., in time for the donation and be with him before and after.
"I think every single person has been touched by cancer in some way, and I felt that this was a pretty simple way to potentially help," Marney said when reflecting back on signing up for the registry and going through the donation process.
Blood cancer kills more children than any other form of cancer every year. New cases of leukemia, lymphoma and myeloma are expected to account for 10% of the estimated 1,762,450 new cancer cases diagnosed in the United States in yearly.
"Just do it," Marney said when asked what he would say to encourage others to get on the registry. "The registry process is a simple cheek swab," he said, "It only takes two minutes and no blood is drawn."
Donors must be 18 to 35 years old, in general good health and a U.S. citizen. Donors remain in the registry until age 61. New donors swab the inside of their cheeks and complete a registration questionnaire. The swabs are tested by a lab for genetic markers, which are entered in the registry where they can be searched to find matches for patients in dire need of a transplant. Testing and registration kits can be ordered online at giftoflife.org/register or join in person by visiting a donor drive. For a calendar of coming drives visit giftoflife.org/events.
"Through this process, I learned that family members are rarely a match for bone marrow or stem cells," Marney added. "The percentage of matches that happen is so low that we need to get as many people as possible in the registry." According to Gift of Life information, only 30% of patients will find a matching donor within their families, with 70% seeking unrelated matching donors in the bone marrow registry.
"I registered because they do not have the same level of restrictions that are still present with basic blood donation," Marney said. "When I was contacted as a match, it never crossed my mind to back out, even though the option was there up until donation day. I couldn't do that to the donor's family."
Looking forward, Marney said he will remain as this girl's donor for the next several years, just in case. "Fingers crossed, this first round will do the trick," he said.
Marney will be able to communicate with the recipient's family through the donation center for the next year. Following that, they will have the opportunity to communicate directly. "I will also receive updates for at least the next five years regarding her condition," he said.