Keegan Rumsey, a licensed massage and neuromuscular massage therapist, has opened New Leaf Massage in Office 1 of the Larson Building at 21 First. St. N.W. in Choteau.
She can be reached at 406-217-8112 to schedule appointments from 10 a.m. to 6 p.m.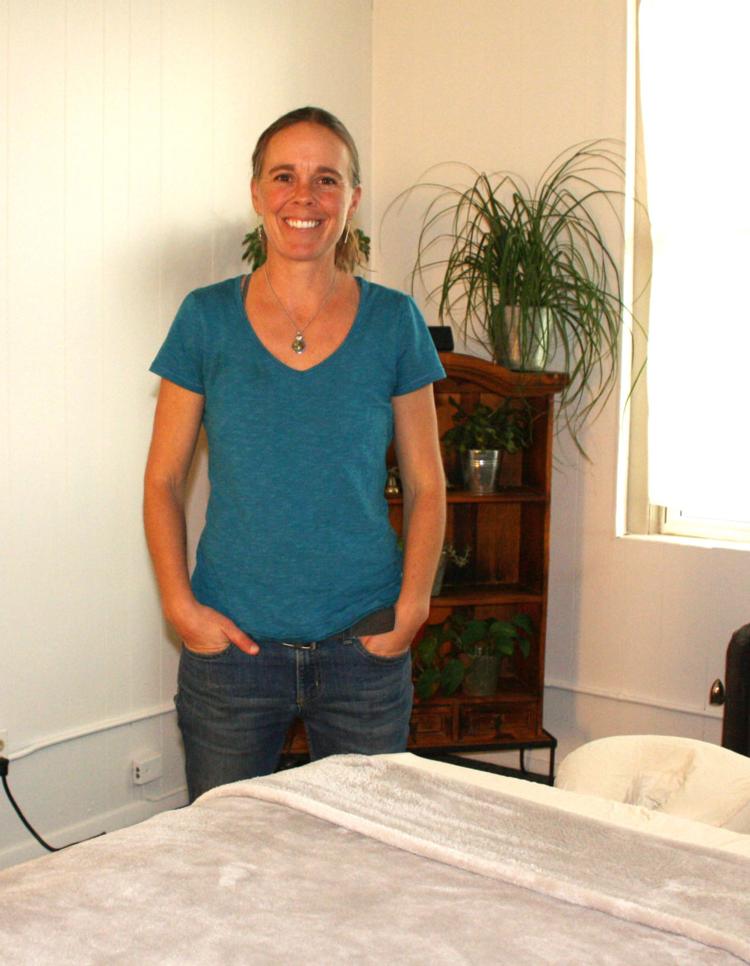 Rumsey said the services that New Leaf Massage will offer are likely to be ever changing as she learns more and acquires more training.
"Massage therapy is fascinating, in that there are so many directions for that focus to hone in on," she said. "Personally, I am fascinated by the junction where logic and 'magic' intersect. I'm fascinated by muscles, anatomy, structure and function. Range-of-motion in joints, finding antagonists to the muscles being fired as well as synergists to assist in the firing are something I will have as a strong and passionate part of my practice."
She said helping people with injuries or postural imbalances either in conjunction with another modality or being treated with massage alone will be the foundation of her practice.
"But I'm equally fascinated by what's referred to as the 'subtle' body: the energy structures, the meridians, the chakras and the field of massage that is sometimes hard for people to understand," she said.
In addition to being a licensed massage therapist, she recently obtained her certification as a Reiki practitioner. Reiki is a Japanese form of relaxation and healing through light touch from a practitioner. From one perspective, Reiki can be hard for people to grasp, she said. "But what's fascinating to me, is that you don't have to be on-board with ethereal ideas to have Reiki benefit you. In fact, you can look at it from a completely logical scientific mind and receive benefits from it as well."
The subtle, gentle holding patterns of Reiki which set a person's nervous system into a state of calm, can be justified logically by the fact that the sensory receptors in a person's body are continually firing in reaction to the light touch held by the practitioner while the client lies relaxed. "This causes a constant electric current in the body of the recipient, extremely subtle yet powerful to the balance of a person's nervous system," she said. This can be thought of as a physiologic process of the nervous system, or an energy process of the subtle and unseen body. Either way, it's beneficial to the recipient, she said.
She is also intrigued by the interaction between connections in the body as a whole, and treating from that perspective. This can be looked at from logical anatomy and myofascial trains, or from meridians and energy lines, she said.
"It's all a matter of perspective and what makes sense for the individual," Rumsey said. "I hope that I can provide a practice that sheds light to the clients in the best way that makes sense to them. Each client will have different needs, different weaknesses, different theories and ideas that resonate with them. My hope is to help facilitate healing and growth in a way that will help them either heal or maintain wellness for their individual needs. In short, everyone's treatment will be different and customized based on my skill set and their needs."
Rumsey charges $60 for a 60-minute massage and $80 for a 90-minute session. She also offers three-packs of 60-minute massages for $150, which saves the customer $30. For Reiki, she offers a 60-minute session for $45 or a 90-minute massage/Reiki combo for $75. The combination includes a 60-minute massage and then 30-minutes of Reiki to facilitate relaxation and meditation.
A Reiki session is a good option for people who do not want to experience a full body massage. A stand-alone Reiki treatment allows the client to remain fully dressed with minimal contact, she said. The parasympathetic nervous system is still triggered and activated through light touch by the practitioner.
Rumsey grew up in Montana and has spent her adult life working seasonally in the Bob Marshall Wilderness. She began working on a trail crew while she was a photojournalism student at the University of Montana. "Those seasonal summers soon turned into 20 years working in the backcountry," she said. She also worked as a fire lookout, river ranger, packer, and then spent the bulk of the last 12 years as a wilderness ranger for the Rocky Mountain Ranger District in Choteau.
"After spending 20 years working in the backcountry I decided it was time to switch gears and turn over a 'new leaf,'" she said. "I wanted to have more flexibility and freedom in my life's schedule and engage in a new profession that challenged me mentally, physically and opened opportunities to create a practice that would help others."
She decided to delve into massage therapy after learning about the Massage Training Institute in Kalispell and the flexibility in that program as well as the program's scientific approach to massage. The program focuses on anatomy and kinesiology and uses neuromuscular therapy as an integrative tool in conjunction with the traditional Swedish massage practice.
"I have always been physically active, so to learn more about the body and its functions in an in-depth study has been fascinating," she said. "To be able to do so while having the freedom of having my own business came at the right time in my life to inject freedom and independence into my livelihood."
Rumsey has lived on the RMF since 2005. She lived outside of Augusta for a decade while working for the USFS. Since 2016, she has lived west of Choteau in the Teton River Canyon.
"I feel grateful to live next to a fully intact ecosystem with carnivores and predators sharing the same habitat as my own," she said. "I feel lucky to have a handful of trails as launch points for trail running and exploration minutes from my door."
Rumsey said she is enthusiastic about this new career and wants to be flexible to serve the needs of the community. She has sufficient office space to perform treatments and has a portable table to allow her to provide traveling services at group venues, such as weddings, family gatherings and other celebrations.
"I feel fortunate to live in a small community with a growing population of wellness practitioners and a good relationship amongst us as our own community," she said. "Yoga practitioners and massage therapists are becoming numerous here and this is a wonderful trend to see happening. As our community evolves, I hope we can continue to work and grow, heal and help one another into a place of wellness."
Other massage therapists in Choteau are: Paulette Stott with Glacier Mountain Massage; Claire Hodgskiss with The Edge Salon and Spa; Mary Skinner Troy with The Healing Touch; and Gordon Olson with Oh Massage.