Five grizzly bears have been reported killed in Teton County in the first five and half months of 2021, Montana Fish, Wildlife and Parks grizzly management specialist Chad White said on Monday.
The tally includes a yearling female that apparently drowned in the Eureka Reservoir area on May 6; a yearling male, apparently killed by another grizzly on May 11, also in the Eureka Reservoir area; a male cub of the year, hit by a vehicle on U.S. Highway 89 about 7.5 miles north of Choteau on May 16; a 4-year-old male hit on Secondary Highway 220 about 7.6 miles north of Choteau on June 8; and a 2-year-old male hit on a gravel county road near the Lowery Bridge on the Sun River on June 12.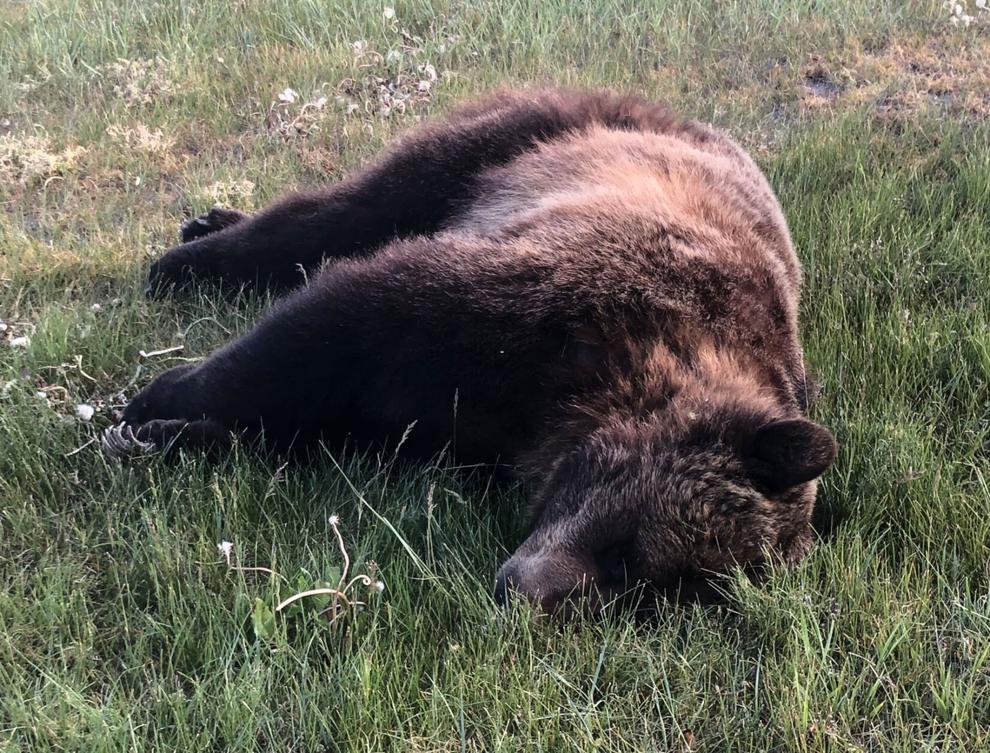 "That is a lot for one area," White said, adding that compared to previous years, the number of sightings of grizzlies in this area is increasing as bears expand east of U.S. Highway 89, but so far the number of reported human or livestock conflicts has not increased.
According to the U.S. Fish and Wildlife Service, 13 grizzlies have been reported dead or killed in the Northern Continental Divide Ecosystem through June 9, but White said the most recent losses in Teton County aren't included in that total but would bring the current number to 15 deaths.
Of the deaths so far this year, six are related to livestock depredation; two are from natural causes; one was poached; one died from capture-related injuries; four are apparently from vehicle collisions; and one cause of death is still under investigation. Eleven males and four females have died.
The federal grizzly management plan for the NCDE sets a mortality threshold for the estimated total reported and unreported mortalities of 25 female and 30 male grizzly deaths in 2021 from all causes within the Demographic Monitoring Area.
The bear that was killed on June 8 was struck by a four-door passenger car, being driving north on Secondary Highway 220 shortly after 11 p.m. Tessa Brownell, 15, was on her way home from Choteau to rural Pendroy and was alone in her car when the collision happened.
Her father, Justin Brownell, said she called her parents on her cell phone to tell them that she had hit something big and brown or black that could have been a calf or a bear. Her parents had her pull over off the highway and wait for them to come to her.
He said they found their daughter shaken up but uninjured. Her car sustained heavy damage to the hood, but could still be driven. They sent her home and then went south to where she thought she hit the animal. They found blood on the highway but saw nothing in the borrow pit and returned home.
The next morning they called the Teton County Sheriff's Office to report the collision and later the Montana Highway Patrol responded and spoke with Tessa, then provided her with a white sheet, documenting the collision for insurance purposes.
Justin Brownell said his daughter's 2003 car is heavily damaged and would likely cost too much to get fixed, so they are in the process of finding a new used car for her.
A rancher, Brownell said his daughter is lucky that she wasn't injured in the collision. "My daughter should have never hit a grizzly bear," he said, adding that grizzly numbers in the NCDE are at or beyond recovery levels and the grizzly should be removed from protection under the Endangered Species Act and management returned from the U.S. Fish and Wildlife Service to MFWP.
Word of the death of this 4-year-old male bear spread swiftly last week on social media. Jenny and Justin Lee and their three children, Ellie, Gus and Preston, live on the east side of the Secondary Highway 220 and were surprised to find a dead bear in their yard on the morning of June 9.
She said Tessa Brownell's mom, Mona DeBoo, had called the night before to let her know that Tessa had hit something on the highway near their home that could have been a black calf. Early Wednesday morning though ditch rider Kirk Moore saw a dead bear in the Lee family yard and quickly notified them.
"He said, 'You have a dead bear,'" she said.
She and her family then checked it out and found a long-haired chocolate brown grizzly, lying dead in a grassy field. Moore called White with MFP to report the bear.
Lee said this is not the first time there have been bears on the ranch as their home is near a small creek. She and her family have Idaho Shag dogs that guard the place and can push bears out of the yard, sending them on their way either east or west of the yard.
"I haven't had any problems with my chickens," she said. "The dogs are keeping them out of our yard."
But, she said, she's nervous now about walking in the yard and on the ranch. She carries her cell phone, bear spray and takes the dogs.
"Our kids are driving now and they're going to be hitting bears?" she asked incredulously. "We tell them to watch for deer, but a dark-colored bear at night? Fortunately, Tessa's alive."
White said that drivers should watch out for bears at night when they are driving near waterways or densely brushy areas — both of which bears use for travel corridors because of the cover they offer.
If a driver accidently hits a bear, White said, he wants the driver to stay safely in their vehicle because an injured bear could be aggressive and there could be other bears in a family unit nearby. A driver in this situation should report the collision to the Teton County Sheriff's Office, the Montana Highway Patrol and him. He can be reached at 406-788-4755.
White the bear that Brownell killed was a 4-year-old male in very good condition, "a prime specimen for a male of that age."
He used the opportunity to talk with landowners and passersby about grizzly activity here and this was a way for people to see a grizzly bear up close without any danger.
The bear that died on June 12 on a county road near the Lowery Bridge was a 2-year-old male bear that was in decent to fair condition. White said the investigation into that bear's death showed that it was hit by a vehicle and dragged underneath the vehicle for about 10 yards.
He said he has heard that there may have been a party at a Bureau of Land Management campground in the area with erratic driving reported that night. Anyone with any information on accident is encouraged to contact White.
White said people living in north-central Montana need to remain bear aware when working or recreating outside. People should travel in groups, carry accessible bear spray, avoid brushy areas, particularly along creek or ditch banks, and be aware that bears will be seeking ripening chokecherries, currants and other wild-growing berries at this time of year.