What can Choteau residents young and old do to draw more family-aged people to the graying community? For starters: Recruiting people looking for its "Mayberry" lifestyle and helping new arrivals build local ties — as well as tackling barriers like limited job opportunity and housing costs.
Those were among the ideas discussed at an  event organized by the Choteau Acantha and Solutions Journalism Network Feb. 27 at the Stage Stop Inn. The Acantha was among a dozen Montana news media companies that wrote or produced stories about the economic gap between the state's top five growing counties (Gallatin, Flathead, Missoula, Lewis and Clark and Yellowstone) and the other 51, many of which, like Teton County, have struggling small-town economies and population loss.
About 65 people attended the evening meeting — half, based on a show of hands, younger than 45.
That family-aged crowd, residents in the 25-44 age bracket, is harder to find in Choteau than it used to be. Over the last 15 years, said facilitator and Acantha Editor Melody Martinsen, Teton County has seen its overall population decrease by 6 percent. But the county, now 6,000 residents, has lost 660 people in the 25-44 age bracket since 2000, losing with them the children needed to fill local schools.
So what challenges discourage younger residents from settling down in Choteau? And can what the town's residents do to reverse the population slide? Attendees at the event filled the better part of an hour-and-a-half with ideas.
Most of the younger residents who spoke noted they were in the Choteau for a reason: Either they'd grown up in the area or had local family ties or, in a couple cases, had come to town to take a job.
Steve and Sandra Dogiakos, for example, said they moved to Choteau in 2011 because they had family roots here. They only planned to stick around for a few months at first, but got involved in the community and stayed. She now works for the Acantha and he runs an e-commerce company.
Steve Dogiakos said he thought there was opportunity to recruit new residents, selling them on Choteau's small-town quality of life.
"If you want Mayberry, Choteau's kind of it," Steve said. "You can't find that in a lot of the country."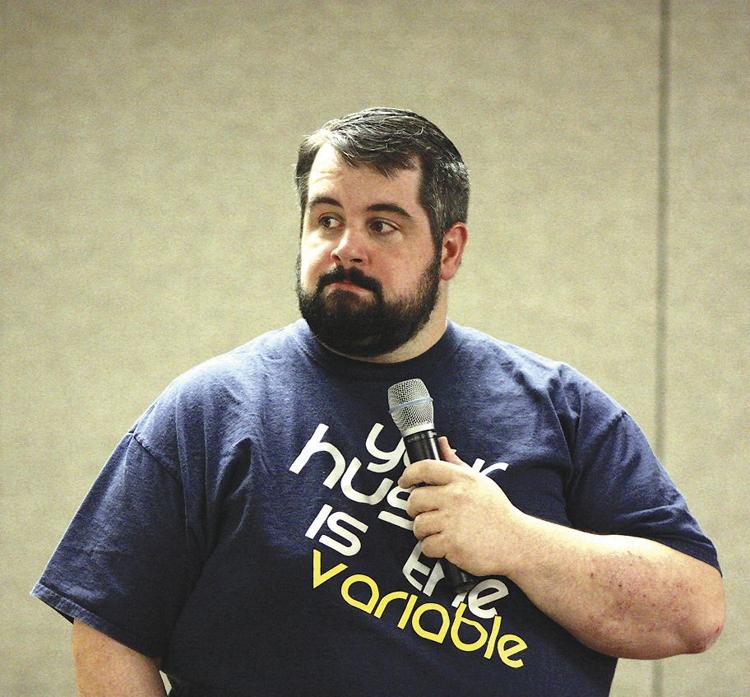 Rosanne Balasabas, who moved to town in August to work as a law clerk for the 9th Judicial District Court judge, said she was drawn to Choteau in part because of the recreation options — skiing and climbing in particular.
Even so, said Balasabas, a University of Montana law school graduate originally from New York City, as a single 29-year-old she ends up driving hours on weekends so she can hang out with friends in Whitefish.
"I do actually love it here," she said. "If I did leave, it's probably because I would die alone."
Stacia Martineau, a 2014 UM grad from Seattle who works at the Two Medicine Dinosaur Center in Bynum, also said the long winters can get lonely without many opportunities to get out and interact with people.
"If it wasn't for the dinosaur center being here, I just couldn't do it," she said.
Fraternal organizations like the Choteau Jaycees and the Choteau Lions have historically been ways for newer residents to make friends and get involved in the community. But some attendees noted that the Jaycees, designed for members 18 to 40, disbanded in the past decade because the club couldn't recruit younger people — perhaps because the younger generation tends to look for less structured involvement.
"Every community has a core group of doers — they're all dying off," said Teton County Commissioner Jim Hodgskiss. "You young people have to step up and support those organizations."
Jerry Collins of Pendroy, who is the Choteau American Legion Post commander, encouraged everyone in his generation to get involved in the community and not to wait for an invitation to do so.
"This isn't going to happen unless our generation makes it happen," Collins said of economic revitalization in Choteau. "If we don't do it, we're not going to see this town progress anywhere. It's got to start now and it's got to start with us."
Attendees also identified a lack of job opportunities with robust wages as a barrier for younger residents.
"It's expensive to be here," said schoolteacher Lisette Langdorf. She and her boyfriend, who works as a farmer, were only able to buy a home recently because they had parental help, she said.
"We are living paycheck to paycheck," she said.
Capturing more tourism traffic and promoting internet-enabled industries could help on the jobs front, several people suggested, with some saying they thought the town should try to recruit technology companies.
Multiple attendees, including Dogiakos and Alpine Touch seasonings owner Chad Ekegren, said they either telecommute or run businesses that make money from online sales — something that's getting easier as broadband internet access improves.
Alpine Touch, which also has a distribution agreement with Albertsons, makes about 20 percent of its revenue from e-commerce, said Ekegren, who with his family took over the longtime Choteau business five years ago. While freight charges in and out of Choteau are expensive, he said, the town is an easy place to do business since hiring a contractor or electrician means talking to someone you already know instead of heading to the yellow pages.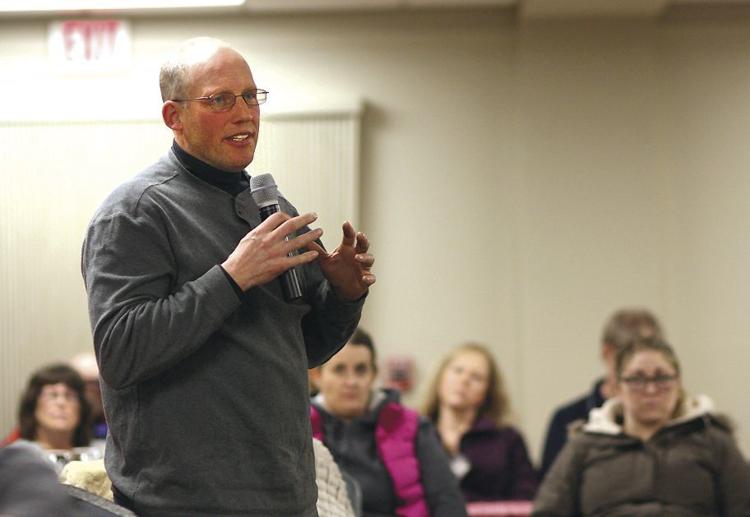 Joe Haas, who grew up in Choteau, and his wife Lisa also said they have been working knowledge-industry jobs remotely since moving back to Choteau a few years ago. "That is a legitimate path," he said.
Martinsen encouraged attendees interested in continuing the evening's conversation to take part in the Montana Economic Developers Association's community review, that is being conducted at the request of the Choteau Area Port Authority board. The review is a substantive community project that includes a survey of all Choteau residents plus an intensive two-day program on March 19 and 20. Work projects that come out of the community review will also need volunteers to make them into a reality.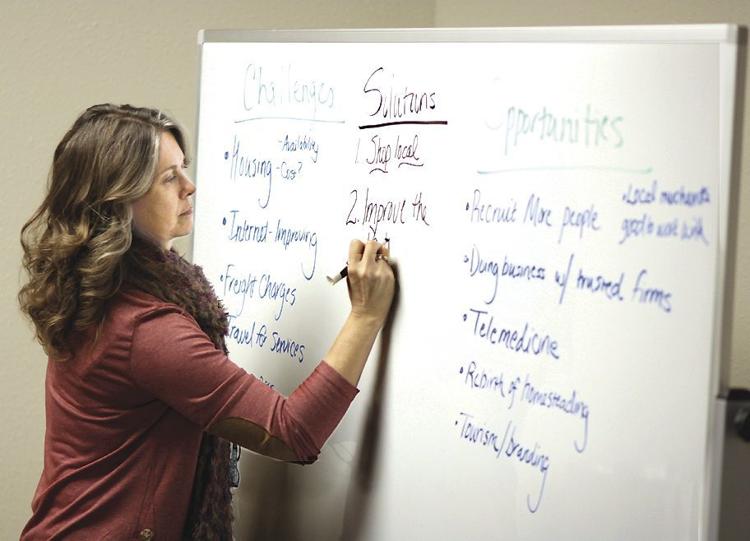 Anyone interested in participating in the review or working on projects is encouraged to contact the CAPA board through member Steve Dogiakos at steve@dogiakos.com.