This year's celebration of Holy Week may hold a little more meaning for members of Catholic churches in Choteau and Fairfield following their pilgrimage to Rome.
Ten youth and five chaperones left Great Falls on Christmas morning and returned on Jan. 5 after spending 10 days touring, learning, worshiping and meditating.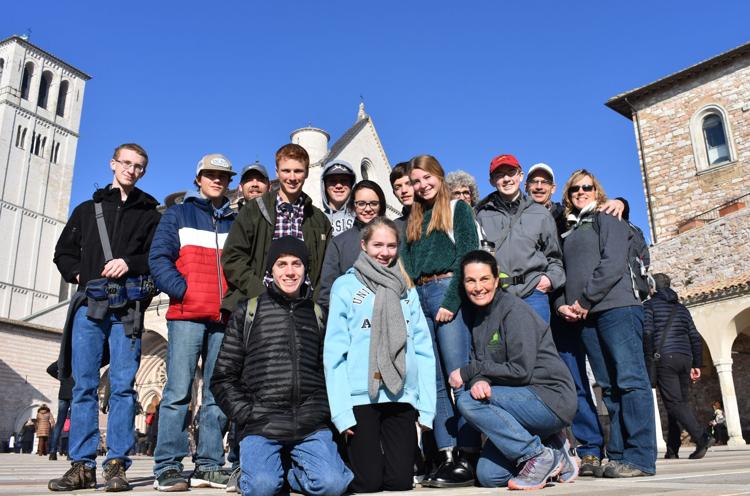 Participating in the trip were: Matthew Haas, Amy McKenzie, Blake Gunderson and Carson Crary from Choteau; Luke Ostberg, Shea Ostberg, Justin Forseth and Nolan Forseth from Fairfield and Jacob Boetticher and Maggie Toeckes from Power. Laura Toeckes, pastoral assistant for the Choteau, Fairfield and Augusta parishes, was the leader of the group. Chaperones on the trip were Clayton and Karen Forseth and Stephen and Cari Ostberg.
The idea for the trip started with the youth group's desire to experience Rome first-hand and not just take a tour of places but have a chance to experience their faith, Laura Toeckes said. "They wanted time for prayer and to be present in what they were seeing and learning, she added. "What started as a playful comment about going to Rome became almost two years of some serious work on their parts, to make it a reality," Laura said. "Along with the fundraising and planning, there was a great deal of divine intervention that made this an exceptional trip. God really blessed us."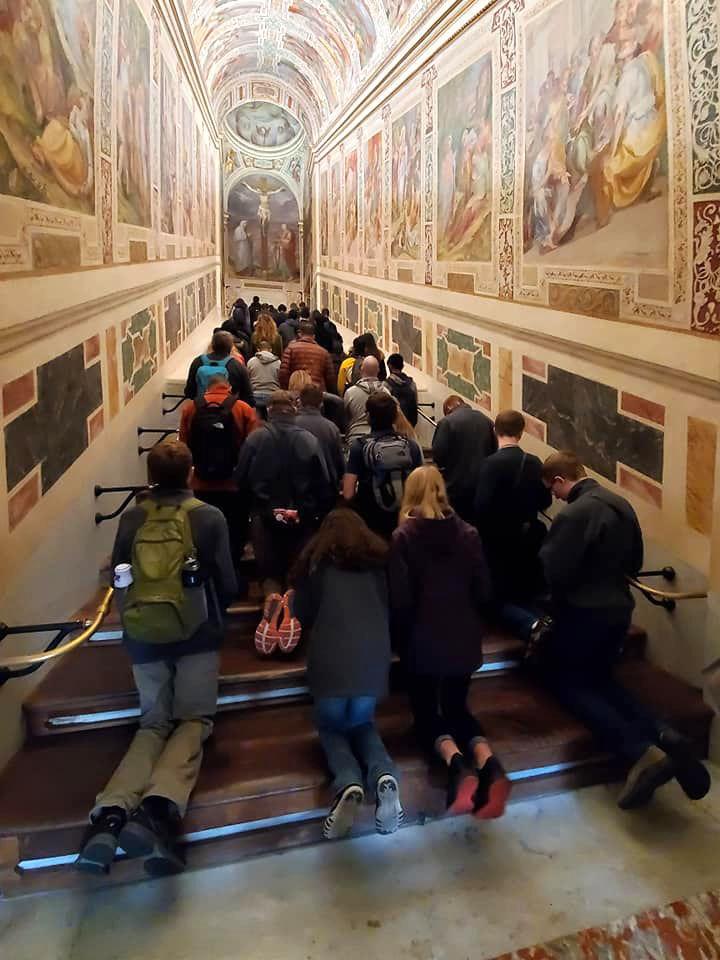 They elected not to go the traditional route with a tour group, and instead created their own itinerary, which included staying at convents run by nuns. "Time didn't allow us to do everything on the wish list, so we narrowed it down, keeping in mind time for prayer and mass," Laura said. "The point of the mission was to grow in our faith."
Having visited Rome while in college 20 years ago, Laura said that gave her a basis from which to start. She also did a great deal of networking with friends. "There were countless phone calls and e-mails which resulted in waiting for answers, given the time difference," she added. But when they did connect, everything just seemed to slip into place, from securing places to stay, to arranging for guides.
"God blessed us in connecting with others who made our venture better than we could ever imagine," Laura said.
One of those contacts was Sister Mary Woelkers, originally from Great Falls, whom Laura knew in high school and who now lives in Rome. There were seminarians at the North American College who served as tour guides, Steven Vetter from Bismarck, North Dakota, and John Pankratz from Billings with the Great Falls Diocese. Their knowledge of Rome was invaluable and their connection with the youth from Teton County was touching, Laura said. "They opened avenues for the group that might not have happened otherwise," she added.
The blessings were plentiful on the trip, from having a delightful visit with Sister Emmanuel of Wales (who was not only exceptional in her knowledge but could explain the faith behind what they were witnessing) to taking part in Mass with the Bishop of Assisi.
"I find myself thinking about how much God helped us with our trip," Justin Forseth said. "Especially when we met with the seminarians who served as our guides."
The list of everything the group saw and did is extensive. From Rome to Assisi, the trip included stops at the Vatican Museum, St. Peter's Basilica, top of the Dome at St. Peter's, Catacombs of St. Callixtus, Capuchin Crypt, St. John Lateran, Holy Stairs, Basilica of St. Francis, and Our Lady of the Angels of Portiuncula.
Laura said there were different highlights for each person traveling. She gave examples of a few.
For herself, a bright spot of the trip was being in Rome during the Christmas season. "The beauty of lights, poinsettias and nativity scenes made it worth flying out of Montana early Christmas morning and travelling for 26 hours," she laughed. There were nativity scenes everywhere. Unique with the nativities were townspeople and farms. Two students noticed there were often chickens, and it became a goal to check every scene for the chickens.
The visit to Rome's Scala Sancta, or "Church of the Holy Stairs" was a meaningful and spiritual part of the trip for the entire group. Queen Helena brought the 28 white marble steps to Rome from Jerusalem in the 300s. They are believed to have been climbed by Jesus when he was sentenced by Pontius Pilate. "Climbing the stairs must be done on your knees," Laura said. "We were just blown away; deep grooves have been worn from all who have ascended them."
After being back for two months, Laura's daughter Maggie said the Holy Stairs comes to her mind as one of the key moments of the trip. "It was a really powerful prayer experience," Maggie added.
Reflecting on the trip, Shea Ostberg said she thinks about Assisi, Eremo and St. Peter's the most. "The Sun coming through the trees was like the Holy Spirit smiling on me," she said. "It was really amazing seeing all of the history of the church."
The 320 stairs to the top of Cupola at the Vatican was quite the climb, but the view of the Vatican was worth it, they said.
Celebrating New Year's Eve among the local citizens in the town square of Assisi where they listened to 1980s and 1990s music being played, topped off with fireworks, will be a memory the students will not forget.
Everyone also got to taste and delight in true gelato and to savor tiramisu.
They were able to celebrate numerous masses during the trip in a variety of languages including Spanish, Italian and English. They celebrated mass at the Pantheon and attended the Angelus in St. Peter's Square with the Pope.
The group's tour closed with mass in English at the North American College after a party with the seminarians on the rooftop there. "It came full-circle, from having seminarians join through our journey and closing out our stay by seeing where the seminarians live and study," Laura said.