The state has now awarded more than $663,972 in COVID-19 impact grants to Main Street businesses, nonprofit organizations and agricultural businesses in Teton County. One of those recipients is Judy Cornell of Choteau, who will be using a $10,000 Agricultural Adaptability Program grant to purchase a grain mixer for her flour-milling business.
In a recent interview, Cornell said the Agricultural Adaptability Program seemed to fit her Conservation Grains farm business perfectly. These grants, offered through the Montana Department of Agriculture, are geared to helping food and agriculture businesses increase community resilience amid the COVID-19 pandemic and other economic disruptions. The Department of Agriculture made $500,0000 in federal funding available for grants up to $10,000 each.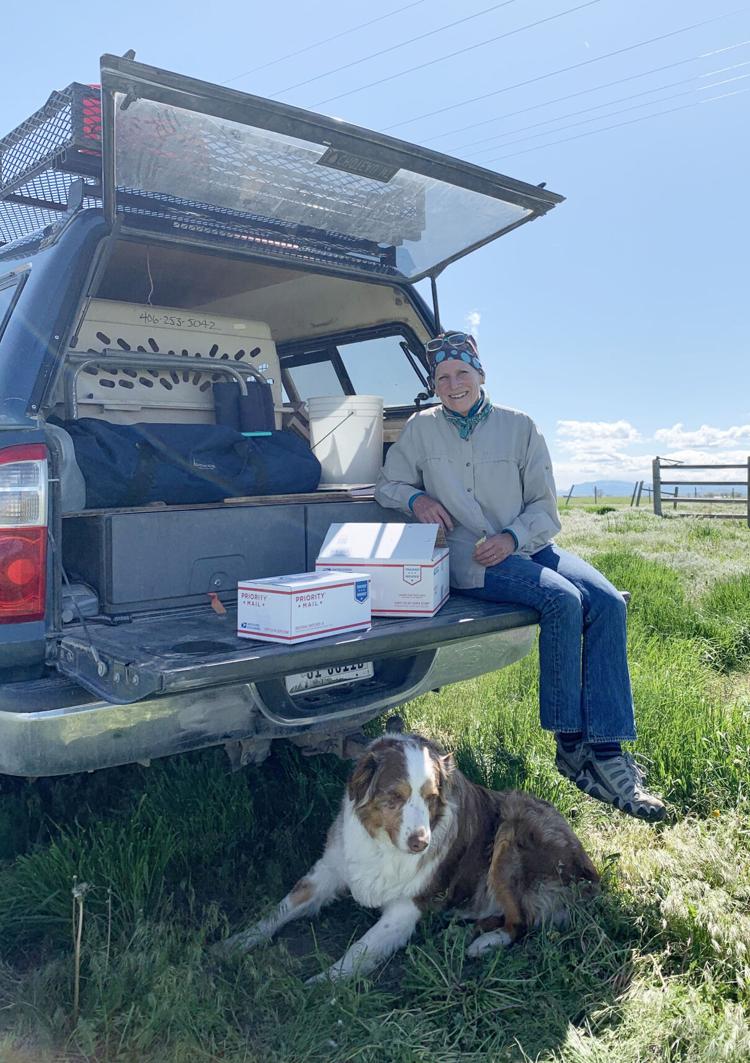 The MDA website says examples of eligible projects include those focused on accessing new markets, projects which strengthen and expand local food systems and other business adaptations that decrease food and agricultural waste. The need for such innovations must be driven by the COVID-19 pandemic.
Cornell has seen direct impacts of the pandemic on her business. The COVID-fueled interest in baking and in healthy eating practices increased her sales of fresh flour by 400%. Each week in April, she said, she shipped stacks of boxes of flour to bakers from Vermont to southern California, Florida to Washington state with many of the packages going to Montana, Idaho and Wyoming bakers. About 50% of her sales go out of state.
Flour from the Front is also available at 2 Js Market in Great Falls, Root Cellar Foods in Bozeman and Foodworks in Livingston. Choteau, the flower is available at the Foster's Farmacy boutique inside Copper Creek Coffee.
"New customers tell me — and they are always excited — that baking with these fresh, whole-grain flours is a 'game changer.' 'Life changing,' one fellow said. So it's exciting for me to be able to give people that kind of pleasure plus the healthiness of whole grains, stone-milled to order," Cornell said.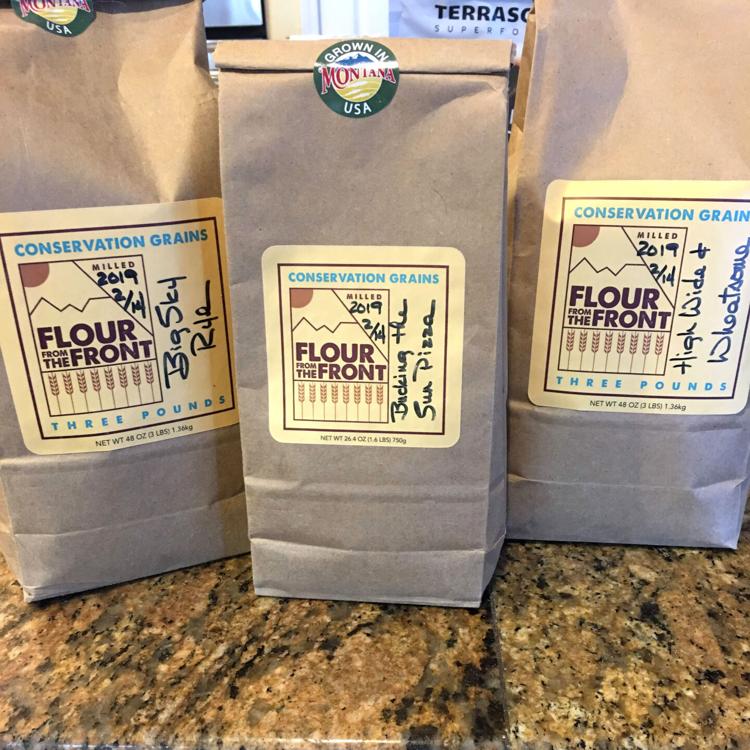 Conservation Grains is one of three Teton County farm operations to receive a $10,000 grant. The others are the Gollehon Ranch at Choteau and the Tom Maltby Ranch at Bynum.
Conservation Grains sells milled and whole grains grown in Montana by families working to improve the soil life and the wildlife habitat on their farms, according to Conservation Grains website (conservationgrains.com). "Our flours are freshly stone ground to order, milled in small batches for the best nutrition and flavor. We encourage freshness," the website says.
Judy and her husband Jeff bought a second home in Choteau in 2001, after they began visiting the community here to go hunting. They lived in Whitefish at that time, where Jeff worked in real estate and Judy was an accountant and later a freelance writer.
In the early 2000s, the Cornells were competing as amateurs in retriever field trials and were looking for a rural property where they could hunt and train their dogs. They ended up buying a small irrigated farm east of Farmington in 2007-08 from the Chalmers family.
With technical help from the federal Natural Resources Conservation Service, they began working to improve the farmland, planting shelterbelts and native grasses with forbs in dryland corners, creating pheasant habitat and building three small ponds in an alkaline area.
In 2015 they sold their home in Whitefish and moved here fulltime. Jeff now deals in old and rare books about Montana and Western history and sporting life while Judy has become more involved with the farm.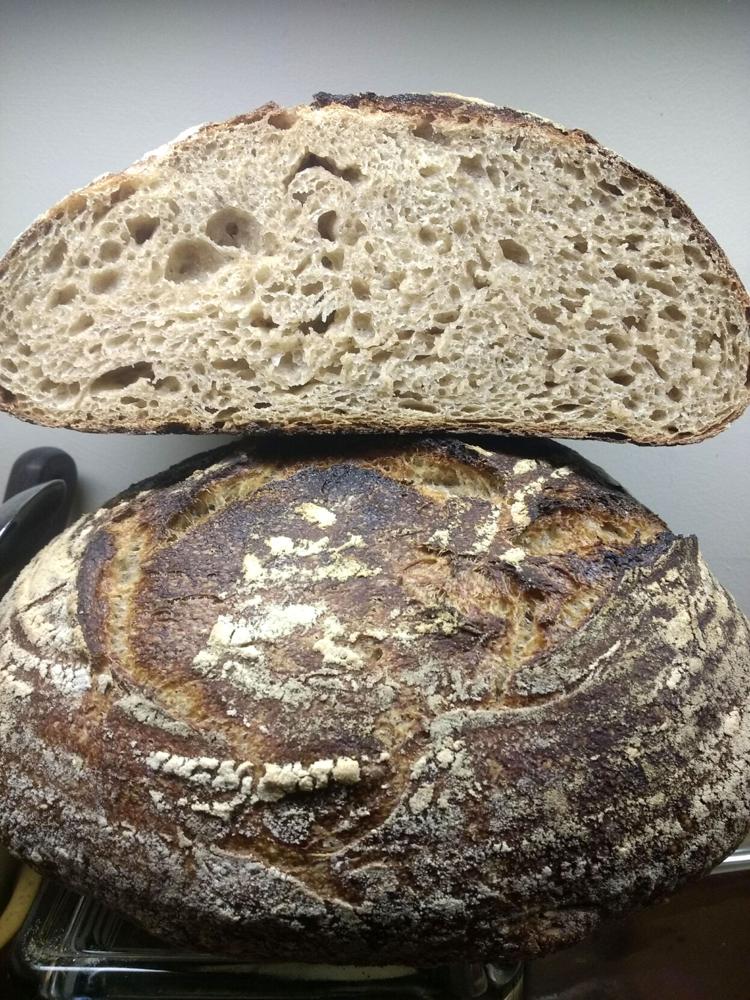 Judy says she is fortunate to work with local farmers like Sam and Mariah Armstrong and to attend ag workshops to learn more about growing grain, improving soil health and marketing rotational crops like flax and blackchick peas.
"I ended up loving farming, learning about it, being involved in it," she said. Her interest in farming gradually led her to the flour-milling business that she is now expanding.
As she learned about improving soil health, she researched alternative crops and markets and tried to sell some of the currants growing in their shelterbelts. That failed, she said, but the effort led to her first grain sales: 150 bushels of winter wheat on four pallets, cleaned at Hodgskiss Seeds, and sold to Gulch Distillery in Helena.
"That was the start, that was the impetus," she said. Their son, Jack, is a hobbyist baker in Bozeman, and she thought he would be able to use some of the farm's grain, but he would need the grain milled into flour. "Somehow the idea really lit up for me," she said.
She advertised for a used stone flour mill. A friend in Choteau called and said he had one that he would give to her, and she then started milling tiny batches of her own fresh flour.
Her husband volunteered to become her "test baker," and he learned to bake artisan bread from their son. "We ate many flat, dense loaves until Jeff started using natural yeast (sourdough) instead of commercial yeast. Wild yeast, it turns out, loves whole-grain flours and especially rye," she said. "We experimented with different grains and blending of grains for flours."
During the winter of 2017, their son helped Judy conduct an online marketing survey of friends and friends of friends who baked to see what kind of a market she would have for her stone-milled flour. She also sent milling surveys to small millers across the United States, asking whether milling flour was profitable.
Moving forward, she invested in a bigger stone mill in the spring of 2018. On Craigslist, she found a small stone mill in a barn in Plains. The previous owner had used it to crack corn for chicken feed. She bought it and over the summer rebuilt it. She also acquired a small, sturdy outbuilding in Helena, and with the help of friends from the New Rockport Colony, moved it to their home in Choteau, where it now houses the stone mill.
By the late fall of 2018, the mill was running and in December of 2018 she sold her first bags of Flour from the Front at Jill Owen's organic grocery store, Mountain Front Market, in Choteau. In January of 2019, the Conservation Grains website was set up and she began selling flour online.
Some of her flour has been made from grain she has grown herself, but much of it is milled from grain she purchases from other Montana farmers and elevators. She buys spring and winter wheat, hard white wheat, spelt, Kamut, buckwheat, rye, malted durum and durum, for example.
Judy says the company's top selling flour is Wheatsome, a blend of three wheats, spelt, Kamut and rye. Another favorite is Old and Ancient, a blend of organic spelt and Kamut, two ancient grains. Her other flours are Big Sky Rye, a blend of rye and three wheats, and Bucking the Sun, a pizza and bread flour made from two wheats, buckwheat and malted durum.
Conservation Grains is a small operation, Judy said, and it is unlikely to impact Choteau's economy because of its size. "What it does do, I hope, and will continue to do, is that it highlights grains that are grown on farmland that is healthier," she said. "There are customers out there who are interested in buying products, food products, that support and encourage that kind of innovation in Montana agriculture."
One goal she has for Conservation Grains is to generate more interest in regenerative agriculture. "That's my hope at least, that and providing good food that makes people happy and healthy," she said.
Judy blends her grains in "a very Freddy Flintstone manner" 25 pounds at a time, but the 1,000-pound grain mixer that she is purchasing with the Agricultural Adaptability Program grant will improve her efficiency. The mixer has been ordered and should be delivered by the end of September or early October. Still on her wish list to be purchased is a small-scale cleaner because the grain-cleaning plants in this region are all geared to large production.
Flour from the Front is sold in two-pound bags to retail customers and in five-gallon buckets. She also sells in bulk to established retail customers, but she doesn't plan to mass produce flour. "I mill to order for customers," she said so the flour is always fresh. "The freshness of the flour is really different. Once people have experienced baking with fresh flour, that is what they want. This spring, I had to talk customers out of stockpiling and assure them I had plenty of grain."
She says bakers using fresh whole-grain flour will find that it tastes and behaves differently than heavily processed white flour, which has been broken down, sometimes bleached, with nutrients stripped out, and then chemically enriched. "The first thing that is different is that the dough is livelier," she said, adding that her fresh flour has all the taste, minerals, nutrients, oils and enzymes that are in the whole kernel.
In a collaborative effort, Judy is working with Power farmer Ryan Pfeifle, owner of Farm Power Malt, to sprout grains for milling. Sprouting grain breaks down the bran barrier on the kernel, making the nutrients in the grain more bio available, she said, adding that she wonders whether this type of flour could be more digestible for people who are gluten sensitive.
Judy has grain in a storage rental and plans to move the stored grain to a 70-year-old building she's been working on, located on the Jerry and Katie Luinstra farm about six miles east of Choteau.
In this building, she said, with the installation of the mixer and bagger, she will be able to source, blend and bag 50-pound bags of Montana grain and put the bags on pallets for delivery to other small mills around the state and region.
While she suffered a health setback last winter, Judy says she kept up her milling and flour deliveries as she underwent treatment for breast cancer. "I just couldn't see stopping right then and there to take any time off," she said. "I did well in my treatments and maybe having energy and purpose for something else helped."
Her background in writing and accounting have benefitted her venture, and she has gotten great support from her husband, friends and family. Her daughter-in-law designed the Conservation Grains website while a designer friend of her son and daughter-in-law helped develop the marketing concepts and labels, for example.
"I love the farming and the milling and building a business," she said. "And I enjoy the variety of people that I get to work with from the customer, who is a new baker, to the guys at the elevator, checking protein for me on a sample of spring wheat. It's really all about the grain we grow here, and how bread brings people together."