Choteau resident Becky Preston is one of around 40 students who earned their master's degrees this year from Yale University in New Haven, Connecticut, through Yale's inaugural physician assistant online program.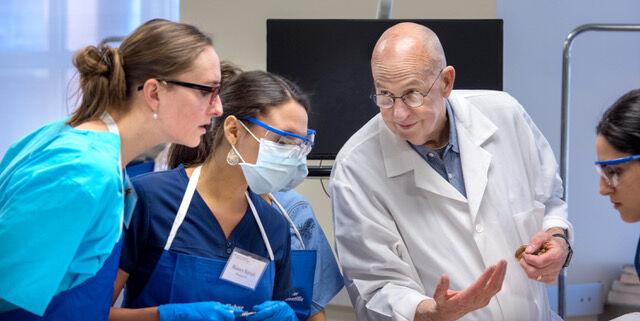 Preston, 36, says being a member of the inaugural class has been an amazing experience. "It's honestly pretty special," she said during an interview on June 17 with the Acantha. "We don't refer to ourselves as guinea pigs. We are pioneers."
Yale University School of Medicine launched this program in January 2018 as a way of helping meet the nation's growing demand for physician assistants, particularly in areas where there are not enough providers to meet the need.
The university created the PA Online Program to extend a Yale education to a diverse set of students from across the country — students who could take the two-year program while remaining in their home communities. Studies show that medical providers are more likely to search for jobs in and around the communities where they take their training.
In this program, Preston did 12 months of online classes, working within a cohort of 12 students, who worked together and coordinated with a Yale School of Medicine faculty member through an online campus. Preston then did 15 months of clinical rotations, which she completed in and around central Montana. Her final degree requirement was a capstone research project.
According to Yale, the members of the inaugural program had extensive health-care experience and including students who had worked in drug research, the Indian Health Service, the military and others like Preston who had earned her undergraduate degree in health and exercise science at Colorado State University in Fort Collins in 2005.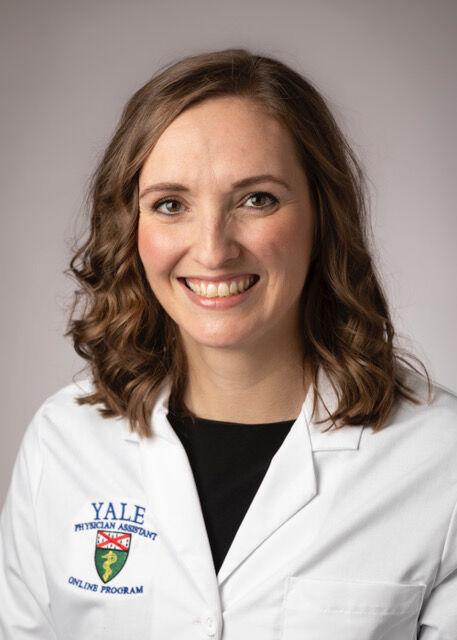 The director of the program, Associate Professor James Van Rhee, MS, PA-C, in an article on the Yale website, said, "Compared to the national data from the Physician Assistant Education Association, the first cohort of online students, on average, had twice the health care experience and was five years older than the average PA program matriculating student."
Preston said the new program was not always perfect, and class members missed having upperclassmen to refer questions to. But, as the first members, they helped shape the program and give feedback to the faculty and program administrators that will improve the program for future students.
"I really valued that part of it, being able to impact the program for years and years down the road just with our feedback," she said.
Preston started the program on Jan. 4, 2018, and earned her master of medical science degree on May 1, 2020. She passed her Physician Assistant National Certifying Exam on May 27.
A Montana native, Preston grew up in Choteau, the youngest of Dave and Jane Hartman's three talented daughters. Her dad was an elementary teacher and her mom a neonatal intensive care nurse. She graduated from high school here in 2002, and after getting married and starting a family, she moved back to Choteau in the fall of 2009.
When her children started in school, she earned her exercise/physiology certification through the American College of Sports Medicine in about 2013. "I loved that, but I still felt like I wanted to know more. I've had a continuous desire to know more," she said.
That drive for knowledge led her to start a master's degree in nutrition. Preston said she loved what she was learning, but by the time she was halfway done with the degree, she knew she wanted something different and began researching physician assistant programs.
"I somehow came across a random article on this program that Yale was trying to get going," she said. That was probably sometime in 2015 or 2016. She tucked that into the back of her mind and would periodically search to see whether the Yale program was going to get off the ground.
In one of those searches, she found out the Yale program was a go and immediately started preparing to apply, taking some prerequisite classes and studying for the Graduate Records Examination (GRE), which is required for entry into any graduate program. At that time, she was working from Choteau and traveling as a screening technician at health screening fairs for corporate employees and doing health coaching.
Because she knew she didn't have as much healthcare experience as other applicants, she took the GRE twice to get the highest score she could. She brought with her a high GPA from her undergraduate work and solid coursework and preparation. She agonized over the two essays she had to write. "I spent a lot of time working on those because I needed them to be perfect," she said.
She applied in 2017, made it through two rounds of interviews with Yale faculty and then spent anxious weeks waiting to see whether she was accepted. After more than six weeks, she began to hear from other applicants through a message board that acceptances had gone out.
"I was really disappointed because I felt like my chance was done," she said. She emailed the head of applications and asked whether there was a chance she could get into the program on a second round. He told her, however, that she had been accepted, but not notified because the school was awaiting the state of Montana to approve the program. "I was thrilled," she said.
He went on to tell her that he chuckled when her application crossed his desk because she was the exact type of student this program has been designed for. He told her that he wanted to reach people in places like rural Montana who don't have access to a PA program, who can then serve their communities. "You are the candidate I created this program for," he told her, she said. "His vision really has happened. I have classmates all over and some of them are definitely in rural places all across the United States."
Preston who has three children in grade school and a toddler with her husband Jack, a military veteran and nurse at Benefis Teton Medical Center, said the Yale program appealed to her because she could enroll without uprooting her children or disrupting her husband's job. Also, she said, she could do her clinical rotations in this area, where she hopes to practice.
Montana has only one physician assistant program, offered by the private Rocky Mountain College in Billings. Preston said the cost of attending the Yale program was comparable and she financed her education through student loans.
Preston said the program was tough and rewarding and, coming from small-town Choteau, it was hard not to be over-awed. She remembers meeting the other students in her group as they met online to discuss a book they had all read.
"It's intimidating. I didn't give myself a lot of credit to even be part of the program," she said, but their faculty leader was wonderful and the other students in her group were kind and smart.
Preston said the volume of classwork was tremendous. Graduates describe it as trying to drink from a fire hose, but Preston said it was even harder than that. They had an average of 36 hours of lectures a week. Since the lectures were all pre-recorded, Preston said it was helpful for her to watch the lectures more than once.
She and her family had moved into a new, larger home just before she started the program, and she converted one bedroom into a home office. She would get up at 4:30 a.m. and watch the lectures and do her reading, then use the rest of the day to study what she had learned.
She and the students in her group also met online three times a week, working through a different patient case. For each patient case, they made an assessment of the patient, made a plan, assigned learning issues to each student and then presented their research.
"That was a really great experience too because a lot of those issues I had to teach back to my classmates, really, really stuck with me through my licensing test," she said.
She also benefited from being in Choteau while taking the online classes. "I was able to actually get clinical experience during the didactic portion, which helped cement everything that I was learning about in a book," she said. Three months into the program, she started going to the BTMC Clinic once a week for half a day working with PA-C Doug Casperson. "That's kind of unique to our program. It was a really helpful component," she said.
The biggest challenge she faced during the 12 months of didactic classes was balancing her responsibilities as a wife and parent. Many of her classmates were single and most didn't have children, so she had to figure out on her own how to manage her time as efficiently as possible. "I had to be available to my children," she said. "That being said, I almost feel like I had a better work-life balance than a lot of my classmates because I blocked off time for my family. That probably helped me get through with my sanity intact."
Family played a key role in her success. When she started the program, her youngest, Calvin, was 1, Pax was 7, Abram 9 and Hannah 11.
"I could not have completed this program without Jack and my parents. They really stepped up to make sure everything was managed in the house, with the kids," she said. Her parents would come and fill in when Jack was working. "It was really, really remarkable," she said. "I have had people ask me how I was doing this, and I would tell them the only way I'm doing this is because I have my husband and parents helping me along. It wasn't just me completing the program, it was very, very much a group effort. We all completed it."
Once she completed the classroom portion of the degree, she then launched into 15 four-week clinical rotations, which she did in Great Falls, Shelby and Conrad. She worked with a certified physician assistant or physician preceptor as she did the rotations, learning hands-on care of patients in different settings.
While she did very well in the classwork, Preston said she was nervous about starting her clinicals. But, by her third rotation, she started believing in herself and what she was doing just felt right. mDuring her pulmonary rotation at Benefis Health System in Great Falls, she said she started to feel very positive. She remembers thinking, "I'm doing really well and I love coming in and talking to patients."
Preston said "I loved to just interact with people because it is a very vulnerable thing" for patients. She said she found she has the ability to build a rapport with people fairly quickly and to make sure that people knew she was hearing what they said, even in the limited time available for appointments.
When she started the program, she said, there naysayers who said the students in the online program would lack collegiality. But, she said, even though most of her interaction was online, she got to know her classmates very well and knows at least 10 of them whom she will stay in contact with forever. "Some of my best friends in the world right now are classmates," she said. "Definitely, there are some lifetime friendships."
The program also included three separate one-week immersion experiences on the Yale campus. Preston and her classmates got to do two before the COVID-19 pandemic forced the cancellation of the third one.
Preston said the visits felt surreal to her. "That's probably the best way I can describe it," she said.
Working at home, she said, she didn't feel like a Yale student. But being on campus drove home that point. "It was like wow, I'm part of this," she said, recalling how she felt when she saw her and her classmates on the walls in the hallways of the medical school.
She said the faculty members were amazing. She learned brain anatomy from a pediatric neurosurgeon who has developed an advanced shunting technique. She spent hours in the cadaver lab, in the medical library and in the brain museum.
The buildings are incredible she said. "Just walking where you know some really brilliant people have walked before was quite the experience," she said.
Preston finished her degree with a capstone project that is typically an evidenced-based medical research project. Preston received permission to do an alternative project in which she developed an elementary school health education course that included videos, worksheets for students and lesson plans that included family activities on topics such as nutrition, hand washing/skin health. She also prepared a research paper on how effective programs like this might be in a school situation and lasting into adulthood. "I like medicine, but I also like preventing health issues in people," she said. She hopes to make difference within her own community by helping her patients prevent disease and health issues. This curriculum, she thought, might be one way to facilitate that.
Now that she has completed the program, Preston said she is taking a little time for herself and her family before launching into the job search with the goal of finding a position in or near Choteau and starting to repay her college loans.
"It sounds so mushy, but this community gave me so much growing up here, and now that I'm raising my kids here, I love this place," she said.