Forty-one people attended the "Meet the Candidates" forum hosted by the Choteau Acantha on Sept. 24, with another 229 people watching the live stream on the Acantha Facebook page as of Monday.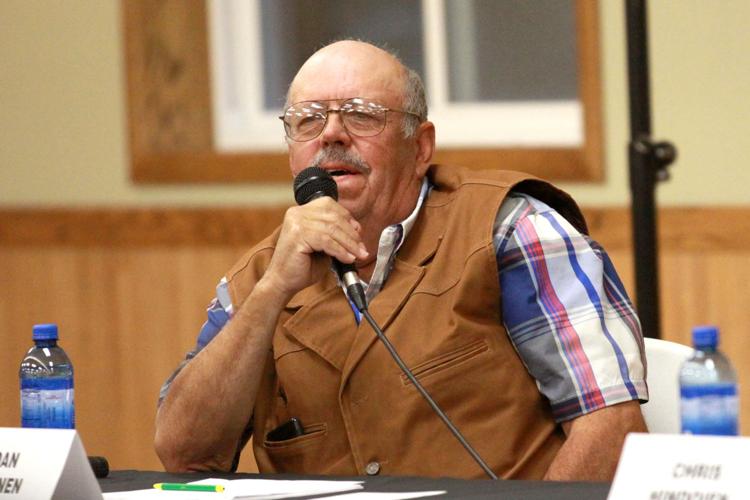 The forum featured three candidates running for mayor and three running for a Ward I seat on the city council. Steve Dogiakos, who is running unopposed for the Ward II council position, was unable to attend because of a death in his family.
Mayoral candidates are incumbent Dan Lannen and challengers Chris Hindoien and Nate White. (Lannen is seeking his first full term after being appointed to the position last year after the former mayor, John "Jack" Conatser, died.)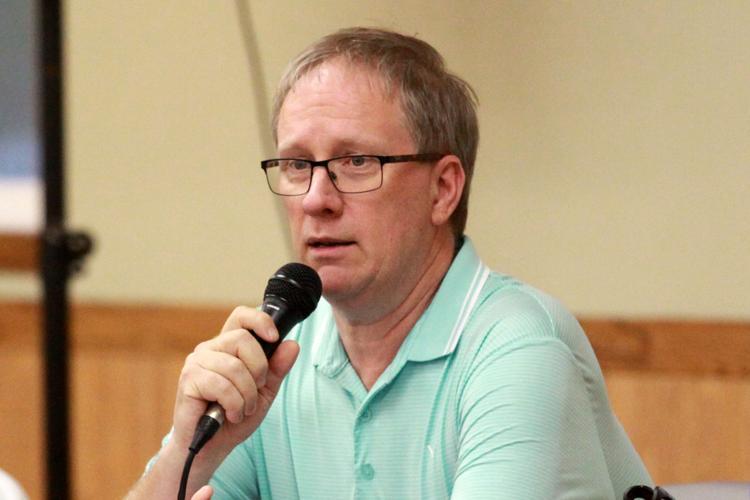 Before being appointed mayor, Lannen served on the City Council for six years. He recently retired from the Choteau John Deere dealership after 31 years.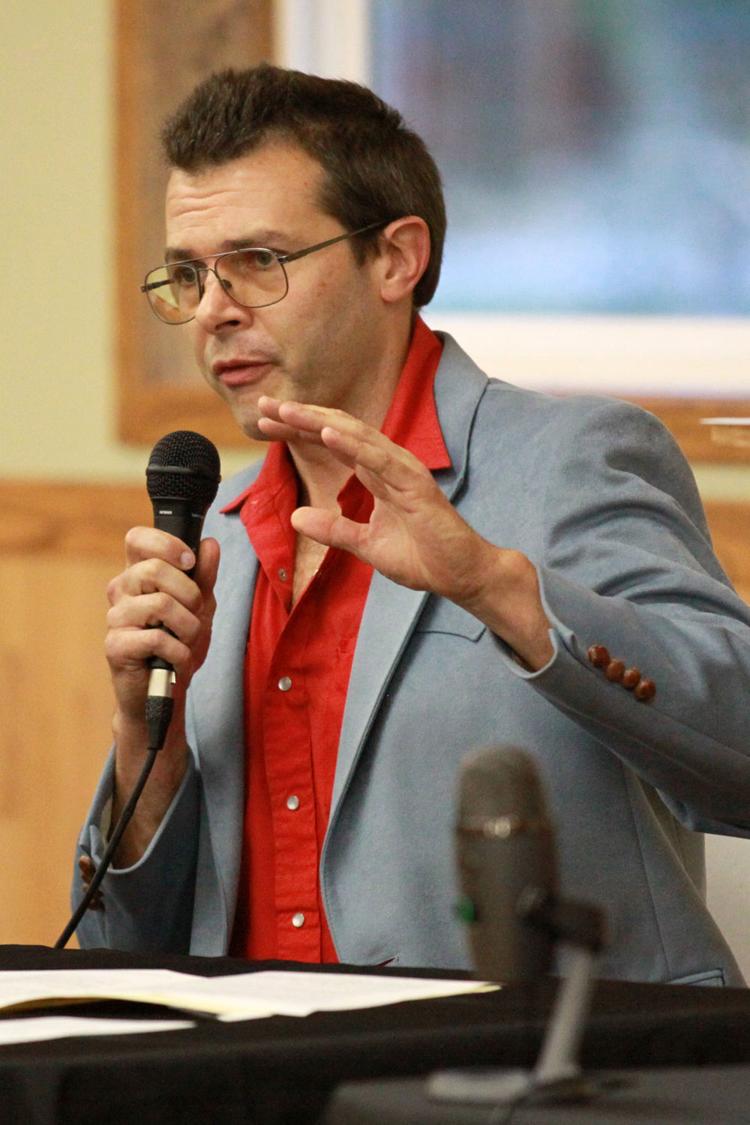 Hindoien works fulltime with his wife, Tammy, with their Rocky Mountain Insurance Services company and is the marketing coordinator for VFIS of Montana.
White is working as a builder and writer/researcher, and will work as a ski coach in the winter.
Running for the Ward I council seat are Steve Howard, Charles Joslyn and Lonnie Lewis.
Howard owns and operates Steve Howard Plumbing and is a big game hunting guide, Joslyn recently retired from a 35-year career with the Choteau Public Works Department and Lewis telecommutes from her home, working in data analytics for the healthcare industry.
Forum moderator Melody Martinsen asked nine questions: one specifically for the mayoral position, one for the council position and seven for all the candidates.
Reasons for entering the race
In explaining why they were running for office, the candidates focused on economic development, the call of public service or infrastructure.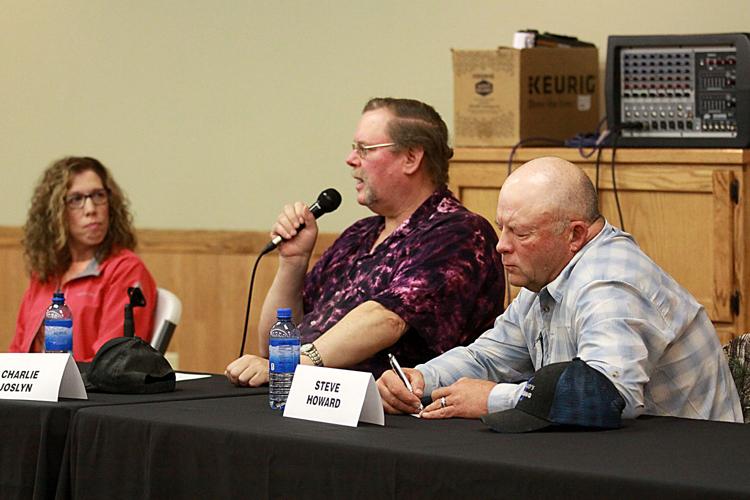 Lewis and Lannen both said they would like to see modest economic growth in town.
Hindoien cited his "passion for the community" and a desire for people "to be good stewards of our community, our neighborhoods and of each other."
Howard said he thought his experience with plumbing and construction management would allow him to advise the city on cost-saving infrastructure repairs, and he would like to see more jobs.
White said he wanted to see the local government treat citizens civilly and wanted to protect the environment and address issues with the city's wastewater treatment facility.
Joslyn said he had a heart for public service and he thought it would "be nice to have somebody in there who knows the job and what's going on, knows all the infrastructure and what has to be repaired and what has to be kept up."
The mayoral candidates were then given their own question, asking them to describe their leadership qualities. In describing those qualities, each candidate said he was a good listener.
In addition, White said, "there's not a lot of truth telling going on" at city meetings and he was an honest person, so he could "encourage people to not misinform."
He also said "being able to look at the problems is not doom and gloom. If someone's in your house and they want to kill you and they have a knife, that's not being negative. … We're putting ads in the paper that say if you allow certain vegetation in your lawn to get eight inches high, we'll throw you in jail. We'll throw you in a cage for 90 days. That's from our city government, that's the message. Why don't people want to move to Choteau? That's why."
In discussing his leadership qualities, Hindoien brought 35 copies of seven pages taken from the City Charter. "This delegates the duties of the legislative branch and executive branch," he said. "Leadership is earned, it's a skill not everyone has. It's listening to hear, not listening to respond. It's making sure that while you may have an idea as a leader, it may not be the best idea and others may have an idea that is better. … It's not a dictatorship; it's an open discussion. … You're the face of the community, the ears of the community and the voice of the community to bring things to the council and to the people. You're also the voice of the city employees when they have an issue. … The most important thing is the ability to listen to hear what they're saying and not listen to what you want to respond to."
When it was Lannen's turn to speak, he said Hindoien did a good job of saying a lot of what he himself planned to say. "We're fortunate to have a really good crew. My job is to make sure they have what they need to do their jobs as efficiently as they can, and to listen to both sides. … In eight years with the city government, I have a pretty good idea how to work with people," said Lannen.
The question specifically for the council members asked them to describe how their life experiences would affect their council work.
Howard said his plumbing experience would allow him to give valuable advice or work toward fixing the issues with the city's sewer treatment plant. He also said he didn't think the city was ready to get rid of the lagoon just yet, as it provides a plan B if the treatment facility has more water than it can handle. "Until we get the system fixed so rainwater isn't infiltrating it, the lagoon is a lifesaver," he said.
Joslyn said his knowledge of the city infrastructure — where all the manholes and sewer lines are, for example — would help him intimately understand public works projects. He also said he had the ability to work with people. "I think that's one thing I always did fairly well. It's not the easiest thing to have a very mad citizen come up to you and say things and accuse you. You have to be very even keeled and creative," Joslyn said.
Lewis, who has lived here for the shortest amount of time out of all the candidates (three years), said she offered a new perspective to the council. "I don't have the skill set like the other two gentlemen here but I have a new perspective and I'm a great listener," she said.
After giving the audience an adequate picture of each candidate's personal experiences, qualities and intentions, Martinsen moved to more issue-based questions. The first topic brought up was law enforcement.
Choteau contracts with the Teton County Sheriff's Office to provide law enforcement services in town. Martinsen asked whether the candidates believed the city should continue to do this, or whether it should consider re-establishing its own city police force, as it had in the past.
White was the sole candidate to strongly support re-establishing a city police force. He alleged that a current TCSO deputy issued corporal punishment on minors unnecessarily, and that the sheriff's office has conducted multiple unreasonable searches and seizures, including one at his own residence.
Lewis asked whether the contract was switched to the county for monetary reasons. When Martinsen explained it was mainly a combination of monetary and employee training/retention reasons, Lewis said she thought a cost analysis would be necessary to decide whether such a move was worth it.
Joslyn, Howard, Lannen and Hindoien all believed any form of city police force would be too cost prohibitive and require raising taxes to a level the public would not be willing to foot.
Equitable enforcement of city ordinances was another police issue asked of the candidates.
"We don't have our own police force to enforce infractions in non-violent, non-dangerous situations. Typically, what happens is a neighbor complains about a violation and brings that to the attention of the city, and the city corresponds with the individual, and the individual usually takes whatever steps needed to come back in compliance," Martinsen explained, in opening up the next question. "What that means is two blocks over, someone else is doing the same thing, but their neighbors don't care, so there's no complaint. I'm not being critical of that, it's just the way things typically go with city ordinances, so they may be enforced differently based on where you live. So given that situation, is the solution to improve enforcement of all our ordinances, to remove ordinances that you can't enforce equal compliance in or have some other response?"
Martinsen also added that "It's a big problem that affects all small towns, not just Choteau."
Lannen said that is a problem he's been trying to solve for the past two years, because the way it is now, he is the one who responds to complaints. He also said the city has contracted with Great West Engineering, and one of the services the firm can supply is sitting down with city officials, going through the ordinances and helping officials decide which ones to keep. "We will be looking into that. That's one of my projects this winter when things slow down," said Lannen.
Joslyn agreed that the issue is a common problem in any city, saying, "If you have 2,000 people in Choteau, 20 to 30 are causing problems." He then used the city cardboard recycling area as an example. "Most people are great with that, but then four or five people throw it all over the ground, and we have to pay someone for an hour to pick it up. If we focus on those, enforcement isn't really is difficult as everyone thinks it is," he said.
Hindoien said that "with enforcement comes cost" and when keeping or throwing out ordinances, the most important priority is that they are enforced as equally as possible. He also reminded the crowd that with neighbors, "you're going to run into personality issues no matter what we do. Again, a comprehensive review of our ordinances would benefit all of us."
Lewis agreed with Hindoien, that the ordinances needed to be gone through one-by-one to make enforcement equal for all.
White, citing his current study of restorative justice, said "the ordinances are definitely, all entirely unenforceable. … Everyone's in violation of ordinances, that's the reality. The last thing I want to do is raise taxes, but that's not what's costing our community so much, it's the litigation." He then brought up several recently settled or ongoing litigations involving Lannen and former city employee Kelly Hirsch, and Choteau resident Ed Bumgarner against the city.
"You know what I see as positive? Living in a community where we can actually afford to live here," said White. "Mary Sexton, she wants to talk about economic development, and we don't want this place to turn into Whitefish. How are we going to achieve that? I don't want this place to turn into a toxified garbage dump run by Nazis."
Howard suggested a way to fix the enforcement problem without re-establishing a costly city police would be to have a city employee be the designated enforcer. "I'm not for most ordinances, but I also realize ordinances are there because one or more people needed them," said Howard. "City employees, we're paying them anyways, so they could take an hour or so out of their day to be an enforcer."
For the remaining questions, all the candidates responded very similarly.
In regard to whether they would bar medical marijuana dispensaries in town, all agreed they would leave it up to the public to deceide, regardless of their personal opinions on the matter.
When asked whether there were any city projects they saw as over- or underfunded, most candidates said there either wasn't a lot of pork spending in the budget, or they didn't know the budget well enough to answer. Joslyn did mention the citywide spring cleanup as being slightly overfunded in his opinion, but he said realized many members of the public are fond of that program.
In regard to funding maintenance projects outside of tax money, all candidates said special improvement districts and grants were valid options — it was again up to the public to decide if they would want an SID.
The following quotes sum up the candidates' closing comments:
Hindoien: "It would be an honor to serve. … Regardless if I win, my door's always open when I'm home, and I'm normally pouring coffee from 9-10 a.m. at the Outpost Deli."
White: "I will work to maintain those freedoms that we treasure so much."
Lewis: "What I would do is bring the experience that I do have to the community and promote growth and being involved."
Joslyn: "If anyone wants to know who I am, how I am and how I deal with things, there's a lot of city employees — ask them if they'd like to see me in that job, that would be the best advertisement for me. If I didn't think I could benefit everybody, I wouldn't have tried it in the first place."
Howard: "I decided to run for this position thinking I could come to the table and help advise. … After sitting here, we all want to help. … This night really enlightened me. The biggest thing I got out of the night? I might vote for Charlie."
Lannen: "Everyone thinks you're really going to change things when you first get in, then you realize you can't because of some law … that common sense doesn't mean a thing to. So work the best you can. I feel like I've done that in the past two years."