Thus far 2020 for most people hasn't provided anything as the saying goes "to write home about." However the hay and grain crops in Teton County might be the exception.
Reports throughout Teton County find most producers having good quality and high yields for hay, above average crops on dryland and some even exceptional irrigated crop yields. In addition, the dry weather conditions through August provided for smooth sailing while haying and harvesting. The wet weather on Sept. 7 was the first real delay caused by weather. If the forecast is accurate, the rain/snow conditions will be short lived with warmer temperatures at least during the days returning by midweek.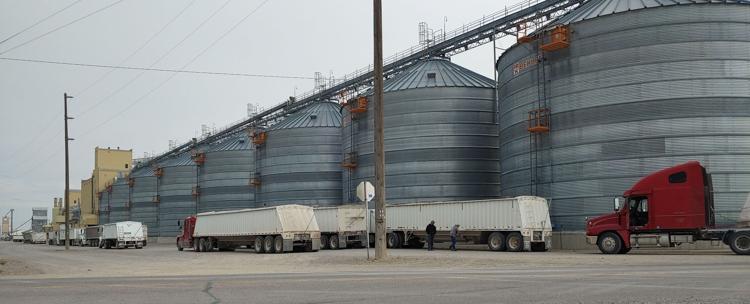 Area producers estimate at least three quarters of the crops have been harvested in the county with mostly spring grains and canola remaining. Mitch Konen, Fairfield Bench farmer and vice president of the Montana Grain Growers Association, said a few farmers got behind the eight ball with rains showers in the spring when seeding and are now slightly behind because of that delay.
"Overall it has been a harvest where producers weren't rushed, most went from winter wheat right into barley and on to spring grain and possibly canola with little or no breaks," Konen said. "Even putting up hay was fairly easy this year."
Conditions were perfect for haying this year according to producers contacted throughout the region. Keith VanSetten, a hay producer in the Choteau area, said the spring moisture and dry and hot summer made for excellent hay crops on both dryland and irrigated.
On VanSetten irrigated land the yield was up and so was the quality on the first cutting. He added most producers he has visited with said the second cutting was a little short with no rain and higher temperatures but still average to above average.
"On the second cuttings the temperatures were hot during the day but cooled down at night which helped," VanSetten said. There is a limited number of producers who are going for a third cutting that will take place toward the end of September or after the first major frost.
Blair Patton, who hays on dryland north of Choteau, said the first cutting was well above average for both quality and yield. "The spring was wet and the summer hot," he said. "The second cutting was the opposite for dryland with no moisture into July and August." Patton said where his fields lie he takes advantage of the sub-irrigation moisture in the low land. Generally he is able to get one cutting on the land on higher ground and two cuttings in the lower lying sections.
Both producers said there has been a lot of hay baled in the region but the demand for hay is also up. VanSetten and Patton said the going market for bales ranges depending upon quality from $100 to $125 a ton stacked. This is little better than average price. The majority of the bales in the area are the large round bales, but a few producers still bale small bales and limited number the large square bales.
VanSetten said the majority of the hay sold in this area is going to other regions in the state and some out-of-state as far as Kansas and Wisconsin. He added freight costs are high, making it harder to ship. Patton said he has heard from some ranchers in the west part of the state along with producers in eastern Montana that their hay crops weren't as successful as those in central Montana.
Brent Roeder, MSU Extension sheep and wool specialist from Fairfield, said the grasshoppers are especially bad in eastern Montana and have damaged fields in the region, limiting some hay production.
The producers said with cattle prices still down, some ranchers are hanging onto their animals longer and will be looking for more feed. Added into the demand will be range fires that have also taken some of the hay crops out as well.
Konen said he hadn't cut a hay crop in a number of years but he was able to bale the same amount on about half the acres.
Roeder said that some producers are baling straw and are getting a nice additional supplement to the alfalfa bales.
The success of the grain crops — winter and spring wheat, malt barley and durum — depended upon where the cropland was located. According to farmers, some producers had excellent yields and high quality winter wheat while other had to reseed to spring grains following damage to the fields with no snow coverage during the winter. Will Snodgrass said the latter was the case in the Pendroy area. "The winter wheat didn't survive the winter and quite a few acres were replaced with spring grains and barley," he said.
The producers in Pendroy were more successful with their malting barley, spring wheat and durum. "The two inches of rain this spring was timed just right and the hot dry conditions that followed provided conditions for quality barley," Snodgrass said. He said there were some producers who cut 70 bushels per acre of dryland barley in the Pendroy area.
Scott Inbody of Choteau said his dryland winter wheat between Choteau and Dutton was average. He echoed the comments of Snodgrass saying the yield depended upon winter snow coverage. "The malting barley was much better and the durum was excellent so far," he added. Inbody said the durum is sold to Pasta Montana. It is kind of a specialty grain that is paying off in this area, he added.
Konen also said the open winter caused farmers on the Fairfield Bench to re-seed some cropland that was damaged by wind over the winter. The timely rains and hot dry temperatures aided the ground that was re-seeded and others planted to spring grain and barley. For those, irrigation water was plentiful this year and needed with no moisture.
The yield on the winter wheat that was cut was average to little above average, Konen said. On the other hand the malting barley yield is above average and the quality a little better than some years. He had just begun harvesting canola the beginning of September and said it too was looking to be above-average in yield and higher in quality.
According to Konen about 90% of the crops have been harvested in the Fairfield and Power region. He estimated overall harvest was about a week behind from previous years. Snodgrass agreed, saying 96% of the fields have been harvested in the Pendroy area. Inbody said he was a little further behind, having been caught last year seeding between rains. He estimated most of the Dutton area is harvested.
Konen said there were some sawflies in the spring grain but for the most part they didn't cause damage. The same was true for grasshoppers. Konen said they were more plentiful this year but he didn't have losses because of them.
Roeder, along with other producers, agreed that grasshoppers in this region were plentiful but didn't cause major damage. Roeder said there were more grasshoppers in the Dutton region but nothing like invasion in eastern Montana.
There were a few producers who lost crops to hail in the area. "There was a swath of hail not very wide that came through the region and it took out those crops or decreased the yield," Konen said.
Prices are a little better but are still lower than needed. It was noted prices for canola and durum are better than for winter and spring wheat.
Many of the local producers were able to maintain contracts with Anheuser-Busch and MillersCoor. The producers are happy to still have these resources locally to sell product. Snodgrass said malting barley on the open market doesn't have a home yet. "Hopefully things will change allowing for plants to reopen and call for barley," he said.
Producers of malting barley said Anheuser-Busch was accepting harvest time delivery of malting barley. For the first time in a number of years there was long lines of semi-trucks each morning at the facility in Fairfield.
"A lot of producers were short on storage given prices were down they have hung onto their 2019 crops," said Snodgrass. "Harvest delivery helped."
Konen also said the supply chain has slowed down, given the health concerns around COVID-19 and exporting to Mexico that generally receives about 80% of the raw malting barley. "It is exported as barley and comes back in bottles and cans," he added.
With the closure of plants, the raw product is not being called for in previous quantity, Konen added. Taking it down the chain even farther with bars and pubs closed and people at home more, the amount of product being sold is down. "It all affects the quantity needed and the price paid," he said.
The producers spoke of the hope that things will return to more normal demand in the near future and eventually the demand will rise.
Those finished harvesting are already looking ahead to seeding and hoping for more moisture to aid in planting winter wheat. Those with irrigated land are keeping the pivots going to add moisture.
Of course, Konen said, the memory of three feet of snow last year on Sept. 28 isn't far from anyone's mind. "We all know summer is just finishing up and who knows if there will be fall or right into winter," he said.