The 32nd annual Benefis Teton Medical Center Foundation Shadows of the Past art auction was a huge success, BTMC Foundation Director Annie Olson said on Monday.
"It was incredible. Gross arts sales were like $99,000, which is double what we have previously done," she said. Once all the expenses are deducted, she said, she expects the event to net $48,000 to $50,000 — nearly double the highest net in previous years.
The auction sold 36 pieces in the live auction and 30 more pieces in the silent auction along with several pieces created during plein air painting on Oct. 8 and the quick finish on Oct. 9. Additionally, table centerpieces — fish-themed pottery vases by Fairfield potter Andrew Watson and miniature paintings by members of the Front Range Art Association — were sold.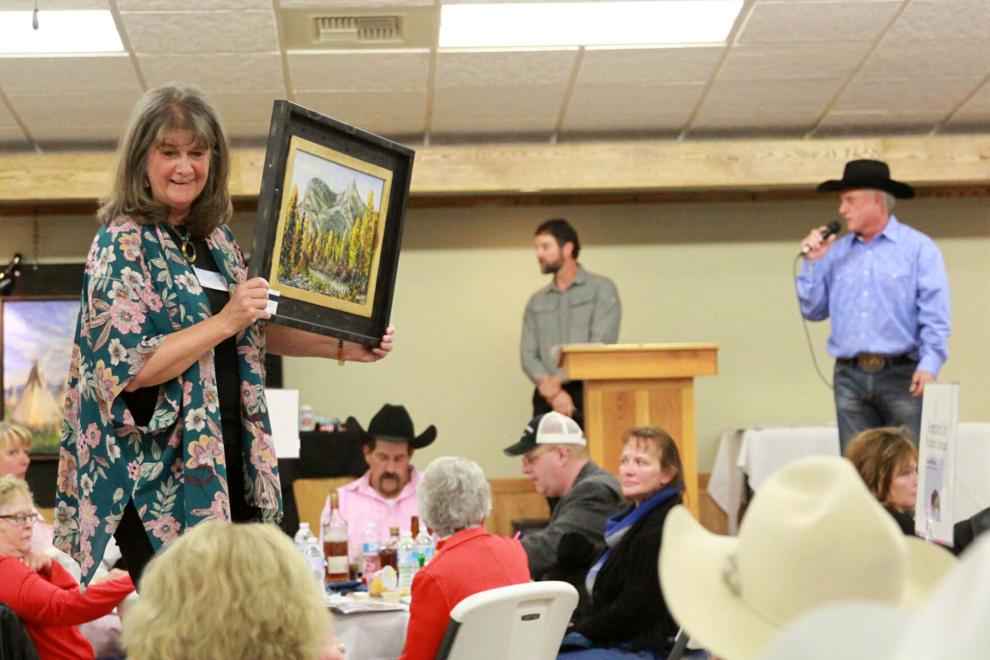 Olson said about 190 people attended the auction at the Choteau Pavilion on Oct. 9, and an artists' reception, open to the public, the night before had a great turnout as well. D.A. Davidson & Co. sponsored the reception on Friday night.
Olson said the highest selling entry in the auction was a pair of charcoal drawings by Kalispell and Augusta artist Frank Hagel — "Metis Encampment" and "Red River Camp" — that sold for $9,000. Choteau artist Leslie Kesler's "Montana Real Estate: Running Water, Wood Heat, No Electricity," an acrylic painting, sold for $5,100 and was the second highest selling piece.
Several pieces sold for between $3,000 and $4,000.
Olson said this year's auction drew a number of deep-pocketed art collectors from out of state and they tended to push prices up. Former hospital board member and art collector Loren Solberg of Choteau put out the word about the auction to other art collectors, and that helped as well, she said.
Artists Shirley Anderson Sylvester, Judy Gurnsey, Kesler and Diane Hausmann of Fairfield all said they enjoy participating in this auction because it gives them the chance to get together with other artists, share inspiration and working tips, and help out a great cause.
Sylvester said the first ever quick-draw piece she did was for this auction at the Choteau Country Club in 1989. "I just love the area and seeing all my friends," she said. When her art gets accepted into the juried auction, "it's a high."
She said she always tries to create a painting that will resonate with the community here.
Gurnsey says she still gets nervous when people are bidding on her paintings, but she loves meeting the other artists and taking part in the auction events like the quick draw.
Kesler said the very first painting she ever had juried into an auction was for the Shadows of the Past. "More than any other show I've done, this one inspires me to keep painting," she said, adding that Choteau painter and sculptor Stoney Burk was a great mentor and encouraged her and other artists to create their art.
She said she also loves the idea of supporting the hospital here. "I think it's really cool that we can support the community," she said.
With the Shadows of the Past Auction, the Choteau Arts Studio and Gallery, Latigo and Lace's gallery in Augusta and Andrew Watson's gallery in Fairfield, this area is becoming a bit of an art mecca, she said.
Watson said he enjoys taking part in auction events and every year he looks for new inspiration for the table pieces. This year, he said, he caught a trout and the fish inspired him to create the beautiful pottery vases in blues and greens with fish, water plants and insects flowing around the globes, some of which featured negative space along the spines of the fish.
"I just had way too much fun doing them," he said, adding that he enjoys supporting the hospital, knowing that it helps people in their time of need.
In addition to great prices for auction items, Olson said, the Foundation received $22,000 in sponsorships from local and area businesses to help defray costs of the auction. Rocky Mountain Insurance Services owners Chris and Tammy Hindoien of Choteau paid the premium for the event insurance, taking away sizeable cost, she noted.
Proceeds from this year's event are earmarked to help pay for a new canopy over the emergency room entrance at Benefis Teton Medical Center in Choteau and for new concrete to continue to accommodate the traveling mammography coach.
Those attending the auction named "Pride of the Prairie," a painted bull skull by Montana artist Bonnie Griffis, as the People's Choice Award winner. Fort Shaw artist Jeff Walker earned the Artists' Choice Award for his oil painting titled, "Back Country Showers."
"We are very appreciative of the community effort that it takes to put on this event," Olson said, adding that it wouldn't be a success without all the bidders and buyers.
Olson noted that Zane Drishinski of Conrad served as auctioneer for the event for the first time, and did a great job encouraging the ticket holders to bid on the artwork. Drishinski is donating his auctioneer's fee to the family of the late Mark Major, a 45-year-old Choteau insurance agent who died unexpectedly last week from a swift-moving mechanical heart valve infection, leaving his wife and four children, three of whom are still in school.
Watson also plans to donate proceeds from his share of the sale of his table vases to the family, which is establishing a college scholarship fund for Rebekah, Jacob, Katie and Andrew Major, at Opportunity Bank of Choteau.