Teton County's newest assisted living facility, Teton Peak Assisted Living LLC, is inviting everyone to attend an open house on Sept. 18 from 3 to 7 p.m. and on Sept. 19 from noon to 4 p.m.
Owner Chad Bouma and administrator Chanel Maroney, LPN, will be on hand to greet people and give them a tour of the 17-room, 19-bed facility that occupies about 13,500 square feet in the completely remodeled Teton Nursing Home building.
The Teton County Commissioners closed the 40-bed nursing home in May of 2016, and 15 months after that closure in August 2017, Bouma purchased the 16,000 square foot building on Main Avenue North in Choteau for $10. He was the only bidder for the building, which was advertised for sale in March of 2017.
Bouma and his construction company, Highmark Construction, have been working on the massive remodeling job ever since.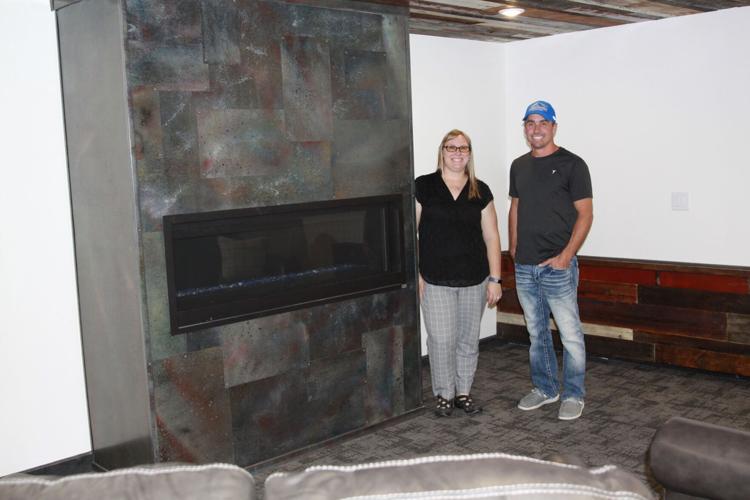 On a tour of the facility earlier this month, Bouma said he has completely redone the plumbing and wiring in the newer parts of the building. He has not remodeled the oldest wing, but says that if the building fills up, he will expand it.
The remodel also included all new windows, painting inside and outside and refurbishing an inner courtyard with stamped concrete and pop-up lights.
The living options in the facility include two studio rooms that don't have their own bathroom but are right across from a common shared bathroom; all other rooms have their own bathroom with a private shower and toilet. The other rooms include two one-bedroom suites with kitchenettes, furnished with refrigerators, a two-burner ceramic cooktop, microwave oven, sink and cabinetry. Three other studio rooms also have kitchenettes, and all the rooms come with flatscreen televisions.
Each room has a vanity, sink and wardroom, and residents will be encouraged to bring their own beds, dressers, chairs and home décor.
The building has wireless internet access throughout all areas and has data jacks for internet access in every room.
The building's common areas include a sitting area with gas fireplace, a TV room, a recreation/gym room; dining room; interior patio and a lawn and seating area outside on the west side of the building.
The entire building is handicapped accessible with a handicapped accessible entrance on the west side. All the bathrooms are equipped with handicapped accessible toilets and have options for step-in and walk-in showers and walk-in tubs.
The facility has two laundries, one for residential washing and another for commercial washing.
The commercial grade kitchen will serve daily meal specials and have a menu that residents can order food from. The kitchen staff will serve three meals and three snacks a day. The dining room also has a coffee bar.
Bouma says the facility is licensed by the Montana Department of Public Health and Human Services as a A/B category Assisted Living Facility.
Under Montana law, ALF are licensed to provide personal care services to people 18 and older who are sound of mind, pose no threat to other residents, and are generally healthy and capable of independence in daily life.
ALFs serve four categories of residents: Category A residents need the least amount of care, are able to manage their own medications, and only need help with four or fewer activities of daily living (which include dressing, eating, going to the bathroom, sitting up and standing up).
Category B residents can require assistance with more than four activities of daily living and may need to be reminded to take their medications. Category B residents must also have health care assessments that are reviewed quarterly by a professional that visits the facility.
Category C and D residents are those who have dementia, who wander and have behavioral issues that could endanger other residents.
Montana has medication management laws for ALFs. Direct care staff may assist with opening medication bottles and recording the time the medication was taken if they have been trained to do so but only a registered nurse may assist residents with the taking of any medication.
Montana state law does not set a minimum staffing number for ALFs, but the staff has to be sufficient to meet the needs of the residents and respond to any emergencies. The ALF's administrator is charged with developing the necessary staffing levels.
According to Montana DPHHS, there are 210 assisted living facilities in Montana. Seniorliving.com says the average cost of assisted living in Montana is $3,560 per month, which is higher than Senior Living's calculated national average of $2,877 per month. Another website, Assistedliving.com (Assisted Living Research Institute), says that a person living in an assisted living facility in Montana will pay $3,919 per month on average while After55.com said the national average cost of assisted living per month is $3,750 and the Montana average is $3,650.
Bouma said costs at Teton Peak will depend on the level of care residents need and the type of room selected but would start at $3,500 a month for full service care, including personal care, laundry services, food and internet service.
Teton County has two other ALFs: Choteau Bee Hive Homes, 1006 W. Division, provides senior living care to category A and B residents and has 11 bedrooms, two of which can accommodate a couple. The facility has one opening right now. For more information, call owner Stephanie Lohman at 370-3507.
The Front Range Assisted Living in Fairfield is licensed as a Category A facility. It has 17 studio rooms and 10 apartments, and is full with 28 residents. To be placed on a waiting list, people can call administrator Chelsea Schilling at 467-2407 or 781-1285.
Bouma said Teton Peak Assisted Living is on track to open in early October and plans to begin interviewing prospective residents after the open house this week.
Maroney is looking forward to the building's start-up. She has been a licensed practical nurse for eight years and a licensed administrator for about two and a half years. She is originally from California, but has lived in Montana for the past 14 years. She and her husband live in Great Falls with their son but are building a new home outside of Fairfield.
She began her nursing career as a certified nursing assistant and has worked her way up. She learned about Teton Peak from Chad Bouma's dad, who is the real estate agent that sold she and her husband the Fairfield property.
"I've always wanted to open up a facility, and Chad has given me the opportunity to be at the beginning of a facility," she said.
Maroney said her focus for now will be on making sure the new facility is staffed with competent, caring workers and that residents' needs are being met. In the long-run, she hopes the facility will be able to be licensed for residents who need memory care. She is certified to care for dementia patients and that is where her heart is, she said.
There is a big need for memory care facilities as Baby Boomers age and have to cope with dementia and Alzheimer's disease, Maroney said. The closest memory care facilities in this area are in Cut Bank and Great Falls — long drives for families particularly during the winter.
She said the facility will have a lively program for activities that will center around the recreation room, games, planting flowers and vegetables, movie nights, puzzles, church services, crafts, barbecues, baking and seasonal events like trick-or-treating and Christmas caroling (all subject to COVID-19 restrictions).
"Activities and food are the two most important things in nursing homes and assisted living centers," Maroney said, adding that games will have to include bingo.
Bouma said the facility will be staffed 24 hours a day, and employees will include personal-care providers who also do housekeeping and laundry and a cook. As the facility fills, he said, he expects to employ eight to 12 workers, some part-time and some full-time. Response to advertising for jobs has been positive, he said.
Bouma and Maroney both said they are excited and anxious for the open house. "I'm excited. It will be good, it's going to do well," Maroney said.