Annie Anderson isn't your typical 95-year-old mother, said her daughter Kathy Anderson, "She is a kick in the pants mom."
The longtime Power resident, who has lived at Front Range Assisted Living in Fairfield for the past four years, didn't have a typical birthday either. She celebrated her 95th birthday on May 3 with a drive-by birthday party. The parade of 40-plus decorated vehicles was led by a Fairfield fire truck.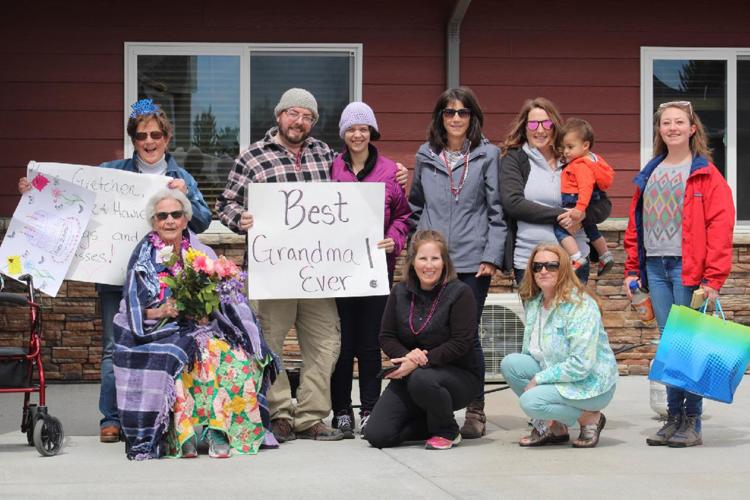 Kathy said her mom couldn't have been more pleased. She was amazed and very touched by everyone who drove by wishing her a happy birthday, Kathy added.
A birthday party with family and friends traveling from around Montana and out-of-state was planned, but had to be altered to abide by the assisted living facility's COVID-19 public health and safety restrictions on visiting. The family members who did make the trip to Fairfield observed social distancing and gathered on the deck of Annie's apartment for a small party following the parade.
"It was a cool day, so we bundled mom up for the parade and had a free-standing fire pit to keep warm around afterwards," Kathy said.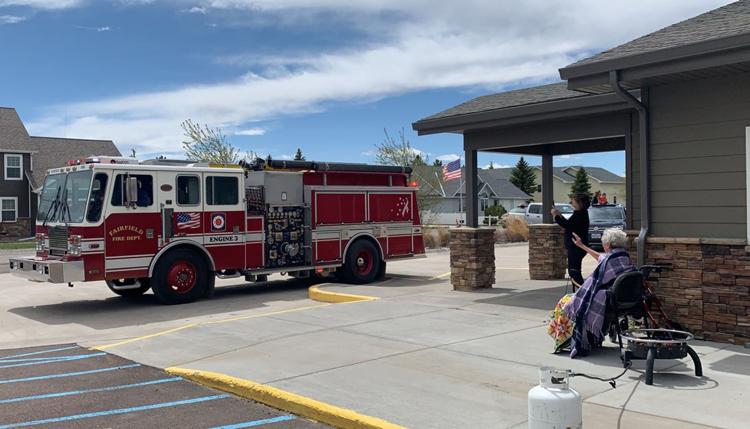 Annie calls herself a "child of the hills," hailing from the Sweet Grass Hills. The sixth child of Thomas and Anne O'Loughlin, she was raised on the family's large cattle ranch. She graduated from Cut Bank High School and moved to Great Falls, where she was an office clerk.
While living in Great Falls, Annie met her future husband, Howard. The couple married on Feb. 16, 1946. They met at a dance, and never quit dancing — going to dances throughout the region. "They love to waltz and polka and a little jitterbug," Kathy said. "My mom likes music from The Mom and Dads (band) and loves Willie Nelson."
Annie lived in the Power community close to 75 years. The couple raised wheat, barley, hay and cattle on a small farm three miles outside of Power. Following her husband's death 37 years ago, Annie continued to live on the farm, and then moved into Power. Kathy commented her mom was still mowing her lawn when she was 86 years old. Annie also enjoyed raising a big garden and loved her flower beds filled with peonies, daisies, tulips and gladioli.
Among Annie's other passions — both while her children were growing up, and to this day — is keeping up with the activities of Power Public Schools. It didn't matter if it was a sporting event, music or drama performance, Annie was there to support and cheer on the Pirates, Kathy said. She would travel throughout the state supporting Power teams.
When she moved into Power, she became a very active member of the Power Senior Center. She loves to play cards, mostly pinochle and whist.
Another highlight for Annie is exploring Montana. Kathy said her mom enjoys going for rides exploring Teton Pass, Gibson Dam, the Highwoods or the Bears Paw Mountains and of course the Sweet Grass Hills. "She loves the scenery and maybe seeing a meadowlark or two," Kathy said.
Annie and her husband raised seven children — Pat Widhalm (deceased); Dave Anderson, Havre; Warren Anderson, Power; Kenny Anderson (deceased); Kathy Anderson, Power; Laureen Lackman, Hysham; and Mary Eggebraten, West Richland, Washington. She has been blessed with nine grandchildren and four great-grandchildren.
She looks forward to phone calls and visits from her family and keeps in touch with many longtime friends.
Annie is the last living of her family of seven. Her sister, Gertrude, died two years ago at the age of 102. Kathy said the rest of her siblings lived into their 90s.
The birthday party didn't turn out as the family had originally planned, but the family still found a way to celebrate. "It was very special, just like my mom," Kathy said. "Front Range Assisted Living Facility in Fairfield has been wonderful to my mom. It is such a nice place to live, but even more important, the staff are so wonderful treating everyone like family. They made my mom's birthday memorable."