Teton County sheriff's deputies on April 2 gave about a dozen people at the Choteau Senior Citizens Center tips on avoiding getting scammed via the mail, their telephones and their computers, tablets or mobile/smart phones.
Deputies Mark Grove of Choteau, Shane Dean of Fairfield and Brandon McDonald of Dutton said the Teton County Sheriff's Office gets, on average, two complaints of scams a week and urged the senior citizens who encounter scammers to talk to each other and share information so that their friends and family members will be warned of scams circulating at any given time.
"Pass it on to your friends, pass it on to other people," Grove said. "The biggest thing they are counting on is that people are too embarrassed to report it. That's the worst thing that can happen."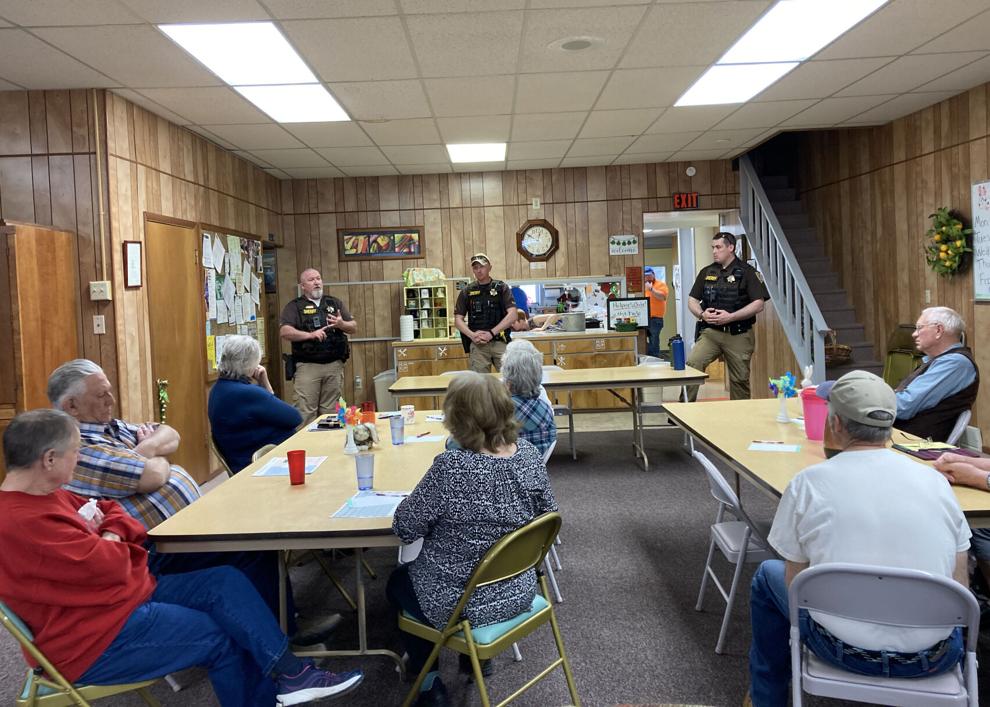 Scammers talk to each other, and if one scam is successful in an area, other scammers will follow. "They are hunting you all and your bank accounts," Grove said.
Some common scams that often target senior citizens include one in which a caller claims to be a family member who has been arrested and needs cash for bail; another one claims that a rental car, rented in the senior citizen's name, has been found with narcotics in it and money is needed to resolve the problem.
Grove also said callers identifying themselves as IRS agents have been trying to scam money out of people, while other scammers are promoting a complex real estate deal that has ensnared one person in the county for $6,000.
Grove said a simple way to avoid falling for these persuasive scammers is to remember: if it's too good to be true, then it's probably false. Also, he said, no reputable company will ever ask for a person's birthdate, Social Security number or bank routing number over the telephone or even via email.
Grove said that telephone scammers are often using computer-generated phone numbers and just making random calls. Often, he said, a computer is making those calls, and when a person answers a mobile phone call for a number they aren't familiar with, the computer automatically puts on the scammer who can then proceed to attempt to fleece the caller out of money.
The best way to short-circuit those plans, he said, is for people not to answer unknown cellphone numbers — even, he said, if they have the familiar local 590- prefix, but are not known to the phone owner.
Deputy Dean said, "If they call you, if it's an agency contacting you and asking for money and personal information, just hang up the phone. 99.9% of the time it's going to be a scam."
Grove said if the call is legitimate, the caller will find another way to reach the person.
Deputy McDonald said some scammers identify themselves as the FBI or even Montana law enforcement officers. Again, he said, hang up on those calls, or don't answer at all. A reputable law enforcement agency will find a legitimate way to contact a person, he said.
Another big red flag, Grove said, is if the caller claims to be from a government agency but is seeking some kind of money. Grove said law enforcement agencies across the country used to hire companies to make calls to local people, asking for money. Because of the prevalence of phone fraud, virtually none of them do this anymore.
He also said that scammers often work on volume. They may be scamming people for only $100, but if they can get 100 people a day to fall for their scam, they are soon raking in big bucks.
In his years on the job, Grove said, he says scammers have probably fleeced Teton County residents for more than $100,000, and new scams are cropping up every day.
As soon as one scam no longer works — like the old Nigerian prince calling to ask you to help him get $1 million out of a U.S. bank — another new one takes its place. And, technology is evolving as well, allowing crooks to exploit users of mobile phones, tablets, home computers in addition to running scams on landline phones and through the mail.
That's why it's so important, he said, to delete any email that you don't recognize; to decline calls from unknown numbers; and to throw away mail that is suspicious.
He also urged people to be cautious about accepting unsolicited calls from "tech support." A gentleman in Dutton recently allowed a hacker, claiming to be "tech support" to access his computer, and now he has been locked out of his computer, and is going to have to pay a real computer support expert to unlock it.
While Grove and Dean were familiar faces to the senior citizens, they introduced McDonald as the county's newest deputy.
He joined the force on March 1 and is stationed in Dutton, where his wife teaches at Dutton/Brady Public Schools.
McDonald is a Montana Army National Guard veteran who has served in Iraq. He is a graduate of the Montana Law Enforcement Academy and previously worked in Conrad.
Previously from Bigfork, he has lived in the Dutton area off and on since 2015. Teton County Undersheriff Clint Ellsworth also resides in Dutton.