With grant funding, the Choteau Arts Studio & Gallery is offering three eight-week sessions of music lessons on stringed instruments, including fiddle, guitar, banjo, stand-up bass and more, for students of all ages.
The first session of music lessons started on Oct. 18, but it's not too late to sign up by calling Susan Luinstra at 406-590-2797. The lessons in the first session are being offered on Mondays, Oct. 18-Dec. 6.
A winter session is planned from Jan. 17-March 7, and a spring session is set for March 28-May 16.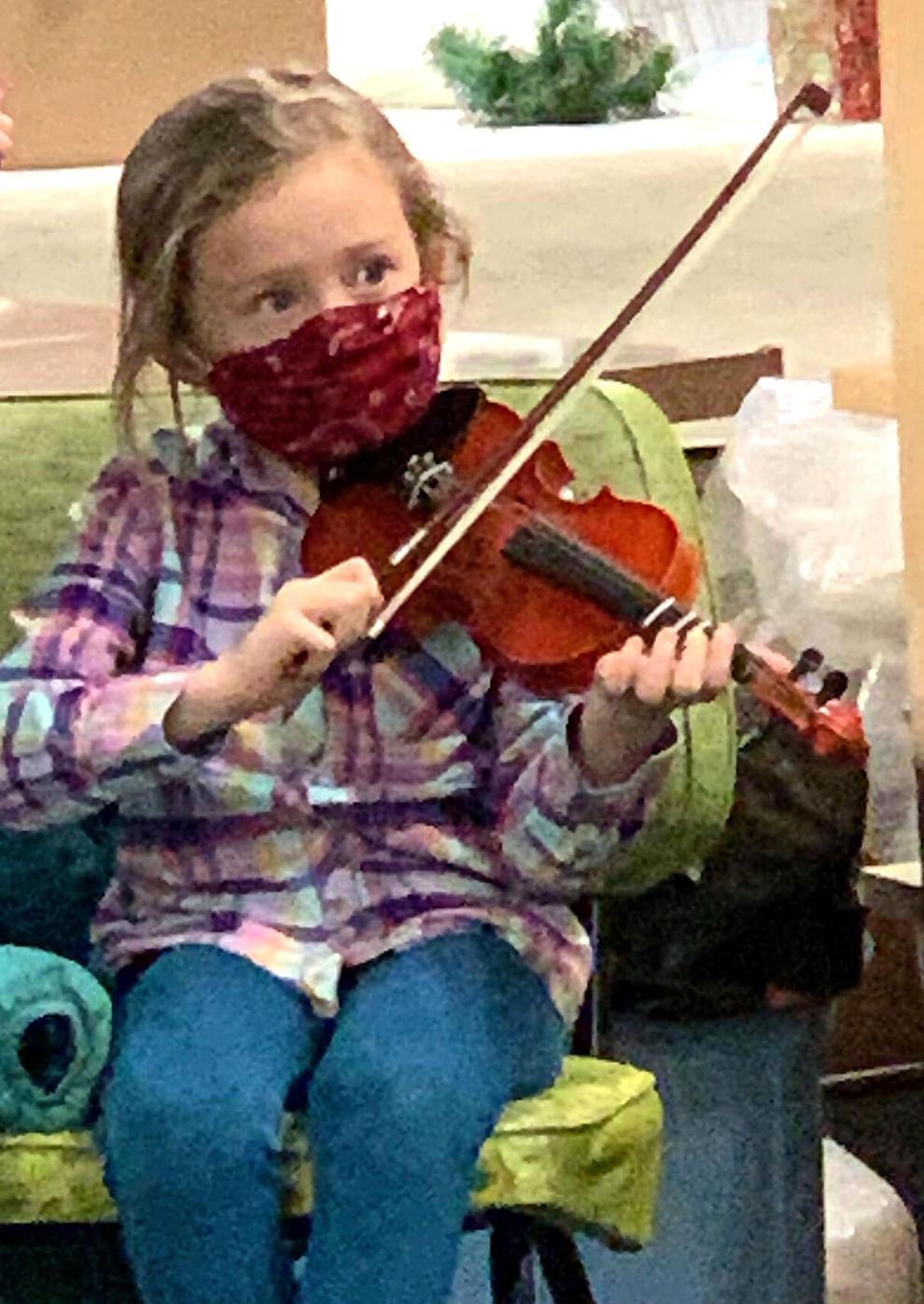 The schedule on the lesson day is: 4-5 p.m., beginning fiddle; 5-6 p.m., intermediate fiddle and other stringed instruments; and 6-6:30 p.m., community jam session. All lessons are being offered at the art studio in Choteau.
This opportunity is being offered free of charge through Choteau Arts with support from the Montana Arts Council, the National Endowment for the Arts and a Boe Brothers Foundation grant. Donations are also welcome.
Luinstra applied to the Montana Arts Council for an Artists in Schools and Communities grant to provide much of the funding to bring Isaac Callendar and his wife, Louise Steinway, in from Sand Coulee as the instructors.
Luinstra said the couple has been playing stringed instruments since their childhoods and have a tremendous repertoire of fiddle tunes and styles.
"Their teaching experience allows them to skillfully work with learners at all levels, respectfully meeting the needs of all group members," she said. "Their versatility on stringed instruments provides support for a broad range of instruments in community-based music making."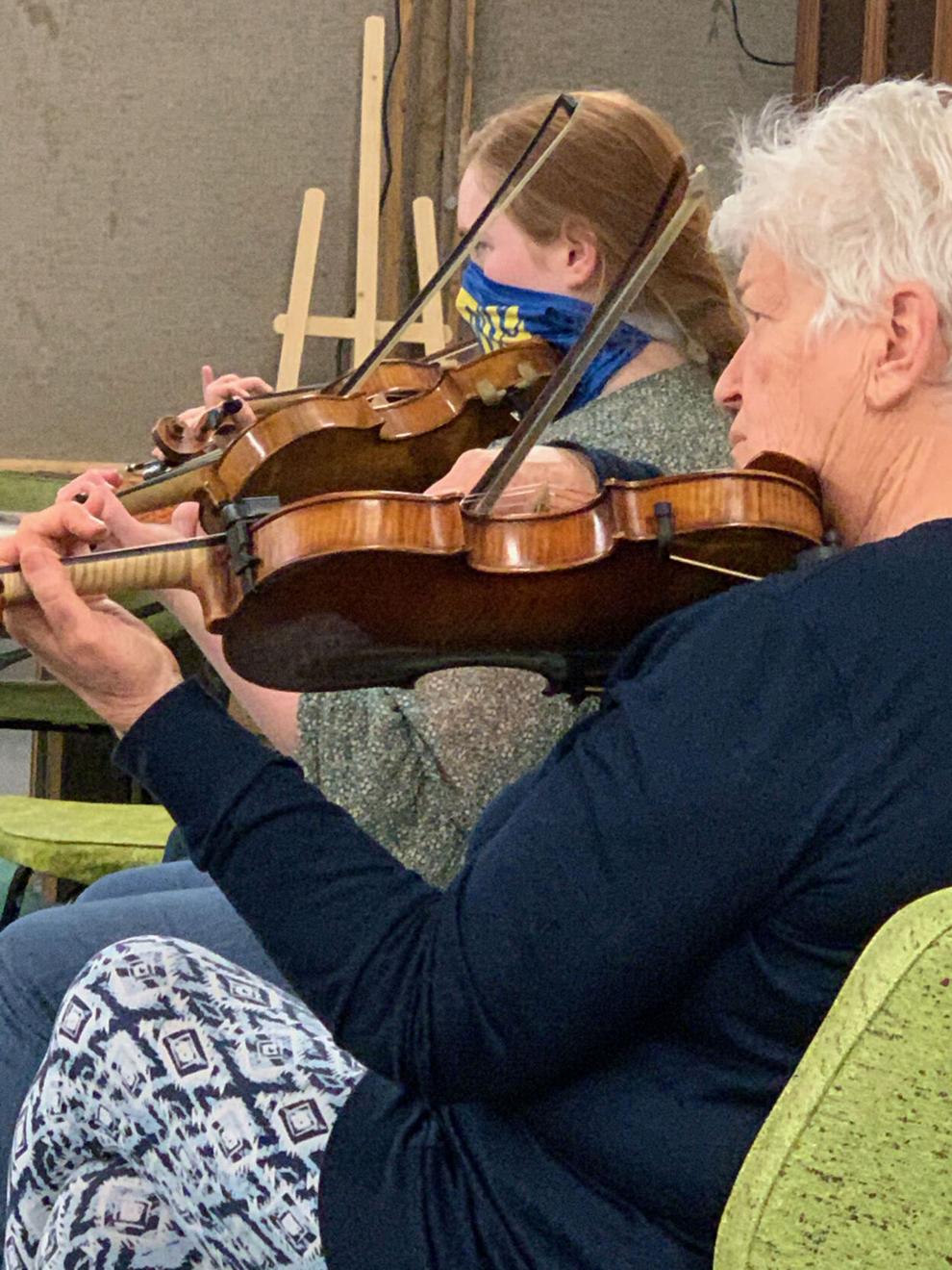 "The moment the bow touched the fiddle at Choteau Arts, we know that it could be a key to pulling our community together after a year of grief and isolation," Luinstra wrote in the grant application. "What is it about making music together, about traditional tunes and dances that can fill our hearts and build a sense of oneness and support across the generations? Whatever that illusory element, it is obvious when it is present, and fiddle can make it happen."
Callendar and Steinway are members of the Montana Old-Time Fiddlers, District 8. They have previously offered fiddle lessons through Choteau Arts that were well received.
"As classes progressed and connections were cemented, it became apparent that an extended and expanded experience would benefit our entire community, that a coming together of generations might be a healing salve after a hard year, and that building a strong foundation in traditional music would benefit the future also," Luinstra wrote.
In this year's sessions of lessons, she said, students will learn their respective instruments in a group setting. They will be taught mainly by ear, as is the traditional method, but also with written music/TAB and online video tutorials.
Students do not have to have their own instruments as the instructors have instruments available for students to rent.
Each hour-long session will focus on basics of playing and developing learning techniques so that the students will be better able to learn on their own.
In addition to the live classes, the art studio will broadcast the classes on social media sites, making them available to view and participate in remotely at no charge for those unable to attend in person.
Luinstra said that in past sessions, students have ranged in age from 6-year-olds to adults in their 80s.
"I hope we get a great turnout of all ages," Luinstra told the Acantha. "It's not just for one age. It's really important to reiterate that, this is for everyone. It's meant to be a multigenerational thing."
In the grant, Luinstra wrote that Montana has always had a vibrant fiddling community, but it has begun dwindling because of changes in community distribution and a general lack of teachers. The traditional fiddle styles that once brought folks together at community dances and get-togethers have become more rare.
"Our hope is that by offering solid instruction, quality experiences and community events, we can regain some of the sense of community that were once enjoyed through traditional music," she wrote.
She noted that the Métis pople had an established community in the mountains west of Choteau. One tradition that is strong in local memory is reflected in the stories of dances held at Twin Lakes where the fiddle played non-stop through the night. She said the teachers will work to include an introduction to authentic Métis fiddle tunes during the project year.
Luinstra said the music lessons are part of the studio's mission statement. "We want to bring the arts to our community and make them available to everyone in all of the forms of the arts, not just visual art," she said.
Choteau Arts is located at 204 Main Ave. N. in Choteau and is open Wednesday-Friday, 10 a.m. to 5:30 p.m. and Saturdays from 10 a.m. to 12:30 p.m.