Choteau runner David Hirschfeld, 54, pitted his mind and body against the frigid Arctic in March, completing the 6633 Arctic Ultra, which tested his mettle in ways he could never have imagined.
"Glory to God," he said when he crossed the finish line, having covered 380 miles in 207 hours and 21 minutes — and, more importantly, having helped save the life of a fellow runner.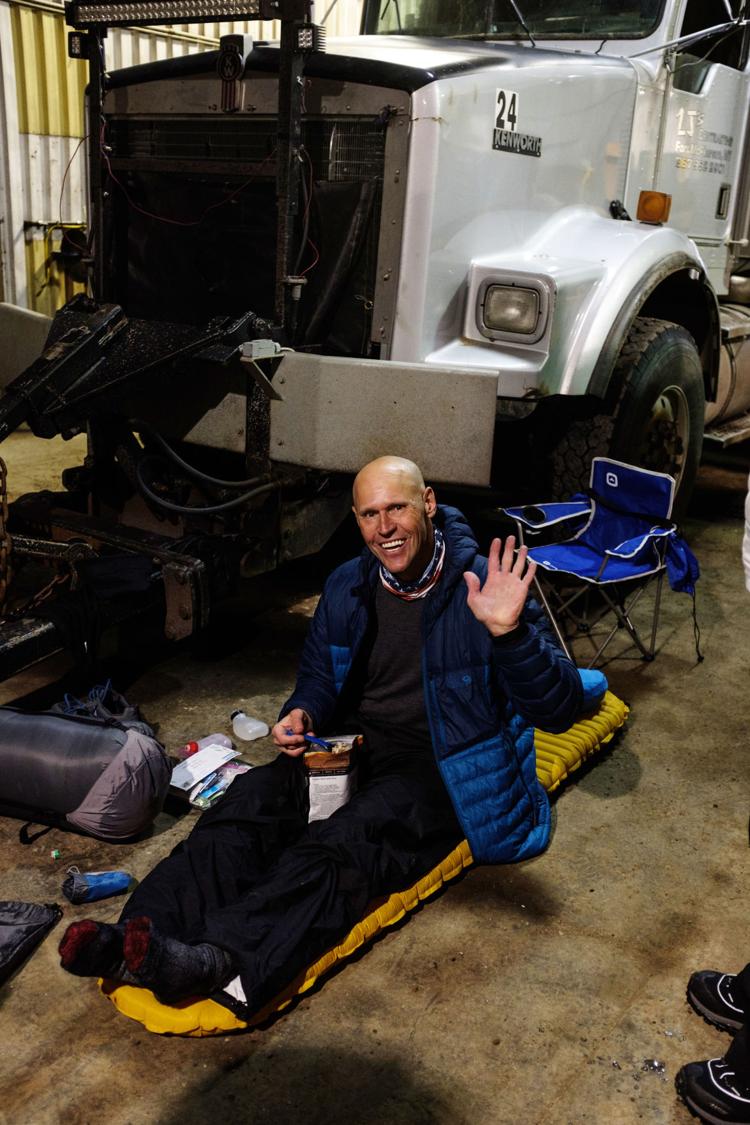 Hirschfeld was one of six elite runners to complete the full ultra. Twenty came to the starting line: three in the 120-mile division, two in the 120-plus division and 15 in the 380-mile. The race started March 7 at Eagle Plains in the Yukon of northern Canada and finished on March 16 at the Inuit village of Tuktoyaktuk, Northwest Territories, on the Arctic Ocean. The runners had a time limit of 214 hours to complete the full course.
The first 100 miles were mountainous, the next 170 were long flat miles mostly on an ice road, and the last 110 miles were mostly on a gravel road through rolling hills.
An experienced runner, Hirschfeld said in an interview after the race, that this was the most trying course he has ever run, because of its length and the sub-zero weather conditions. "I don't regret doing it," he said. "I'm not sure I would have done it if I had known how painful it was going to be."
A Nebraska native, Hirschfeld has run around 20 marathons (26.2 miles), one 50 miler, a number of 50-kilometer races (31 miles), 10 100-mile ultras, one 200-mile ultra and now the 380-mile 6633 Ultra.
Hirschfeld, who is also a lawyer and a pilot and owns a home west of Choteau, said his experience running an ultra in the Yukon three years ago piqued his interest in doing a longer race there. He found the 6633 Ultra and the chance to run to the Arctic Ocean was too good to pass up. He registered as soon as he could and began his training program. As part of his training, he ran the Tahoe 200, completing the race in the Sierra Nevada Mountains around Lake Tahoe last September in 61 hours and 52 minutes.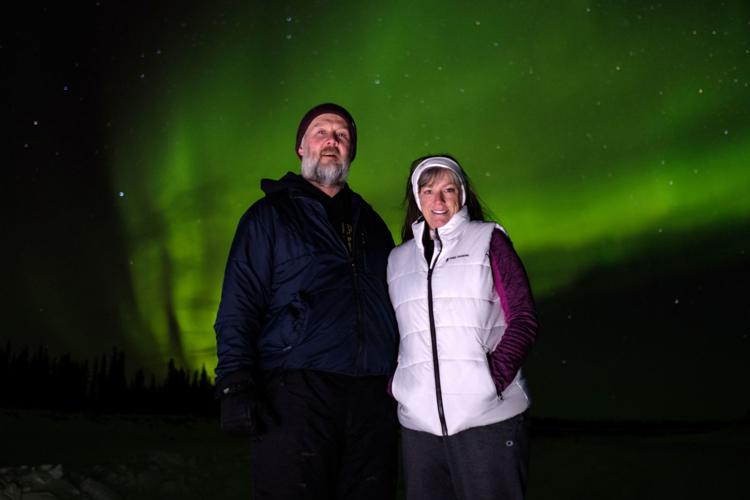 He then set a goal to keep his base miles and conditioning through the winter and followed a rigorous strength-training program, focusing on core and arms so he could easily push a running stroller loaded with his gear and supplies and use trekking poles on the course.
In December he decided to spend the worst of the winter at his home in Florida, where, with warm weather, he would be able to run and walk for hours at a time. "So it was a trade off between acclimating for the cold versus conditioning for the distance and the time," he said.
He went to a wildlife management area, where he would spend 10 hours at a time walking at a 15-minute mile (4 mph) pace. About 25 percent of the time, he pulled a tire to add resistance.
He returned to Montana on Feb. 24 and ran in sub-zero temperatures here for a week. On March 4, he and friends, Bob and Lisa Scott of Choteau, headed for the Yukon, where the temperatures were warmer than those in Choteau at that time. The Scotts planned to be Hirschfeld's race crew, supporting him at the seven aid stations and walking with him when allowed. Bob had crewed for Hirschfeld on the Yukon Ultra 3.
When they arrived at Whitehorse, Yukon, and attended a race orientation, they discovered that none of the 20 racers could have a crew or pacers. They would be virtually alone on the course with only four major aid stations where they could stay in a building. The Scotts stayed nonetheless, helping all the runners rather than just Hirschfeld, within the constraints of the race rules.
Hirschfeld was registered for the 120-plus division, meaning that he could stop at 120 miles and receive an official time or he could go on and complete the 380-mile course. At the urging of his wife and daughter, he had registered for the 120-plus, but he knew that no one who had ever signed up for the 120-plus had gone on to finish the full course. He intended to break that record.
Meeting the other runners, Hirschfeld discovered he was a bit of the odd man out. He was the only American and he was the only one to bring a three-wheeled running stroller (designed to hold a baby or toddler) rather than a four-wheeled pulk sled, whose wheels can be removed and replaced with sled runners.
Hirschfeld had modified the buggy (which the other runners called a pram) so that he could push it with his hands or pull it with rods attached to a belt on his waist. In his buggy were all his supplies and gear, stored in different colored stuff sacks. His gear included a sleeping bag rated for 40 degrees below 0, a tent, a cookstove and fuel, snow goggles, food for 24 hours on top of the food he anticipated eating, a coat rated for 40-below, batteries for lights, a satellite phone, a first-aid kit and more.
His provisions included eight freeze-dried meals, smoothies in pouches and meal-to-go bars that had half a day's nutrition in a single bar. David planned to eat as much as 7,500 calories a day during the race. He ended up consuming much less — just 4,000 calories a day and he never used his stove.
The race started at 10:30 a.m. on Thursday, March 7, at Eagle Plains. The sky was cloudy, the temperature was 10 degrees above 0 and the 5 mph wind was at the runners' backs. This "good" weather persisted through the week, but changed abruptly on Monday, March 11.
These were the best days of the race for Hirschfeld. There was intermittent sunshine, his stomach stayed in line, he was able to eat and drink as needed, the night-time temperatures were only around 5 below, and the northern lights treated the runners to spectacular displays. Hirschfeld said he coped with blisters on his feet, something he was well used to from his other runs, but otherwise felt strong.
He used his sat phone to talk to his family, and while the course was tough, he was well prepared. The storm on March 11, however, marked the beginning of a tough week. When he awoke from a brief sleep in his tent, the wind was blowing and seemed to come from every direction. Light snow was falling and the temperature was dropping, settling at 15-below zero, not counting wind chill.
Hirschfeld and three other runners, Patrick O'Toole, Didier Da Costa and Paul Watkins (the eventual winner), made it only 20 miles that day as they fought the wind and the weather.
On March 12, the temperatures dropped to 20-below but the wind abated. Still walking in -20 degree weather takes a toll and had nearly fatal results for Da Costa, a French runner who was trying for the second time to complete the 6633.
Hirschfeld said that on Tuesday, the 12th, he and Watkins, O'Toole and Da Costa, were in the lead, averaging 3.2 to 3.5 miles per hour. At about 7 p.m., O'Toole, Da Costa and Hirschfeld stopped for a rest break, setting up their bivvies and tents on the side of the ice highway (a plowed road on top of the frozen Mackenzie River, the longest river system in Canada). Someone had thrown out sheets of plywood, and they made their camp on the plywood.
They had just crawled into their sleeping bags when a semi-truck and trailer, probably going 60 mph, roared by them, and they could feel the concussion of its weight move the ice beneath them, Hirschfeld said.
Around 12:30 a.m. on the 13th, O'Toole and Da Costa decamped and headed out. Hirschfeld heard them leave but didn't get up until his alarm went off at 1:30 a.m. He said that one of the worst parts of this race was getting up from a rest break and having to put his swollen feet back into his frozen shoes. He wore waterproof Altras for nearly the whole race.
He packed up his buggy and took off down the ice highway some 25 miles away from the aid station in the village of Inuvik. Eventually, he encountered O'Toole's and Da Costa's footprints. He noticed that Da Costa's footsteps were only about six inches apart and that worried Hirschfeld. "I thought, what's going on with Didier?"
Eventually, he saw their pulk sleds and a light and thought they'd stopped for another rest. Then suddenly a figure appeared, walking toward him. His first thought was that someone had been hit by a vehicle, and adrenaline rushed through his body.
Then he saw that the figure was Da Costa, who was shuffling, and saying, "So cold, so cold. Push the button."
Da Costa was asking Hirschfeld to press the "Help" and SOS buttons on his Spot Tracker, which he did. He grabbed Da Costa and led him back to the camp where O'Toole was lying down.
O'Toole told Hirschfeld that Da Costa had become disoriented and was trying to walk to Inuvik. O'Toole had tried to keep him at the camp, but when he couldn't, he told him to walk back to Hirschfeld. O'Toole was exhausted too and couldn't do any more.
Hirschfeld laid his sleeping pad down, unzipped his sleeping bag and put his coat over both of them, trying to share body heat with Da Costa. They sandwiched the distressed man between them, and Da Costa's breathing became even more shallow. Twice he stopped breathing and Hirschfeld and O'Toole shook him and he gulped for air and started breathing again.
"I thought, 'He's dying. A man is going to die in my arms tonight,'" Hirschfeld recalled, forcing himself to think what else he could do. He got out his sat phone and called the race director, but got no answer. Then he dialed, from memory, Lisa Scott's phone number. "How did I remember that number?" he wonders now.
Mercifully, Lisa answered and he asked her to call 9-1-1 and get help on the way.
In the meantime, he decided to run back along the ice highway to the plywood, thinking they could burn that. The rest spot was farther away than he recalled however, and after a half mile, he turned around and ran back. "I was running on adrenaline," he said.
With Da Costa in extreme distress, Hirschfeld said, he and O'Toole decided to burn the man's gear. They lit his pulk cart on fire and burned his extra shoes and everything else they could. "That fire felt so good," Hirschfeld said.
Finally, they saw vehicle lights on the road. It was Bob Scott. They bundled Da Costa into the front seat with the heater roaring and all took off, heading for Inuvik. About five miles down the road, they met a Royal Canadian Mounted Police vehicle that escorted them down the road until they met the Inuvik ambulance. Da Costa was transferred to the ambulance and taken to the hospital, where he was treated and recovered but could not complete the race.
On the Arctic Ultra 6633 Facebook page, Da Costa wrote, "I confirm that I'm safe and sound and cannot thank enough Patrick and David for having my back ... and a few others who helped too, including the Inuvik ambulance crew and hospital staff, who were amazing. Concerning my sled, I never thought of it as a source of heat, but desperate times call for desperate measures. Now rather disappointed, but wish the remaining six athletes the very best of luck. P.S.: Do not burn your sled ... or at least till you reach Tuk."
His wife, Adriana Dias Ravassoli, posted in the same Facebook thread, "Many thanks to all for helping my husband at this very difficult time. Thank God everything went well."
Da Costa's brother Auduser Sinumerik wrote, "For my whole family, there will never be words strong enough to express our boundless gratitude to you, Patrick and David, for having kept my young brother Didier safe until support arrival. We wish the best to all athletes. Keep the adventure going."
With Da Costa safely at the hospital, Bob then drove Hirschfeld and O'Toole back to their camp. They fortified themselves on the drive with some of the six pounds of fudge that Lisa had made and shared with all the runners.
When they got back to the camp, race staffers were there, gathering what was left of Da Costa's gear. Hirschfeld said they didn't seem to understand how close Da Costa came to dying, and their attitude made him angry — that anger (and hot pizza brought out onto the course by the race photographer) helped propel him down the road to Inuvik despite the exhaustion that gripped him in the aftermath.
"The worst part was the adrenaline rush," he said. "Not the physical exhaustion. Your mind has been idle for four days, and then there's all these thoughts spiking, life and death, and you do that for four hours, and then it's back to idle."
The race director credited Hirschfeld and O'Toole with four to five hours each in recognition of the time they lost taking care of a fellow runner, and they both sallied forth, covering the next 25 miles to Inuvik, where they got hot showers and warm beds. There Bob set out Hirschfeld's gear, which had gotten wet in the snow the night before, to dry. Hirschfeld now had fewer than 100 miles to finish.
The sub-zero cold persisted through Thursday, March 14. Hirschfeld was averaging a 2.5 mph pace as he trudged through forest and across tundra, occasionally battling a head wind again as he began to go through rolling hills that reminded him of his Montana home.
Hirschfeld said he was on the Inuvik/Tuktoyatuk Highway, a 95-mile gravel road. "The whole country looked like the Bellview or west of Bynum or Dupuyer," he said. "Go for a run west of Bynum when it's 20 below and you'll know what it was like in the Arctic."
The night of the 14th, Hirschfeld reached the last aid station before the finish line, a trailer at Gateway, where Bob was waiting for him with more encouragement. While he planned to stay the night in the unheated trailer, he soon discovered that his sleeping bag had not dried during the stop in Inuvik. Unable to sleep in a cold, wet bag, he packed up and left at 2 a.m. Friday, aiming to finish the last 50 miles by midnight.
At this point, his stamina was flagging. He said it was hard to keep walking and he kept running into snow banks as he pushed his buggy, leaning much of his weight on the handle. The cold snap had finally broken and the temperature edged above 0 but he was getting cold. Trying to warm up, he increased his walking pace, but then nausea and stomach pain hit.
At 5 a.m., he stopped and set up camp, crawling back into his wet sleeping bag to try to warm up. That didn't work: he didn't sleep and he didn't get warm, but his stomach settled down.
This was the hardest point in the race for him, he said. Exhausted, freezing and uncertain that he could continue, he called Bob, asking him to drive out from the finish line to where he was. As he waited for Bob, he dug deep, looking for the willpower, mind over body, to finish.
Three things happened, he said, that got him moving again: The sun came up and the temperature climbed to 10 degrees; two other racers, Mark Whittle and Hayley White, passed his camp, walking briskly and calling out to him with encouragement; and Bob showed up to give him the final pep talk.
His competitive spirit roused, Hirschfeld packed up one last time, "said some bad words" and hit the road, running for a mile, eventually passing Whittle and White. He averaged 3 mph for the rest of the day.
On Saturday, March 16, Hirschfeld crossed the finish line at about 3:30 a.m. beneath a glorious display of northern lights, which he compared to celestial fireworks. Bob was allowed to walk the last five miles in with him and he finished fourth out of the six hearty souls who completed the full course.
He had slept just 29 hours out of the 207 it took him to finish.
As he approached the finish line, he said, he wondered whether there was some pithy comment that would capture how he felt at completion. At that point he had nothing, but as he and his buggy hit the finish line banner, "Glory to God" was what he said.
Now, back home and recovered from frostbite in all 10 fingers and a stress fracture in his left shin (sustained on the second day of the race), he says he's been a little embarrassed by the media attention the race attracted, but he feels a sense of accomplishment and relief. "Thank God I don't have to do that again," he said.
This is not the end of his running though. He plans to continue doing 50Ks and shorter races. Maybe, when he's 60, he said, he'll do another 100-miler.