It's that time of year: grizzlies are emerging from their dens along the Rocky Mountain Front and heading east to lower elevations in search of food.
A grizzly was spotted walking down Teton Canyon Road about seven miles below the Teton Pass Ski Area on March 29, and on March 31 a female grizzly with young was reported on a ranch just west of Choteau.
Choteau's new resident grizzly bear management specialist, Charles "Chad" White, says these sightings are good reminders for the public that bears are out and active.
"Although late March is fairly early for a sow with cubs to leave the den, it illustrates how important it is for everyone to be prepared to encounter a bear," White said.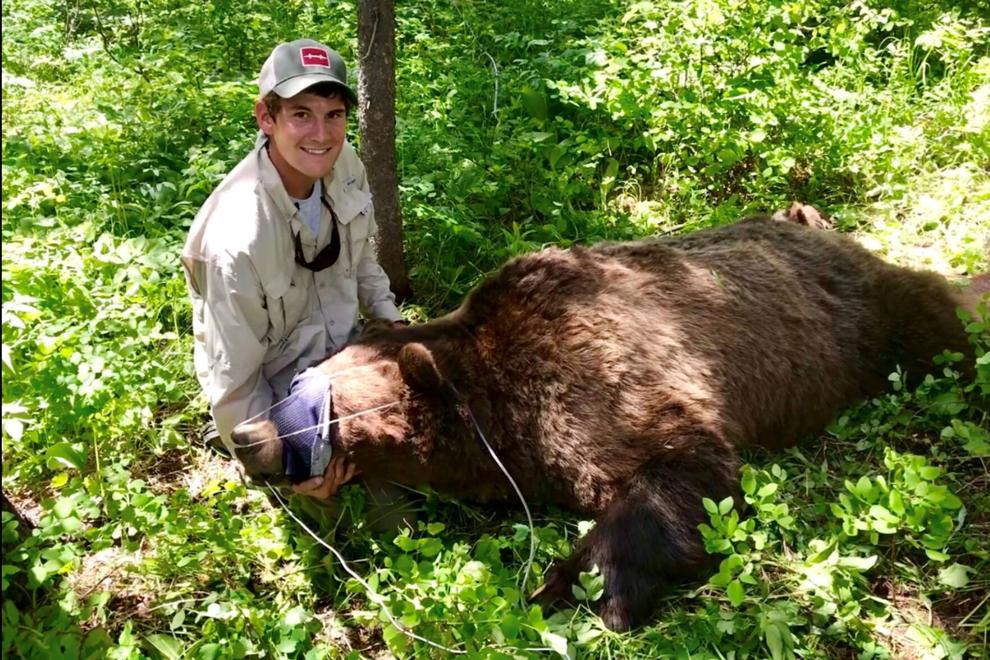 He started on Feb. 1 as the Montana Fish, Wildlife and Parks' second grizzly management specialist in Region 4, an area covering much of north-central Montana from the Rocky Mountain Front eastward. White replaces long-time grizzly management specialist Mike Madel of Choteau and joins grizzly management specialist Wesley Sarmento who is based in Conrad. White is based in Choteau.
White said conflicts with grizzly bears along the Front have been slow to start this spring and that is a great way to begin the season. As of last week, he said, there have been no confirmed conflicts with bears and humans or livestock. There was one livestock depredation report, where a grizzly was suspected, but investigators found no sign of bears on the kill, he said.
Nevertheless, people living, working and recreating along the Front should be aware that many bears have already left the den and are making their way down waterways moving east from the mountains searching for food.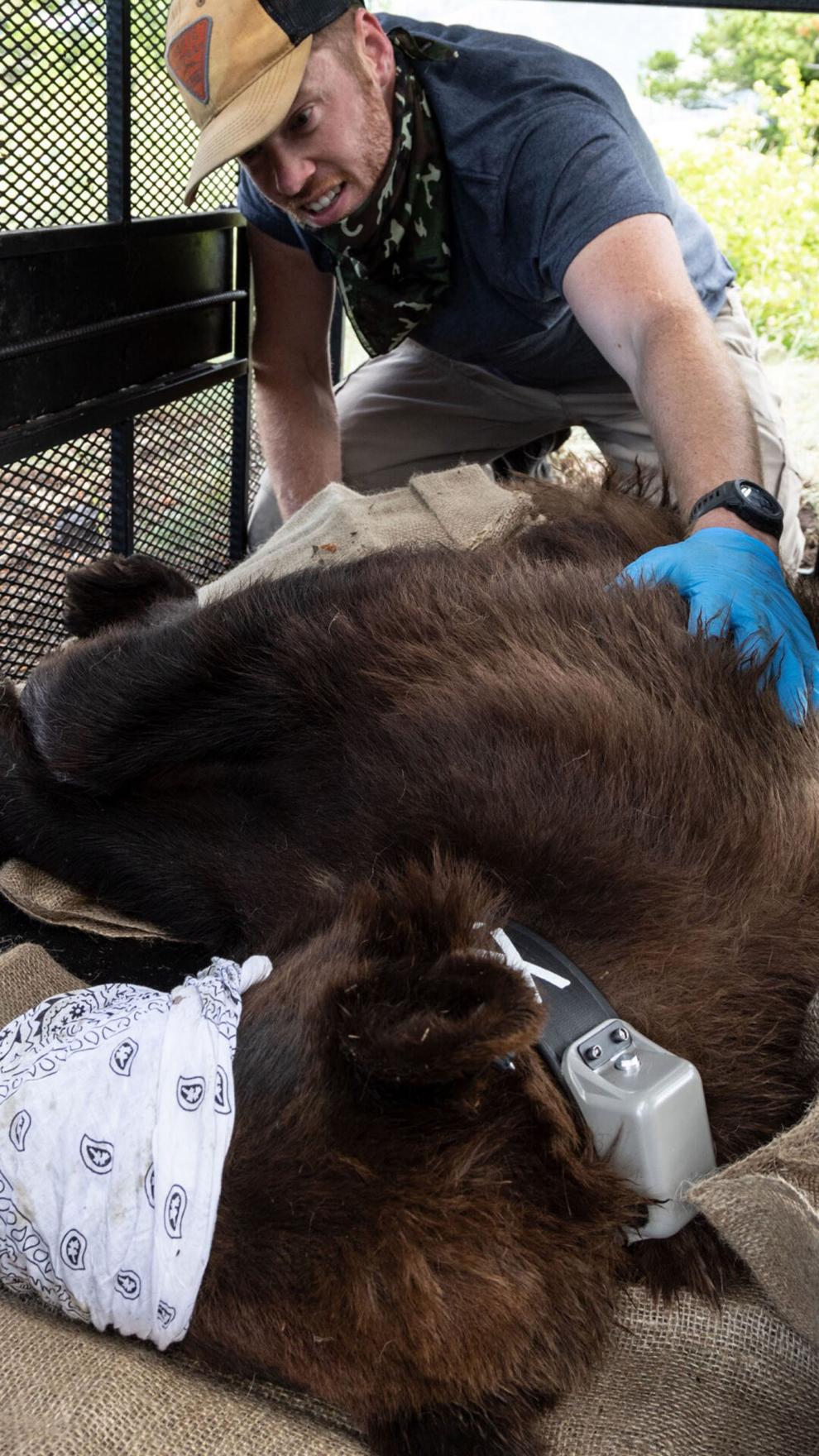 At this time of year, when there is no new vegetative growth, the best food score for a bear is to find a protein rich winter-killed carcass, White said, and now is the time to make sure that potential human-related food sources are removed or secured.
He recommends people consider livestock carcasses, afterbirth and grain spills when thinking about bear attractants and the potential for conflict situations. Carcasses that cannot be removed (call the removal program) or secured should be distributed well away from dwellings, livestock and human activity.
Trash, birdfeeders, poultry and pet or livestock food should be secured as well. Approved bear resistant containers, electric fencing and livestock guard dogs are great tools to help prevent conflicts with grizzly bears, he said, adding that he recommends people carry bear spray when ranching and recreating along the Front, practice using it, and remain vigilant when in brushy areas where a bear could be present.
White said he looks forward to working with the communities along the Front and would love to visit with as many folks as possible. He encourages people to call him to report bear activity or conflicts, and to discuss conflict prevention measures before a problem occurs.
"My number one goal is to keep people safe, and to find some common ground that will allow people to continue to do what they need to do and what they have been doing with less conflict, and for bears to have a place alongside of them," White said in an interview with the Acantha on April 2. "What I would want folks to come away feeling is that I want to start off by doing more listening than talking. I want to find my place based on what the community needs from me."
He can be reached at 406-788-4755. Sarmento can be reached at 406-450-1097, and the livestock carcass removal program, which operates in Pondera and Teton counties, can be reached at 406-468-8898.
White and Sarmento will both have new wildlife management technicians working with them this season. White's technician, Daniel McHugh, has secured housing in Choteau and will be coming on the job toward the end of this month.
McHugh grew up on a farm in eastern Washington. He then moved to Texas and then Colorado, where he spent much of his teenage years and early 20s working in both heating and air conditioning and landscaping. His love of hunting, fishing, conservation and the outdoors led to his completion of a wildlife biology degree at the University of Montana in Missoula.
He has spent the past three years working with marine mammals in Washington, elk in South Dakota and working with MFWP in several capacities. Most recently, he has been working in western Montana with black bears and mountain lions. "It has long been his dream to work with rural communities and grizzly bears, and he is excited to immerse himself in the community and help reduce bear conflicts along the Front," White said.
Sarmento's new technician is Jack Austin, who is a retired Region 7 game warden captain.
"We have great hands on deck this year, and we'll have more of a teamwork approach," White said of grizzly management in north-central Montana.
White moved to western Montana at the age of 12, where, he says, he fell deeply in love with the wildlife and open spaces. Knowing where his heart lies, he stayed here for all of his work, education and recreation.
He worked on a ranch north of Missoula on and off for a few years learning agricultural life and some of the skills that go along with it. While working for the U.S. Forest Service at the Missoula Smokejumper Center, White earned a bachelor's degree in resource conservation from UM. After graduating, he said, he pursued his dream of working for MFWP. Since that time, almost all of his work has been in partnership with or working directly for MFWP in Regions 1, 2, 5 and now Region 4.
White said on his first successful elk hunt as a young boy, he witnessed the illegal taking of a spike bull elk, and worked with game wardens to help bring the unethical hunter to justice. MFWP recognized him for his help, inviting him to a banquet and presenting him with a cap and a plaque.
"That was a block management program and the wrongful taking of an elk on private land didn't sit well with me," he said. "Respecting land ownership was of utmost importance to me."
That interaction with FWP sparked in him a desire to work in natural resource conservation that led him to his college major and his career, he said.
White said he has worked with Montanans and their wildlife in research capacities including a backcountry aviation ungulate (hoofed animal) study throughout Montana and Idaho, sage grouse research in Roundup, calf elk predation research in the Bitterroot, mule deer capture and collaring work in Libby, remote trail camera research in Eureka and aquatic invasive species work in west-central Montana.
He said he has also worked in wildlife management capacities as a hunting access technician for the FWP Block Management Program, working with ranchers and hunters in Phillipsburg, a fisheries program in Anaconda, and for the past three years, black bear and mountain lion conflict management in the Flathead Valley.
He said he has enjoyed the multifaceted nature of offering public education and developing constructive relationships with landowners while managing challenging predator/human conflict situations. His work in the Flathead community gave him the opportunity to interact with a diverse interest group in urban, suburban and rural environments. While in the position, he said, his experience trapping and handling grizzly bears as well as many black bears and lions allowed him to develop a diverse skill-set that will be an asset to his grizzly bear work in FWP Region 4.
White said he knows Montana values and appreciates having the opportunity to work with the community on the Rocky Mountain Front. "People have been wonderful," he said. "They have been welcoming and generous and willing to give me a chance."
On the west side of the mountains, White worked with homeowners who often changed. Here, he said, he is looking forward to working with ranch and farm families who have been on their land for generations.
He said he has been making individual contacts with ranchers and area residents, taking any opportunity to introduce himself. He said he would appreciate folks inviting him to their places so he can get to know the people of this area.
To help introduce him and other new faces in FWP and USDA Wildlife Services, the Marias River Livestock Association has scheduled meet and greet sessions on April 12 at the Whitlash Hall in Whitlash at 1 p.m. and at the Moose Hall in Conrad at 6 p.m.
When he is not working, White loves to grab his longbow and head for the backcountry to hunt bugling bull elk. He describes himself as a generalist hunter who takes advantage of most seasons and opportunities available. He also very much enjoys spending time with his family of two parents, three sisters, and nine nieces and nephews backpacking, fly fishing, rafting and skiing.
He said it was a little tough to find a rental home in Choteau, but working with 2 Bucks Inc., he has found a place and remains in the hunt for permanent housing here.