Choteau High School will hold family-only graduation ceremonies for the 31 members of the Class of 2020 on Sunday, May 24, at 2 p.m. on the high school football field. Community members are asked to watch the ceremony livestreamed on the school's Facebook page (search Choteau Jr. High/High School).
Choteau Public Schools remain closed because of the COVID-19 pandemic, but the senior class and their advisers have worked with the school administration and the Teton County Health Department to develop plans for an in-person graduation program that complies with guidelines to reduce the risk of transmitting COVID-19, a viral illness that most people recover from but that can be deadly for high-risk people, including those 65 and older, those with chronic diseases and those with suppressed immune systems, among others.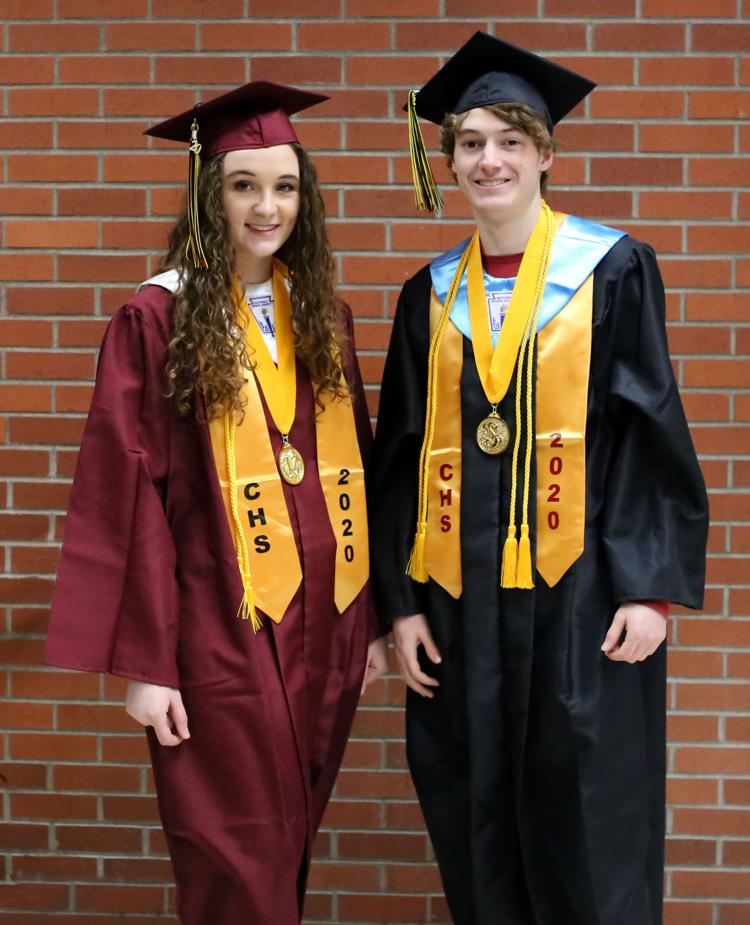 Under the graduation plan, CHS seniors will be seated in the football bleachers on the west side of the field. They can each bring six family members to the event. The family members must bring their own chairs and sit in a grid reserved for them on the football field. There will be no bathroom access during the program. Those attending are asked to help reduce the spread of disease by wearing face masks and to remain at least six feet away from other families and attendees.
The school last week mailed home graduation packets for each senior, advising the seniors and their families of the protocol.
School Superintendent Chuck Gameon and CHS Principal Wendi Hammond along with guidance counselor Shelly Johnson will introduce class members and speakers. CHS School Board Chairman Lane Yeager will award diplomas.
This year's commencement speaker will be Choteau Public Schools mathematics teacher and coach Craig Tucker.
Other speakers at graduation will be the top students in the class, honored for their high cumulative grade-point averages. This year the valedictorian is Amber Johnson with a perfect 4.0 grade-point average. Oliver Jorden, with a GPA of 3.9, is the salutatorian.
Johnson plans to attend Montana State University at Bozeman, majoring in exercise science with the goal of earning her doctorate in physical therapy. She is the president of the Choteau FFA Chapter and previously served as the secretary and treasurer. She has also been the president of her class as a freshman, sophomore and junior. She is serving as the student body president and the National Honor Society president. She is a member of the anti-tobacco use organization, ReACT, and has been a member of the CHS pep band and concert band all four years in high school.
Johnson is also a very community-minded youth. She has been a member of the elementary mentor program since she was a sophomore, and outside of school, she has volunteered to help with the Choteau Senior Citizens Center tea party and fashion show, helped hot air balloon enthusiasts at a fly in this past summer and assisted the Benefis Teton Medical Center Foundation with the Shadows of the Past Art Auction in September.
She was also a member of the Choteau cheer team as a freshman and as a sophomore she served as a girls basketball team manager.
A talented musician, she was selected to take part in the North Central Honor Band as a sophomore, a junior and a senior, playing clarinet. She has received superior and excellent ratings on clarinet and piano solos at the district and state music festivals, and earned a Top 25 individual finish in the National FFA agronomy competition.
She was chosen as one of nine outstanding senior student achievers by the CHS faculty.
She is the daughter of Kevin and Leya Johnson of Conrad.
Jorden, the son of Elizabeth and Nate Jorden, will attend the University of Montana at Missoula where he will begin his studies in economics as a student in the Davidson Honors College.
He was chosen as senior outstanding student achiever by the CHS faculty. He is a drummer in the CHS pep band and concert band and a member of the National Honor Society.
Jorden has also volunteered as a coach for the Choteau community soccer program for youth ages 4 to 6 and is a member of the Choteau Community Band.
Also a talented student athlete, he has played basketball since junior high and was on the 2019-20 CHS boys basketball team. He has also competed on the CHS track team for the past three years.
He has worked part-time during his high school career, as a cashier at Mountain Front Market and with his father's Jorden Building business.
He is an avid snowboarder when he is not in basketball.
The CHS seniors are wrapping up their year this week as they complete their school at home class requirements on Friday.
School will end on May 29 for 26 eighth graders and for the rest of the pupils on June 2.
In case of inclement weather, the ceremony will not be held. Students and their advisers worked together last week to create a "virtual graduation" that has been videoed, and this will serve as the graduation ceremony with diplomas being mailed out to the graduates.