Hot air balloonists will decorate the skies over Choteau for the third annual Front Range Fly In on Aug. 7-9.
Three pilots are expected to come: Justin Elkins of Helena, Chris Jones of Billings and Casey Heupel of the Whitefish/West Glacier area. "As for hot air balloon pilots, there's probably only four or five in all of Montana. … We usually have a few more come down from Canada, but with the health situation this year, we wouldn't be able to get them over the border," explained Paul Dreyer of Choteau, one of the organizers of the event.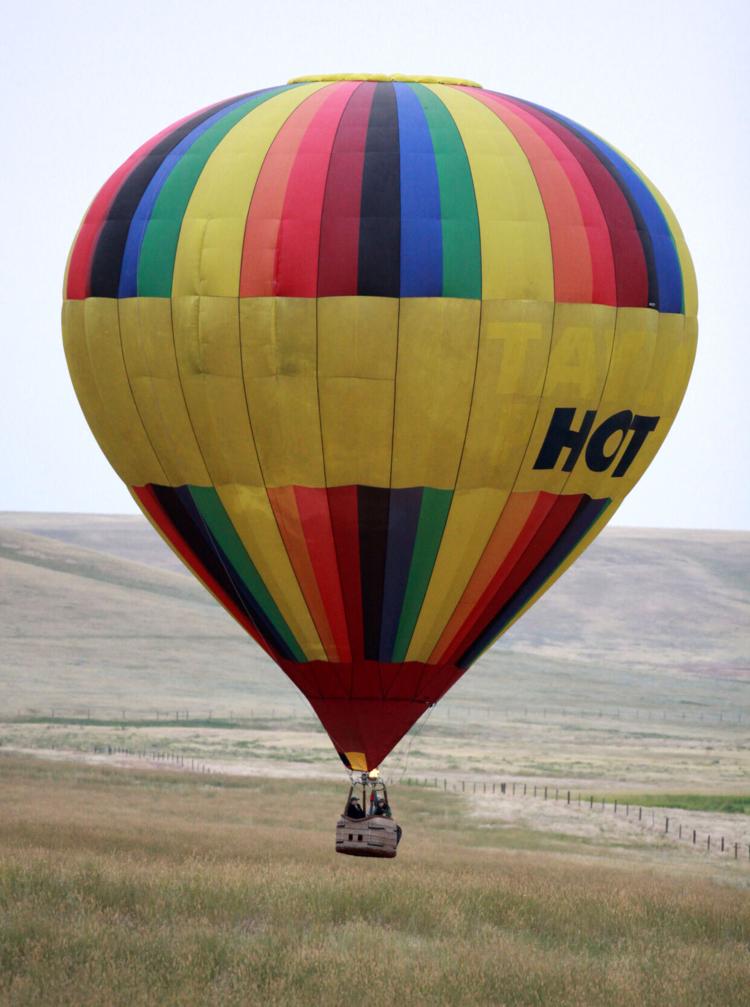 The takeoff spot is the same as in years past: the vacant field north of Skyline Lodge and owned by Sara and Bruce Coccoli. "We really appreciate the landowners allowing us to use that spot, and the city agreeing to mow the area so we don't have issues getting in and out," Dreyer said. "The Coccoli spot has turned out to be a very nice spot. It's open enough to hold a few balloons, but it's surrounded by trees so we can get a good idea of the wind before we do a helium balloon test."
The event will start early on Friday, at 5:45 a.m. if weather permits. If it's raining or the wind is howling, it will be a no-go. Regardless of whether they can fly, the pilots will still attempt to do an evening glow on Friday, where they fill their balloons but keep them on the ground to give spectators a pretty view against the night sky. On Saturday and Sunday, again at 5:45 a.m., the pilots will start afresh, if weather is good.
In past years, the weather has been mixed, but the pilots have always been able to get in the air for at least a little bit. "Last year was pretty windy so the pilots had to stay close to the ground, but it turned out to be a really cool opportunity to see wildlife and to do something called 'splash and dash,' which the pilots like to brag about," laughed Dreyer. This year, the pilots say they hope to see grizzly bears.
People often ask the balloonists how they ended up picking Choteau for their annual fly-in out of everywhere else in the United States. It all started a few years ago when Heupel threw out the idea of doing a "flash mob" style fly-in at a small town in Montana. Choteau was a central location for all the pilots and was easy for their Canadian friends to access, as well. They reached out to Dreyer to help set it up, and the community support after the first event convinced them to stay.
"After the first year, we felt the community really apprecaiated it. We had a lot of great volunteers, and families loved coming out and showing the kids," said Elkins.
The pilots will again offer rides if possible, but as there aren't as many pilots attending this year, rides will be very limited. "We basically have openings for two rides each morning," said Heupel. The cost for rides is $250 per person.
The pilots also appreciate any help from volunteers. Volunteers are needed to unpack and pack the balloons, and set up equipment. The pilots also need local helpers who know the roads well and can drive a pickup with a trailer to chase the balloons and pick them up at their landing location. "At the bare minimum, I like to have at least four people on a crew," said Elkins. "All of us could theoretically launch a balloon by ourselves, but it is a ton of work." Those wanting to volunteer can contact Dreyer at 590-7783 or simply show up one morning and talk to someone setting up.
In a hot air balloon, a pilot never quite knows where he or she will land. "We will try to make contact with landowners to get permission to land ahead of time. Sometimes there is not enough time, but we are all very appreciative of all the local landowners who support us," said Heupel.
Each of the pilots got into flying hot air balloons for a different reason.
For Heupel, it was a childhood passion turned into a career. "I always was fascinated with flying. In high school, I would drive down to Sturgis, South Dakota, to the balloon festival they had there to take pictures. When I moved to Montana, I got hooked up with a company and began crewing for them," he said. "I then worked commercially for five summers. It wasn't until five or six years ago that I got my license and bought my own balloon."
Heupel also enjoys the educational opportunities to pass on his knowledge and experience to the next generation. "Hot air ballooning is the oldest form of aviation, started in 1783. This is an FAA regulated aircraft just like an airplane. Even if we can't fly, I'd like to reach people and talk to them about the sport. Everyone really enjoys learning about what goes into making a balloon fly," he said. "I like to educate youth because hot air ballooning was really big in the '70s and '80s and then it died off in '90s. It's coming back now. I have yet to find a single person not excited about the sport."
Jones discovered his love for hot air balloons in the 1990s when he agreed to volunteer one weekend at a Billings hot air balloon rally. "A friend asked me if I'd volunteer, and I just asked, 'Well, is there beer involved?'" he laughed. "It hooked me in a day." Since then, he crewed for several different pilots, and then pursued getting his own license and balloon. He also serves on the planning board for the Billings hot air balloon festival. "It's definitely a lot of fun and I'm excited to share it with Choteau," he said.
When asked how he first got started in the sport, Elkins said he was "born into it." His father bought the family's first balloon when he was 4, and when he turned 5, Elkins experienced his first ride at the same Billings festival that Jones talked about.
"My dad and I traveled all over the country and to Europe and Australia flying balloons," Elkins said. "I got my first license as a teen. Then I got married and left it for a few years. Then I got divorced, bought a balloon and had my dad train me. I've recently purchased a different balloon, and have been flying a lot for the past six or seven years." Decades after they first started, he and his dad are still flying today.
The pilots all welcome community members to come out for a weekend of fun and spectacular sights. Also, if anyone happens to see their trailers around town or see them at local restaurants, they encourage people to come and say hello.