Photographer Addie Ahern Lohman of Choteau and acrylic painter Mariah Higgins of Fairfield are debuting their artwork in the annual Shadows of the Past Art Auction this week.
Lohman is offering a black and white photograph titled, "Splish Splash," and Higgins an acrylic painting dubbed, "If Walls Could Talk."
The art auction draws pieces from 45 to 50 artists annually, said BTMC Foundation Director Annie Olson. "The majority of the artists (38-42) participate each year and are joined by three to five new artists each year."
Olson said there are several artists who have been strong supporters of the auction for years. "Elmer Schock and Diane Hausmann have each participated in 30 of the 31 shows," Olson said. With 25 years or more are Jim Utsler, 29 shows; Lyn Graves, 28 shows; Sharon Sharpe, 27 shows; and Shirley Anderson Sylvester, 25 shows. "The list could go on and on from there," said Olson.
Online pre-bidding for the 31st annual art auction started on Oct. 1 and will conclude on Oct. 17 at 5 p.m. The live auction will be held Oct. 17 at 6 p.m. with limited in-person seating by reservation at the Choteau Pavilion and a simultaneous live webcast auction at jerrycollinsauctions.hibid.com.
Eighty-four fine art pieces are in this year's lineup: 39 in the silent auction and 45 in the live. Bidders will have two opportunities to preview the art at the Pavilion, Oct. 16 from 4-7 p.m. and Oct. 17 from 1-4 p.m. Wearing facial masks and socially distancing from others at the previews is required.
Olson explained how the process works for artists wishing to participate in the art auction. "In March/April, I send out letters to all the past artists, plus any referrals I have received and there are always a couple who just contact me because they've heard about our auction and want to be a part of it," Olson said. They have until June turn in their artwork. Each artist is welcome to submit two pieces. "Artists can have one piece in the live auction and one in the silent," she explained.
Once all the art is submitted, three to five community members serving as jurors go through the art independently and judge each piece. Based on those scores, the artwork is placed into the live or silent auction. "Each year, some pieces get juried out due to the number of pieces or placement in the jury process," Olson said
After the pieces have gone through the jury process and are accepted into the auction, a lot number is assigned to each piece based on content, media, size, color, etc. The lot numbers do not reflect how pieces scored in the jury process.
The Benefis Teton Medical Center Foundation makes between $23,000 and $25,000 a year on the auction. "Last year was a record-breaking year with more than $29,000," Olson said. "The percentage that the artist receives is quite varied based on when they submit their piece and the portion of auction they are entered in," Olson added.
"We try to reach out to all the local artists," Olson said." Of course, there are the closet artists that we don't always know about so we sometimes rely on others to tell us who we should reach out to. … We always love having a nice mix of new and veteran artists. Local artists often see their pieces do well because their content is often so relevant to many folks who attend the show."
Lohman is a photographer who lives on and is inspired by the Rocky Mountain Front.
Her biography in the auction books says, "As she connects with wildlife, she strives to freeze the moments and capture the emotions that accompany the encounter to share with the viewer and pull them into a different world."
Lohman's roots are in Montana. She graduated from high school in Helena and received an associate's degree in science from Great Falls College of Technology. Married to Justin Lohman, she has lived in Choteau for the past five years. The couple has a young son, Forrest.
She said can't remember when she didn't have a camera in her hand, but in the past five or six years she has fine-tuned her art and expanded her photography business. She offers portrait photography of individuals, families, seniors and weddings along with taking landscapes. Her real passion is wildlife photography.
Lohman said with her trusty Canon camera, she has a large canvas — the outdoors from the Rocky Mountain Front to Glacier and Yellowstone — to capture wildlife in their natural habit. "If it is wild and fuzzy, I like to photograph it," she laughed. She has photographed all species of animals from moose to elk to fox, but her favorite is bears.
Having patience is the name of the game in capturing the "awe" moments, Lohman said. She studies the animal's patterns and searches out the best locations for capturing the photos. "It can take many return trips over an extended period of time to frame the one picture I'm hoping for," Lohman said.
The photograph in this year's Shadows of the Past Auction is one of those moments, Lohman said. She snapped a picture of a bear shaking off water from its fur. She printed the picture in black and white for extra effect.
This bear photograph was featured in the Montana Outdoor magazine and has been her most popular seller on her website.
Visiting with Choteau artist Leslie Kesler peaked Lohman's interest in participating in the local auction. "The fact that the auction benefits the local hospital, I'm really happy to help," she said.
Her 12x18 piece is Lot 61 and is offered in the silent auction.
Higgins also finds her inspiration for her art from the region.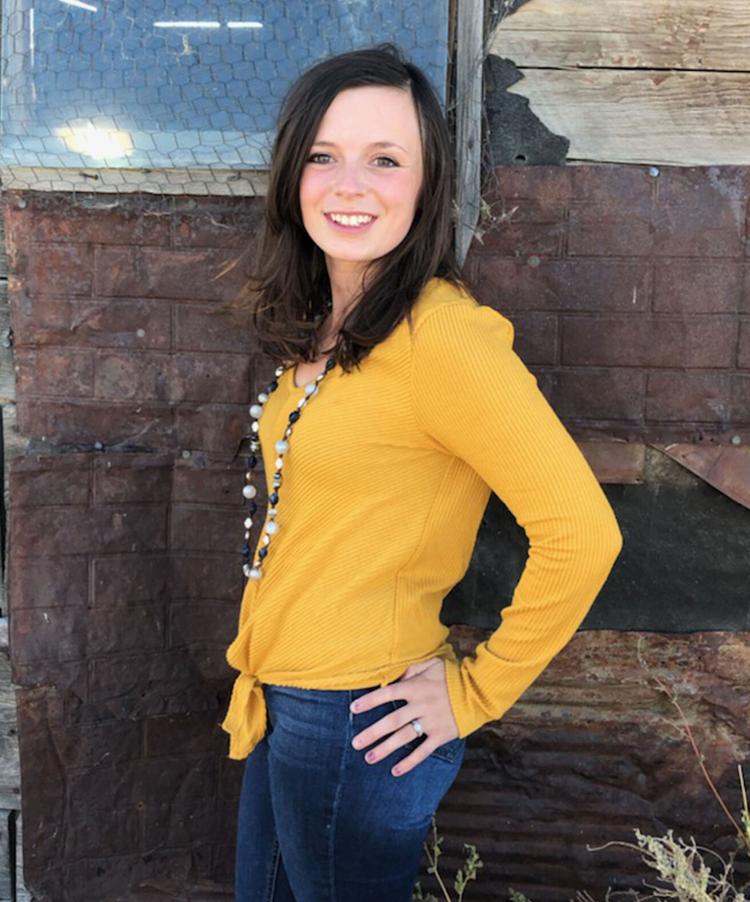 The daughter of Duane and Kelly Paddock, Higgins is a Fairfield native and a 2015 graduate of Fairfield High School. She took art classes throughout high school from art teacher Margaret Eller. During those classes, she had the opportunity to try various mediums and found acrylic to be her fit. "Experimenting with the different mediums provided closure and allows me to be comfortable in working with acrylics," she said.
Higgins paints people and animals, but her favorite subject is landscapes.
Living and working with her husband, Riley Higgins, and son Jameson on their farm and ranch on the cut across between Fairfield and Simms, Higgins said she just has to walk out her back door to see beautiful scenery. She paints off photographs and is always searching for inspirational places to paint.
She has a studio in her home and generally has a couple pieces she is working on at a time. "I typically have one larger painting that will take more time and smaller ones I can work on for a break," she said. Higgins said it varies how long it takes her to complete a painting, as it depends on how much detail it entails.
Higgins said she leans toward more vibrant colors.
About two years ago, she started offering her work through social media and was pleased with the response. She also sold pieces at several craft shows in the region. Higgins said she enjoyed attending the shows and receiving feedback on her work for those who stopped by her booth. Her goal was to attend one art or craft show a month in 2020, and then COVID-19 hit. She is putting that goal on hold for now, but looks forward to when she can attend some in the future.
Higgins has also completed several commissioned pieces. It is very special to do this service, providing a one-of-a-kind piece she hopes her clients will treasure for years to come, she said.
She recently began offering reproductions of some of her work and has found a unique way to offer her work in stickers.
Participating in the "Painting for Pantry" program, Higgins sold a couple paintings with the proceeds helping local food pantries. The purchaser of one of her paintings asked whether she had participated in Shadows of the Past Art Auction. "I visited with Leslie Kesler and submitted a piece before the deadline," she said. "I'm excited and honored to participate in the Shadows of the Past Auction."
Higgins' 12x16 acrylic painting is based off an old homestead barn with grain bins located above the river a couple miles north of Simms.
Her piece will be available to bid on in the silent auction, Lot 79.