Jane Hartman couldn't venture a guess at how many hours she has spent at a sewing machine making masks over the last five months, but she did know she has made 562 so far.
The retired nurse from Choteau is happy she can do her part to help her community be a little safer during the ongoing health concern. "I love my community and don't want to see one person get sick or lose one person," she said.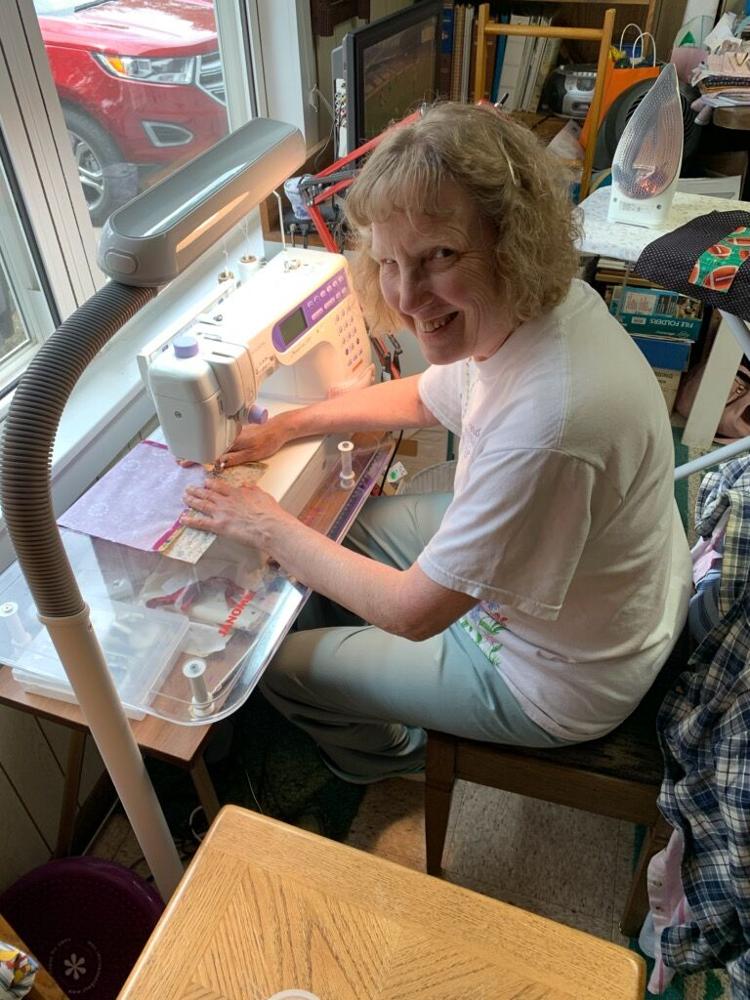 Hartman learned to sew from her mother, Edith Southard, and grandmother, Esther Tesch, when she was 9 or 10 years old. She started with doll clothes, making her own clothes later and then her children's clothes as she had a family. Her sewing took a new direction in 1997 when she started to quilt. She quilted gifts for the family and friends over the years.
She recalled when coronavirus first started to spread in the U.S., she had two daughters in hot spots: Rachel Hartman in Boston and Beth Hartman in Minneapolis. She knew they would need masks. Her background in nursing gave her a better understanding of what was needed for protecting and extended wearing of masks. "I started by making a couple trial masks, having my son-in-law Jack Preston who works at Benefis Teton Medical Center try them during his off hours to see if they were comfortable and if they had the coverage needed," Hartman said.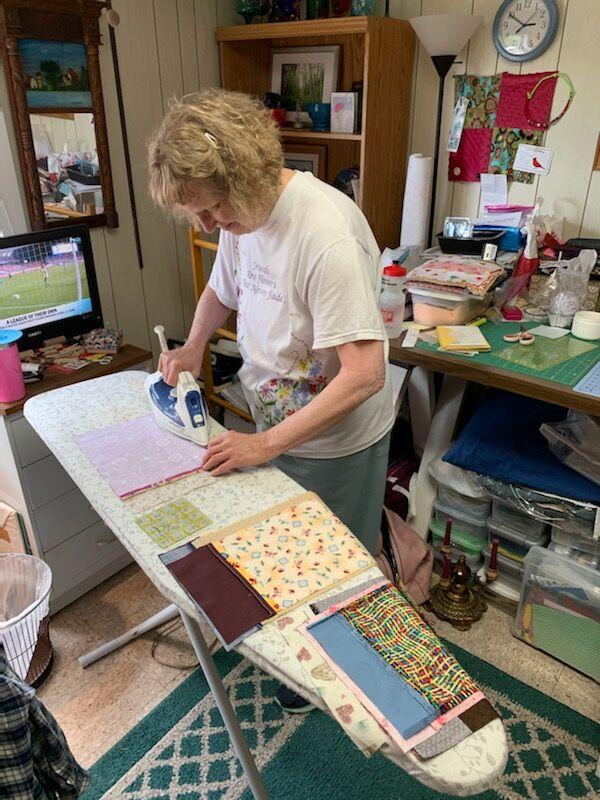 She did a lot of research on the internet for various designs and materials. "My original design has changed from the beginning, taking into account what I have learned and trial and error from those wearing the masks," she said. "It is a pretty basic design that can be adapted to various sizes from adults to children."
With her daughter, Becky Preston of Choteau, needing to take her four children out for supplies like shoes, she started making more children's masks. She is now seeing that need increasing as schools begin to talk of resuming in-person in the fall.
Word of mouth quickly spread that she was making masks and the orders poured in from individuals, groups and businesses. She has supplied masks for the Old Time Museum, the Choteau Volunteer Fire Department and the Choteau Drug and helped make masks for those working at the courthouse. Weekly, she keeps a basket full at her church, St. Joseph's Catholic Church in Choteau. She has also made ones for senior citizens in the community who need to attend medical appointments and don't have any other outlets to purchase a mask. She has given away masks not just in Choteau, but also in Dutton and Fairfield.
Sherwin Smith, a member of the Choteau Volunteer Fire Department and ambulance crew, first clued in Hartman of the need for masks to be distributed through the Teton County Health Department. "I visited with Dawn Baker at the health department and have been supplying them with masks ever since," she said. When the supply drops, the health department employees send a message to Hartman. In the past month, Katie Evensen has been assisting the health department since the department workload has increased. She is serving as a coordinator for those looking for masks and those willing to make and donate them.
Melissa Moyer, Teton County public health director, said Hartman's help in providing masks has been so appreciated by the health department. "She has been our key supplier over the past five months. She started early supplying masks for our department and is still providing masks today. It is much appreciated and needed," Moyer said.
Moyer said Hartman did a great deal of research and came up with a mask that works for most people. She said when selecting a mask, it should fit comfortably over the lower half of one's face and cover the nose, mouth and chin. It should fit closely with as few air gaps as possible. With a properly fitting face mask, individuals don't have to adjust as often and can keep their hands away from their face.
"Jane's masks are high quality with several layers and a pocket for including a filter," Moyer said.
She packages each of the masks in a sandwich bag with instructions on how to keep them clean.
Like most quilters, Hartman said she has a stash of material and she has been using that to make the masks. A few community members have also donated material, as well. She laughed when she said she can tell how long she has been making masks. "I made a group with Easter material, had some maroon and gold and made some with 2020 on for some Choteau graduates and just last month made red, white and blue masks," she said. "There is really cute material to use for the masks."
Hartman said she does not charge for her masks but has received donations for some. She has received $200 in donations so far and is passing them on to the Teton County Food Pantry. She has received notes and calls of appreciation; while those thank-yous aren't why she keeps sewing, they are appreciated and each one brightens her day.
Finding elastic for the masks has been a challenge over the five months. Hartman said she had a limited supply and friends have given her what they had on hand. For a while when she couldn't find elastic, she cut up elastic from the waistbands of garments. She recently was able to purchase elastic online and it came in a large quantity, so she doesn't foresee herself running out any time soon.
She has also cut up material such as hypoallergenic vacuum cleaner filters into squares to use for filters for the pockets in the masks. Hartman explained the filter is important; you don't want the mask to become moist or wet and cut down on the effectiveness. The filter helps reduce the moisture and provides an additional layer of protection.
Hartman became a little disheartened when wearing a mask became a political football. Having worked as a nurse from 1979 to 1992 with her last years in the Neonatal Intensive Care Unit, she knows first-hand the benefits of wearing protection for others you are around. She is happy to see lots of people in Choteau wearing masks and even happier she can be a part of making that happen.
She laughed when she said her house was a disaster given how much time is spent at the sewing machine. Her husband Dave, a retired school teacher, has been a big help, too. Truth be told, there have been a few times she has been tired of sewing over the past five months, but she said keeping the community safe keeps her going.
She not only makes the masks but is happy to share the pattern she has created. Anyone interested in receiving the pattern can contact her via email atdavehjane@gmail.com.