U.S. veteran Brian Colesworthy who opened Copper Creek Coffee on Nov. 15, 2019, has made it through a brutal COVID-19 pandemic-impacted first year and is happy to announce that the Main Avenue North eatery in Choteau is expanding its hours and its offerings in 2021.
Starting this week, the coffee house is offering a selection of alcoholic beverages under a new beer and wine license from state and is adding select evening hours. Colesworthy said last week that these changes are just part of his continuing effort to make Copper Creek a relaxed, friendly, welcoming place for community members to dine, enjoy a Montana microbrew and listen to music or play games.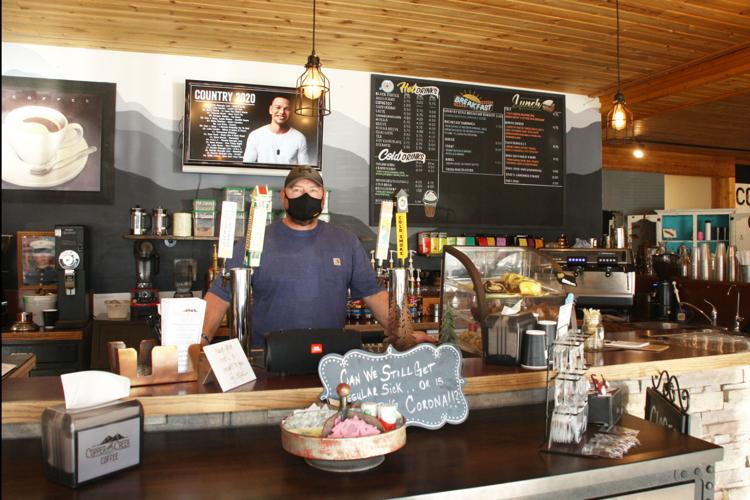 Colesworthy said he is an extrovert who enjoys meeting new people and playing the host. He grew up in Alturas, California, and joined the U.S. Marine Corps in 1996, serving until 2007. After his hitch in the Marines, Colesworthy went back to Iraq as a civilian, working within the U.S. government until 2017.
After 10 years abroad, Colesworthy returned to the United States and settled in Denver, Colorado, where he managed security for Downtown Denver. "My desire to open a coffee shop has always been a long-term goal," he told the Acantha in 2019. "It was easy to pick Choteau as my family lives here, and the move will make spending time with them a lot easier."
Colesworthy's younger sister, Andrea Greyn, and her three children live in Choteau, and he said that he has always enjoyed Choteau when he came here to visit.
"What we are trying to do, and it's taken us a lot longer than we expected, is to build an environment where people feel comfortable to come in and socialize. We want to be more than a typical restaurant."
To do that, he said, he has purchased the beer and wine license so those beverages can be offered with meals, and he is taking on an ambitious plan to work with other food vendors who cater to bring their wares to Copper Creek on select nights.
He plans to focus his select of tap beers on selections from Montana breweries and to serve Montana-made wines as well.
He said he is working with Travis Henry, who owns the Dirty Wiener food truck and with a couple of others who offer barbecue and Jamaican and Peurto Rican food, to come to Choteau and serve their meals through Copper Creek. He hopes to pair those new food offerings with musical open mike nights and game nights where participants play trivia or "Family Feud" style games. He hopes to offer wine tastings working with Jolene Moore in Choteau and to have specials like "Mom's Night Out" and happy hour on Fridays.
Since he opened his business at 23 Main Ave. N., he has upgraded the kitchen and the electrical service to accommodate wi-fi and more. He said he just wants customers to have an "immersive experience" that is positive and will keep them coming back for more. "We just hope to make their experience great," he said.
He will have more room for social events at the restaurant since Foster's Farmacy, a natural foods and supplements business, is moving out this month.
The new hours, which could change seasonally, will be Monday and Tuesday and Friday and Saturday, 8 a.m. to 10 p.m., and Wednesdays and Thursdays, 8 a.m. to 2 p.m. with the option for private parties on Wednesday evenings.
The coffee shop is closed on Sundays, he said, but he has plans to start offering a once a month mimosa brunch on Sundays.
As the COVID-19 pandemic continues, Colesworthy said the restaurant is following all safety protocols, including requiring customers and staff to wear facial masks and reducing the capacity of the restaurant to accommodate social distancing.
"I want to tell everyone thank you for supporting a new and small business though COVID," he said, adding that his customers have been positive and courteous.
This week on Jan. 16, the Dirty Wiener will be at Copper Creek from 6 p.m. to 10 p.m., selling its signature wieners and side dishes. Colesworthy encourages people to like and follow the Copper Creek page on Facebook so they can keep up with specials offered weekly.
People can also call the restaurant at 466-3868 or send Colesworthy a message via the Copper Creek Facebook page, "Copper Creek Coffee - Choteau, MT."